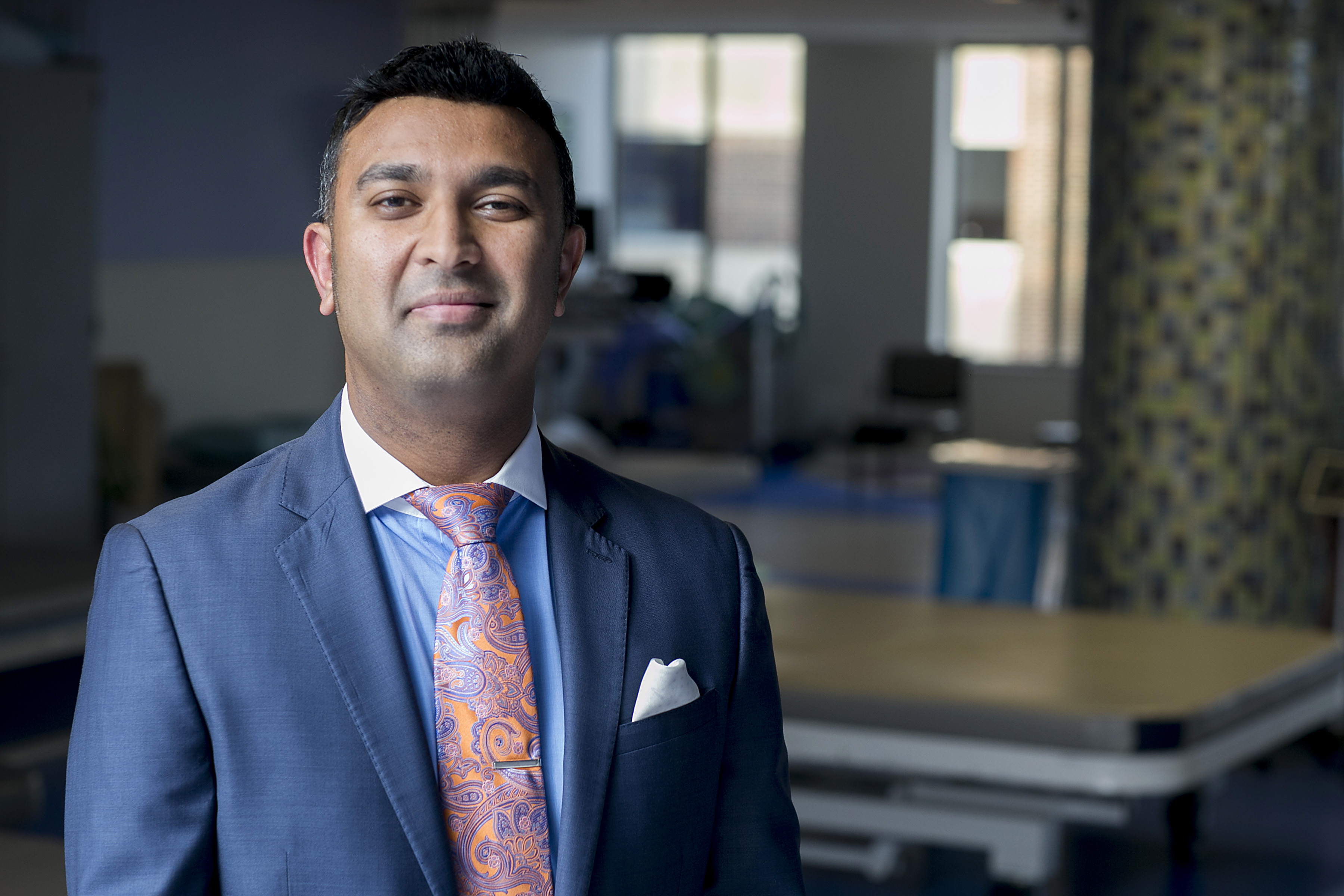 Dr. Stanley Mathew, born and raised in New York City, is medical director of UnityPoint Health-St. Luke's Hospital Physical Medicine and Rehabilitation in Cedar Rapids; UnityPoint Health-Finley Hospital's Acute Rehab Department in Dubuque; skilled nursing facility at Windmill Manor in Coralville and the Center for Medical Weight Loss in Cedar Rapids.
He completed his internship at Wyckoff Heights Medical Center in Brooklyn, New York, and physical medicine and rehabilitation residency at New York Medical College and is certified by the American Academy of Physical Medicine and Rehabilitation and American Board of Pain Medicine.
Dr. Mathew is a physiatrist, specializing in non-surgical physical medicine and rehabilitation for patients disabled as a result of a disease, condition, disorder or injury. He and his wife, Anjali, have a 2-year-old son.
Q: Why did you choose to become a physiatrist and how do you describe your profession to people unaware of what it entails?
A: I really enjoy the art of diagnostics. When you get into medical school, you decide if you're going into surgery or medicine. (Medicine) better suited my personality. After my first year, I found out about this specialty. We're the specialists of the nerve, bone and muscle and take care of patients after catastrophic/life-changing injuries, whether that's a stroke, brain injury, spinal cord injury or major trauma. I get the privilege to work with an amazing multi-disciplinary team, including physical therapists, occupational therapists, speech pathologists, a medical psychologist and neuropsychologist, rehabilitation nurses and recreational therapists, who meet to decide what the best way is to get our patients to their highest functional capacity. We work with patients to help them meet their goals.
Q: What do you find most gratifying in your roles? What is most challenging?
A: I really enjoy patient care. We work with people over time to get them as strong as possible and build relationships with patients and their families. We also offer a lot of hope. On the flip side, we still live in a world of insurance (regulations.)
Q: Why is it important for people who are overweight to take a medical approach to weight loss and how does it differ from dieting?
A: Everyone should eat healthy and exercise, but oftentimes that's not enough for people trying to lose weight. Adipose (fat) tissue produces hormones that can slow metabolism, so even when they cut back on calories, it's difficult to lose weight. We organize a treatment protocol custom-tailored around each patient's weight loss goals to help them lose adipose tissue.
Q: Is there a growing need for physical medicine and rehabilitation services? Is there a "typical" patient you see?
A: With health care getting so good and science improving, people are living longer than ever, which gives a greater need for physiatrists to work on improving quality of life and function. We see kids with cerebral palsy with mobility needs, 40-year-olds who injured their back on the job, mothers with nerve pain who just gave birth and geriatric patients undergoing rehabilitation after a hip replacement. We offer procedures and medications to help them improve their quality of life.
Q: What is your approach to patient care? Do you feel you have enough time with each patient on an individual level?
A: I start my day extremely early; typically getting to the office at 5:30 a.m. and ending at 6 p.m. With patient care, you make time. Part of my goal is trying to deliver a high quality interaction. Listening and understanding and being empathetic is important. I'd never want a patient to feel rushed through an office appointment.
Q: What influenced your decision to move from New York to Iowa? Do you feel at home here?
A: A recruiter contacted me about a job in Cedar Rapids. I came out for the interview and fell in love with the department. I really enjoy the Midwest. It's just been a great experience here.
This interview was conducted by Cindy Hadish.