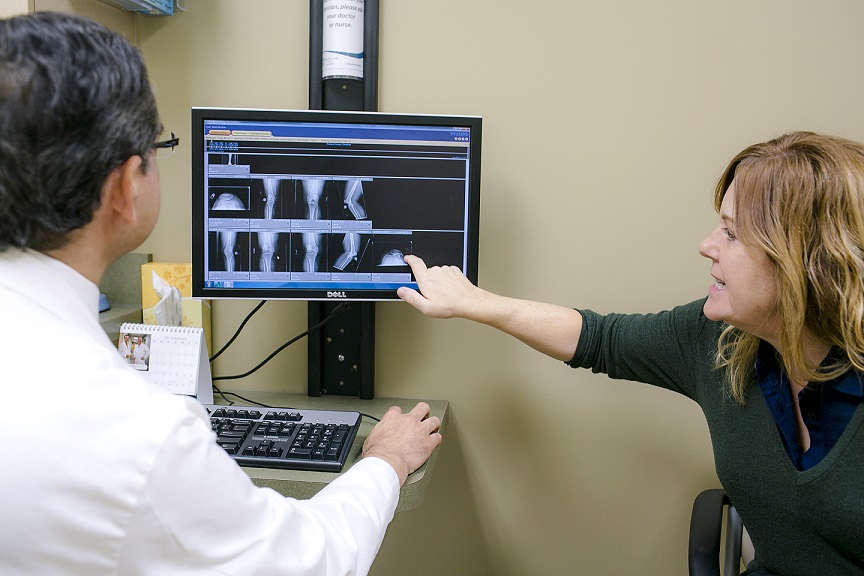 By Cindy Hadish
Trudy Stenersen was temporarily living on the East Coast when she read about a cutting-edge knee implant that sounded promising for the difficulties she experienced in navigating stairs and hills; even getting up from a chair.
At the time, the new knee replacement surgery was only being performed at two places, one of which was in Cedar Rapids, where Ms. Stenersen, 53, and her husband were soon to return.
"I heard about this new option and I thought, 'now is the time,'" she said.
In September, orthopedic surgeon Dr. Sandeep Munjal of Physicians Clinic of Iowa replaced Ms. Stenersen's knee joint with a customized implant using 3-D technology.
"Because it matches the knee exactly in shape and size, it has a more natural feel and patients are more confident about it," said Dr. Munjal, the only Iowa surgeon currently using the new implant, who now teaches the procedure to other doctors around the globe.
In traditional knee replacement surgery, the surgeon selects an "off-the-shelf" implant from a range of standard sizes, Dr. Munjal said, and adjusts the implant to make it fit the patient.
With the partial and total knee implants by ConforMIS of Bedford, Massachusetts, each knee replacement is custom-tailored to the patient, based on CT scans and manufactured with 3-D printing technology.
"It's a knee in a box," Dr. Munjal said, citing parts, using metal alloys and other materials used in traditional implants, that are created in Massachusetts and shipped within five to eight weeks of being ordered.
In just over two years, he has performed about 150 surgeries with ConforMIS implants, but not all patients are candidates.
Dr. Munjal estimated that 25 percent of his patients can use the new technology. The imaging technology would not be able to reproduce replacements for those with knees that are too deformed, for example.
The company has an advantage in not needing storage space for inventory, only manufacturing the parts as-ordered, and there is no cost difference for patients compared to standard knee replacement, Dr. Munjal said. The procedure is typically covered by insurance or Medicare.
While the new implants have not existed long enough to know for certain, the knee replacements likely have the same longevity of traditional implants, estimated at 25 years. Hip replacements using the same technology also are on the horizon.
Dr. Munjal noted that knee replacement surgery is used to relieve knee pain and disability, primarily from arthritis, that cannot be controlled by other treatments.
According to Johns Hopkins Medicine, osteoarthritis, a degenerative joint disease, affects mostly middle-aged and older adults and may cause the breakdown of joint cartilage and adjacent bone in the knees.
Rheumatoid arthritis, which causes inflammation of connective tissue, can lead to pain and stiffness, and traumatic arthritis – arthritis due to injury – may damage the cartilage of the knee.
Dr. Munjal said he is seeing an increasing number of younger patients, ages 50 to 65, for knee replacement surgery.
"They want to be more active and they don't want to wait," he said, adding that other methods of relief are first recommended, such as anti-inflammatory medications, cortisone injections and physical therapy.
Ms. Stenersen waited eight years after being diagnosed with osteoarthritis, which runs in her family, before undergoing the surgery on her left knee.
Her mother and younger sisters had standard knee replacement surgery, all with longer recovery periods, though all had different circumstances, she said.
Ms. Stenersen went into surgery at 8 a.m., was up walking with assistance by noon and went home from the hospital the next day.
She adhered to the physical therapy regime recommended for her and used a walker for about two weeks and a cane for one week.
The six- to eight-inch scar from 33 staples on the front of her leg is fading, and while Ms. Stenersen still has slight swelling, the pain has virtually disappeared and she can now walk up and down stairs and get up from a chair with ease.
"I have absolutely no pain like I had before," she said. "I'm so glad that I did it."