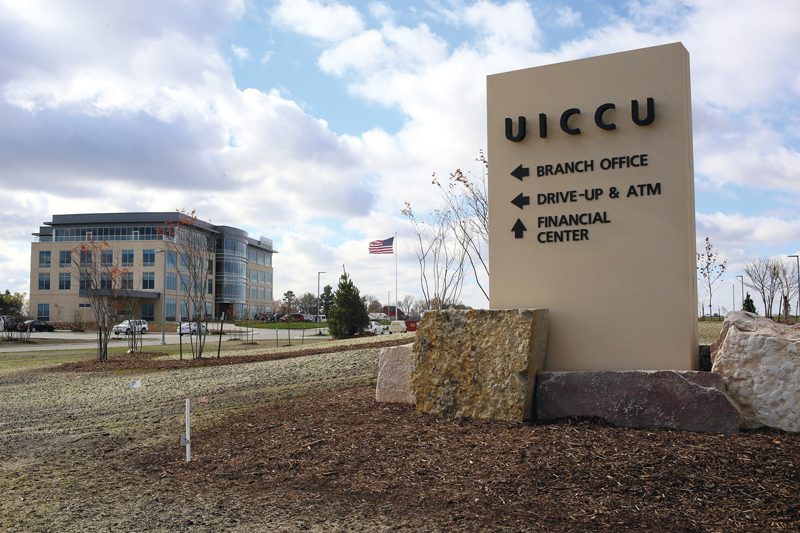 By Pat Shaver
NORTH LIBERTY—The large building off of Interstate 380 recently raised its flag.
The University of Iowa Community Credit Union (UICCU) headquarters had the sign on the outside of the new building placed and last week, the American flag was raised.
Meanwhile, over the past month and in the next few weeks, 175 employees will be moved into the recently completed building, said Dick Noble, UICCU senior vice president of operations. Everybody will be moved in by the middle of this month.
The building, visible from I-380, is located at 2355 Landon Road in North Liberty. It will house about 13 different departments, which impacts five current locations. It will house the call center, accounting department, loan and deposit processing, indirect auto lending, collections, information technologies, auditing, commercial services, business development, public relations, training, human resources, marketing and senior management. It will also be a branch office.
"The convenience of all of us being in one location, instead of traveling to meetings and training sessions, should improve our efficiencies," Mr. Noble said. "Our staff is appreciating the daylighting of the new building, every staff person has a view out the large windows around the whole facility. It is a very attractive feature."
UICCU began running out of space several years ago and started leasing additional space four years ago. There are now two leased offices in Iowa City and one in Tiffin, all at capacity. All three are closing with the opening of the North Liberty headquarters, Mr. Noble said.  However, no branch locations will close, he noted.
"With our growth and increased staffing, we outgrew our facilities three to four years ago and we began leasing space. It doesn't make sense on a long-term basis to lease a lot of square feet."
Work on the four-story, 105,000-square-foot building began in late 2011. Expected cost of the project is between $25 million and $30 million. The branch services in the building will be available to the public starting Jan. 27.
The hope is to have 350-400 employees working there over the next several years. Mr. Noble said the building will allow UICCU 10-15 years of growth.
The building was constructed with a focus on energy efficiency and will have several sustainability features. About 10 acres on the site will be planted with native prairie grass.
Inside, the layout is organized so permanent spaces such has restrooms, stairs, conference rooms, private offices and infrastructure are located in a central core, while open office work areas are located around the perimeter where they can receive natural light. The work areas are equipped with raised access flooring to promote flexibility of workstation locations.
There will be a reduction of individual office printers to help reduce paper use. The watts of energy per square foot will be 50 percent below code level and interior light fixtures will be controlled by daylight sensors. Individual workstations will have plug-in strip occupancy sensors for lower energy consumption. Furnishings in the office will feature environmentally-sensitive elements.
The UICCU headquarters project has been controversial since it was announced in 2010. A citizens group opposed to the incentives UICCU received from the city, filed an injunction against the project. The injunction was later lifted. UICCU will receive 100 percent of the incremental taxes generated by its building rebated to for eight years or up to $5.4 million, whichever comes first, according to North Liberty City Manager Ryan Heiar.
UICCU has seen continued growth and success in Johnson and Linn Counties and has expanded into Black Hawk County.
"We're always looking to add more branches and markets. Right now, we're working on a downtown Cedar Rapids branch location. That will open next fall," Mr. Noble said. The new branch will be located at 716 A Ave. NE in downtown Cedar Rapids, in the former Knights of Columbus Hall building.
A new full-service office at 3409 Cedar Heights Dr. in Cedar Falls opened Sept. 9. Another new branch location opened at 727 Oakbrook Dr. in Marion in January.
UICCU is a member owned financial cooperative with 10 office locations. Since being organized in 1938, UICCU has grown to $2 billion in assets and serves nearly 106,000 members.