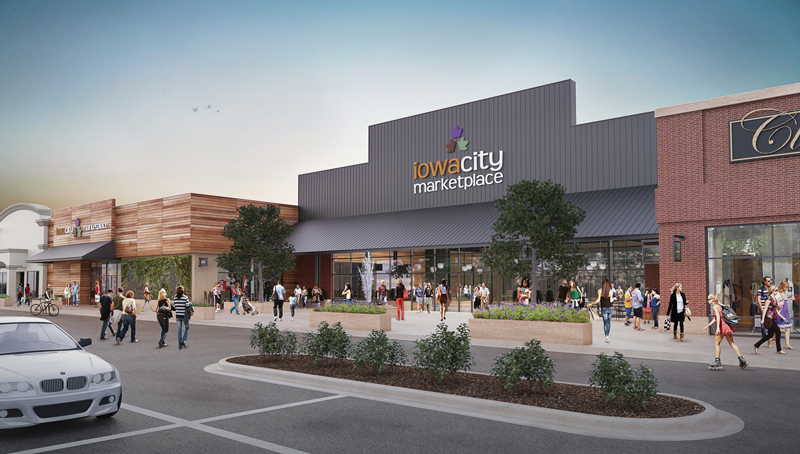 By Cindy Hadish
IOWA CITY – A move for Iowa City's indoor farmers market could bring new life and new crowds to the former Sycamore Mall.
The weekly winter market plans to open Nov. 23 at the mall, recently renamed the Iowa City Marketplace, 1660 Sycamore St.
Cassidy Bell, Iowa City's market supervisor, said the mall has greater visibility than the indoor market's previous site at an elementary school, along with its own customer base.
"It's something vendors and customers have been asking about for quite awhile," she said, noting that changes at the mall made the timing right. "It's hopefully going to be mutually beneficial for the mall, as well as the market."
Farmers market hours will be 10 a.m.-1 p.m. every Saturday from Nov. 23-April 26, except Dec. 14, when the second Holiday Market takes place at the Robert A. Lee Recreation Center, 220 S. Gilbert St.
Last season, the indoor farmers market took a hiatus for most of the winter, before resuming in March at Grant Wood Elementary School, 1930 Lakeside Dr., where it had operated for two years.
Ms. Bell said some customers had difficulty finding the school and challenges also arose because the market was not held on a regular basis.
Having a consistent schedule at the more visible location should help attract and retain customers, she said.
Up to 35 vendors are expected to fit in front of empty storefronts in the mall's main aisle between Panera Bread and the former Von Maur location, with at least 15 signed up for the first market.
Sycamore Mall previously had an outdoor farmers market, held during warm weather months until this year, after which some of the vendors moved to the new market at Mercer Park, 2701 Bradford Dr.
In September, architect and engineering firm Shive-Hattery and CORE Realty Holdings, the mall's owner, announced a rebranding effort to turn the 44-year-old Sycamore Mall into the Iowa City Marketplace. Representatives pointed to incorporating national trends into Iowa City's commercial market, allowing for a variety of uses at the shopping center. The main concept removes leased space to provide interior and exterior areas for social interaction, including a new exterior plaza at the former main entrance.
Amidst those changes comes the farmers market.
As it did at Grant Wood, the indoor market will offer homemade baked goods, local produce and meats and handmade gifts, among other items for sale.
The mall isn't the only new indoor farmers market option in Iowa City. A market also is starting this month at the Johnson County Fairgrounds, 4261 Oak Crest Hill Road SE, which will operate twice-monthly on Sundays from 11 a.m.-2 p.m. Indoor markets can provide a more stable income for producers like Lois Pavelka of Pavelka's Point Meats in rural Mount Vernon, who can sell the farm's lamb, pork and beef during the off-season at the markets, in addition to restaurants.
"I not only appreciate winter markets, we need these markets as our livestock continue to be ready for processing year-round," Ms. Pavelka said. "Without these markets, I would be looking for alternative places to sell our meat during the winter."
She previously had to make arrangements to meet customers at an Iowa City service station driveway to sell meat during the winter.
Ms. Pavelka is also a vendor at the indoor Mount Vernon farmers market, which began its winter season Nov. 2 at the Community Center, a former school. Mount Vernon, Urbana and Ely are among Iowa towns with successful winter markets, boosting the off-season opportunities for farmers and other producers to sell their meat, honey, fall vegetables and produce grown in hoophouses and greenhouses, along with handcrafted items.
Located between Iowa City and Cedar Rapids, Ely has had an indoor market for the past few years at its public library, with a notable partner in the Economic Development Group of Ely, or EDGE.
Citing the synergy between the two entities, Ali Alldredge, manager of Ely's market, said some vendors have used Ely's market as an incubator for their businesses.
"We see a few people trying out their cottage industry here before trying out the big markets," she said, adding that others use the market to promote their online businesses.
Teenagers, too, have been able to build profitable enterprises at Ely's market, Ms. Alldredge said, citing crafts, prepared food and produce booths.
"The skills and relationships they have earned will carry into future economic development," she said.
Although some competition exists between the small-town markets and the NewBo City Market in Cedar Rapids, which celebrated its first anniversary in October, advocates say each site serves its own niche and adds to the variety of local foods options.
The NewBo City Market, 1100 Third St. SE, serves as a public market, with a variety of permanent vendors selling prepared foods such as pizza, ice cream and ethnic dishes that customers can eat on-site or take home. In addition, guest vendors sell fresh produce and other products in-season.
Cedar Rapids also is home to the Iowa Valley Food Co-op, which uses an online ordering system for its members. Items are picked up during monthly distribution days.
Just as some of the co-op producers provide their products at multiple venues, Ms. Alldredge said she has seen the same with Ely's vendors. The farmers market helps cross-link businesses within the local economy, she said, so producers develop relationships with local restaurants and stores.
"I think the relationships that form and the collaboration between vendors, customers and city volunteers willing to support community ventures are the biggest impact," Ms. Alldredge said. "I see a lot of ideas being exchanged and a lot of mentoring, and that helps build communities."
Indoor markets operating in Eastern Iowa during the 2013-2014 season:
— Cedar Rapids: NewBo City Market, 1100 Third St. SE; 11 a.m.-8 p.m. Thursdays (guest vendors arrive at 4 p.m.); 8 a.m.-8 p.m. Saturdays and 9 a.m.-4 p.m. Sundays.
— Dubuque: Colts Center, 1101 Central Ave.; 9 a.m.-noon Saturdays, Nov. 2 through April.
— Ely: Public Library, 1595 Dows St.; 9 a.m.-noon on Nov. 9 and 23; Dec. 14 and 21; Jan. 11 and 25; Feb. 8 and 22; March 8 and 22 and April 12 and 26.
— Freight House Farmers' Market, 421 W. River Dr., Davenport; 3-6 p.m. Tuesdays and 8 a.m.-1 p.m. Saturdays. The Quad Cities Food Hub Market Store is open in the same building from 10 a.m.-5 p.m. Mondays and Fridays; 10 a.m.-7 p.m. Tuesday, Wednesday and Thursday and 8 a.m.-3 p.m. Saturdays. The store features local as well as regional and other natural and health foods.
— Iowa City: Iowa City Marketplace/Sycamore Mall, 1660 Sycamore St.; 10 a.m.-1 p.m. Saturdays, Nov. 23 to April 26, except Dec. 14, when the Holiday Market takes place at the Robert A. Lee Recreation Center, 220 S. Gilbert St. The first holiday market is set for the recreation center on Nov. 16. Both holiday markets are 8 a.m.-1 p.m.
— Iowa City: Johnson County Fairgrounds, Building C, 4261 Oak Crest Hill Rd. SE; 11 a.m.-2 p.m. Nov. 10 and 24; Dec. 8 and 22; Jan. 12 and 26; Feb. 9 and 23; and March 9 and 23.
— Mount Vernon: Community Center, 221 First St. NE; 10 a.m.-noon Saturdays, Nov. 2 through April. No market Dec. 28.
— Urbana: Community Room below City Hall, 906 West Main St.; 9-11 a.m. on the second Saturday of every month, Nov. 9 through March 8.