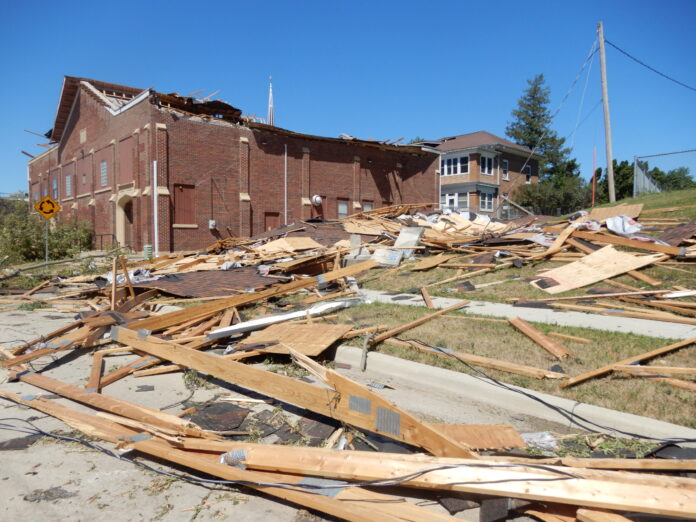 St. Wenceslaus Church is preparing a post-derecho comeback by hosting its popular festival, Czech Goulash Day, on Sunday after a one-year absence.
The church sustained damage during the August 2020 derecho, including a severe hit to its Glovik Parish Center. The parish center is the hub of social activities, primarily Czech Goulash Day, a major event that draws festival-goers from Cedar Rapids and beyond according to a release.
The celebrations have been an annual parish fundraiser at St. Wenceslaus dating back to 1894 when it was known as the Bazaar. The Bazaar was suspended during WWI but resumed in 1922.
Czech Goulash Day, featuring its namesake goulash – what some might consider a beef and vegetable stew – has been canceled occasionally since then; most recently during flooding in 2016 and following last year's COVID-19 pandemic and hurricane-strength derecho that struck a blow to the church.
Repairs remain underway on the steeple of the church, built in 1904, and work continues to fix major damage to the Glovik Parish Center building, where much of the celebration and food preparation typically takes place. Clearance has been given to bake kolaches and prepare food in the center's kitchen, but the building will be open to volunteers only. Festival activities will take place under a giant circus tent to be set up this week in the church parking lot, with kids' games in Czech Heritage Park.
Live music is a mainstay of Czech Goulash Day, which runs from 11 a.m. to 5 p.m., Sunday, outside the church at 1224 Fifth St. SE. Performances include the Iowa Accordion Club at 11:30 a.m.; Czech Plus Band at 12:30 p.m.; Svetlusky dancers at 1:30 p.m. and Barefoot Becky & the Ivanhoe Dutchmen from 2-5 p.m. Bingo, raffles, a Kids Zone and tours of the newly renovated church are among other activities. The church interior was entirely cleaned and repainted after the derecho, and stained glass windows were sent to Milwaukee for repair. Masses resumed in the church this spring.
Vegetable cutting for the goulash began today at  8:30 a.m. in the Glovik Parish Center. "Wencburgers" are among other popular foods featured at the festival, but the biggest draw is the kolaches, a favorite Czech pastry sold in traditional flavors of cherry, poppyseed, apricot and prune.
What: Czech Goulash Day
Where: St. Wenceslaus Catholic Church, 1224 Fifth St. SE
When: 11 a.m. to 5 p.m. Sunday
Other: The event is cash or check only.