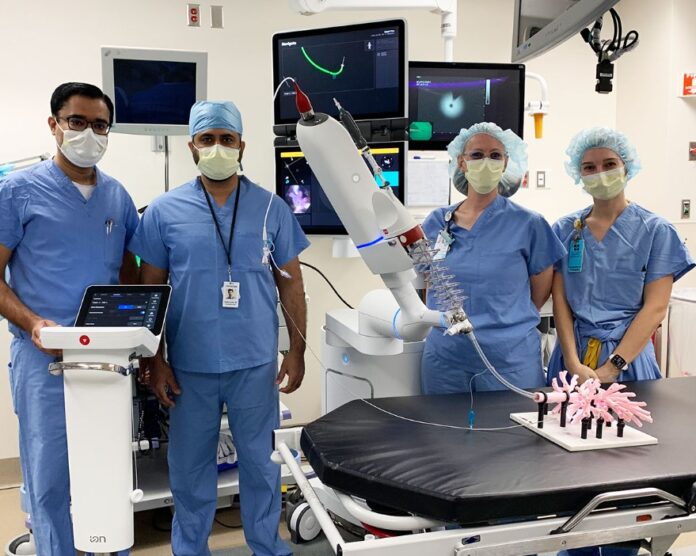 UnityPoint Health–St. Luke's Hospital is offering patients a new, minimally invasive option for lung biopsies using a robot-assisted surgical tool, according to a news release from the hospital.
This new surgical tool, called the Ion Endoluminal Robotic Bronchoscopy System, allows physicians to obtain tissue samples from deep within the lung and potentially diagnose lung cancer earlier. The system features an ultra-thin, maneuverable catheter that allows navigation far into the peripheral lung and provides stability and precision needed for biopsy compared to manual techniques.
During bronchoscopy with Ion, the physician uses the controller to navigate to the target along a planned path. The catheter can articulate 180° in any direction to pass through small, difficult-to navigate airways and around tight bends to reach all 18 segments of the lung.
Ion is equipped with a small camera, which gives doctors real time video of the lungs. Once the suspicious lung nodule is reached, the catheter locks in place. A flexible biopsy needle then passes through the catheter to collect tissue.
During biopsy, Ion's Biopsy Marker feature lets physicians systematically track multiple biopsy attempts and helps visualize different biopsy needle trajectories. If real-time confirmation of a representative tissue sample is available, the physician can redirect subsequent biopsy attempts into the confirmed target area.
 "The earlier lung cancer is diagnosed and treated, the greater the chance of survival," said Dr. Hamad Azam, UnityPoint Clinic – Multi-Specialty pulmonologist, in the news release. "We are proud to offer this potentially lifesaving technology, which will help us offer the best possible patient care."
St. Luke's is the first hospital in Cedar Rapids with this robotic technology.