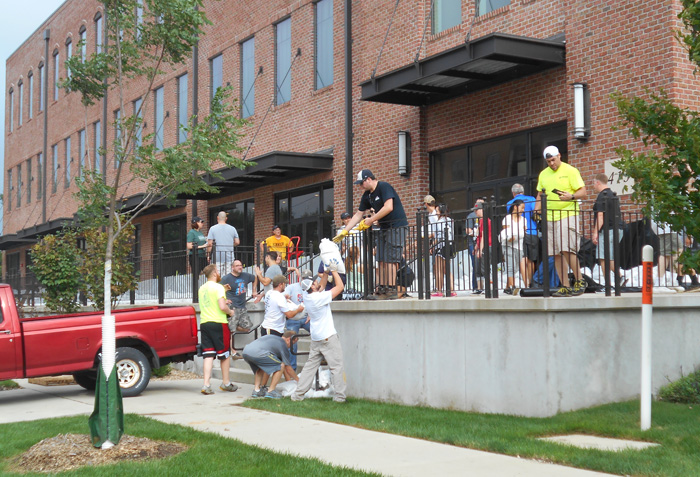 By Cindy Hadish
CORRIDOR–Relentless rains pummeled Cedar Rapids as Mayor Ron Corbett discussed remaining recovery efforts, nearly five years after unprecedented flooding engulfed the city's core.
Foremost in that ongoing recovery is flood protection, of particular concern in light of this year's late-spring floods.
"That is our biggest challenge, long-term: getting flood protection for both sides of the river," Mr. Corbett said. "This flooding issue isn't going away."
Cedar Rapids, along with Iowa City, Coralville and the University of Iowa, were among the areas to set flood plans in motion as high waters posed renewed threats near the five-year anniversary of the 2008 floods.
Temporary barriers, pumps, evacuations, sand-bagging and other mitigation efforts ran full-tilt as some long-term measures remain incomplete.
In Cedar Rapids, concrete flood walls, earthen levees and other forms of protection will likely come piece-by-piece at a cost of more than $290 million, with the city's forthcoming amphitheater one example of assembling the great puzzle, Mr. Corbett said.
The floodable amphitheater, being built into a levee on the west side of the Cedar River near the police station, is expected to open in August, but construction of permanent flood walls on both sides of the river could still be another decade away.
Mr. Corbett noted that working with the U.S. Army Corps of Engineers takes considerable time. Other portions of recovery, such as property buyouts and rebuilding public buildings, are nearing completion.
"We're well over 90 percent of the way done, as far as flood recovery," he said, citing repopulating neighborhoods and putting property back on the tax rolls among the remaining challenges.
At least 1,088 homes and 93 commercial buildings have been demolished since the 2008 flood, with "only a handful" of buyouts, less than 80 of 1,200, remaining, Mr. Corbett said.
The flood left its permanent mark on Cedar Rapids, with the city's website pointing to that monumental event, along with progress made in the past five years.
On June 13, 2008, the Cedar River crested to its highest level in Cedar Rapids history, at 31.12 feet, surpassing the previous record of 20 feet. The river crested earlier this month at 18.2 feet, with relatively minimal flooding.
Flood waters in 2008 penetrated 10 square miles — 1,126 city blocks —  or 14 percent of Cedar Rapids.
More than 18,000 people were living in flooded neighborhoods, with flood damage to 7,198 parcels, including 5,390 homes and 310 city facilities.
Despite the flood's magnitude, Mr. Corbett singled out an amazing statistic: zero deaths attributed to the flood waters. Cedar Rapids firefighters performed 423 boat rescues during that time.
While 1,360 jobs were estimated lost as a result of the flood, Mr. Corbett noted that one of the high points of recovery is the amount of private investment leveraged during the past five years.
The streetscaping of Third Street SE, in the New Bohemia district is a prime example of how the city's investment in a neighborhood led to further development, he said, citing the reopening of CSPS, the new NewBo City Market and software company Geonetrics' plan to construct a 45,000-square-foot office building at 415 12th Ave. SE.
Other victories can be seen in the reopened Paramount Theatre, new city convention center, forthcoming city library and a long list of other projects.
"It feels like yesterday," Mr. Corbett said. "It's hard to believe it's been five years."
University of Iowa
With more than $848 million in estimated damage at the time, Iowa's 2008 floods and tornadoes were considered the sixth largest disaster declaration in the United States, based on estimated financial public assistance from the Federal Emergency Management Agency (FEMA).
University of Iowa spokesman Tom Moore said the campus sustained even more damage than colleges hit by Hurricane Katrina in 2005.
"Our damage, as far as universities affected, was among the worst, if not the worst in the history of the nation," Mr. Moore said.
Estimated expenses total more than $803 million, with the replacement of Hancher Auditorium and the School of Music topping the list.
The UI provided the following list of major flood-related projects:
Hancher replacement: a new auditorium is being built just east of the Levitt Center for University Advancement, well above the 500-year flood level.
School of Music replacement: under way at the corner of Clinton and Burlington streets, on land acquired from two local banks, with completion targeted for 2016. Together, Hancher and the music building replacements total $347.7 million.
Art Building replacement: will be competitively bid this summer to be constructed on a UI-owned site north and west of the Art West Building. Cost: $84.6 million.
Museum of Art Building: FEMA has denied federal grant funds to replace the museum, but the UI will review with the Board of Regents its initial plan to establish a facility to house its $500 million fine arts collection. Cost: $5.4 million.
Art Building West: all repairs and flood protection elements were completed in early 2012, including a system of "invisible walls" to be erected into deep concrete foundations when potential flooding threatens. Cost: $12.8 million.
Iowa Advanced Technologies Laboratory: the building will be protected from future flooding by the "invisible wall" system. Should the campus be threatened by major flooding, a steel and aluminum wall system is installed into the foundation to block the building from nearby waters. Cost: $30 million.
Iowa Memorial Union: all but the ground floor and basement were re-opened before the fall 2008 semester. Plans include repairs to the ground floor and to damaged mechanical and electrical systems. A new brick-facade floodwall will be constructed and encircle the entire site at 2 feet above the 500-year flood level, topped by a pedestrian-accessible platform with a June 2015 completion date. Cost: $39.5 million.
Theatre Building: the lower level remains closed, with plans to relocate mechanical and electrical systems to a new rooftop enclosure. Cost: $16.3 million.
Mayflower Hall: permanent recovery project will be bid this summer and include final repair of first-floor public spaces and new permanent flood wall constructed along the length of the building, with a 2015 completion date.  Cost: $18 million.
Adler Journalism/Becker Communications/English Philosophy Building: recovery of each included new and refurbished mechanical and electrical systems, and wall and floor repairs. The UI also created a new system of tunnel bulkheads that will seal off connections to river-area tunnels during times of high water. This new barrier system will also help protect utility tunnels and the critically important UI Power Plant, the source for campus utilities. Cost: $10.4 million.
Other costs include: $98.5 million in utility plants and systems; $38.4 million in debris removal; $56.8 million in temporary locations; $12.4 million in emergency measures, $18.3 million in other restoration projects, and risk management, engineering studies and cost eligibility determinations of $14.3 million.
Estimated sources of funding include $544.1 million from FEMA; $72.8 million in insurance; $30 million in gifts; $14.7 million in University Enterprise Funds; $119 million in Academic Building Revenue Bonds and $22.8 million in general university funds.
Since the 2008 floods, the UI has prepared itself for future flooding, some of which was put in motion in late May and earlier this month, Mr. Moore said.
Iowa City
Mayflower Residence Hall was evacuated during the latest flooding threat late this spring, even as Iowa City works on plans to elevate Dubuque Street, in front of the building. The higher level will allow traffic to pass, even when the river gets high, and will allow safe access to Mayflower.
Iowa City officially bought out its last home related to the 2008 flood this May, said David Purdy, community development planner for Iowa City.
"It always takes longer than people want," Mr. Purdy said. "Looking back, I think it's been a good (recovery) project."
The city demolished 90 homes and will demolish the final one in less than 90 days. Many of those homes were on Eastmoor, Manor and Normandy drives. Mr. Purdy pointed to one building the city decided against demolishing: the historic Ned Ashton house at 820 Park Road.
The area where buildings were razed is becoming green space, he said, which has helped in the latest round of flooding this spring. Otherwise, two major public infrastructure projects remain, including elevating Dubuque Street, along with reconstructing Park Road bridge. The other involves closing the north wastewater treatment plant and consolidating treatment at the south plant, Mr. Purdy said. That flood-prone north site, at 1000 S. Clinton St., will become part of a riverfront park for the proposed Riverfront Crossings District.
Coralville
In Coralville, some flood mitigation work remains south of Clear Creek, said Scott Larson, assistant city engineer.
"Most funded projects are completed," Mr. Larson said.
The city bought more than 80 properties after the 2008 floods, most of which have been demolished. Mr. Larson noted that one of the unfunded projects, berms on the north side of Clear Creek and east side of Biscuit Creek, are the responsibility of the Old Town Coralville developer.
Coralville provided this list of completed projects:
Reconstruction of the existing First Avenue bridge over Clear Creek with five traffic lanes, 10-foot-wide sidewalks on both sides and a 10-foot-wide trail underneath.  The bridge is higher and longer to allow a 100-year flood to pass underneath without damaging it.
Reconstruction of First Avenue from Clear Creek to south of Sixth Street, with five lanes of traffic, 10-foot-wide sidewalks on both sides, improved storm sewer system, one storm water pump station, and dual left turns lanes on Fifth Street.
Construction of three storm water pump stations, and berms and walls along the Iowa River from the north end of the Iowa River Power Co. Restaurant parking lot to Interstate 80.
Construction of flood protection walls and berms, walkways, trails, interpretive signage and a comfort station in the Iowa River Landing Wetlands Park on the east side of the Marriott Hotel and Conference Center.
All projects began in 2010, were substantially completed in 2011, and accepted in 2012, Mr. Larson noted. Funding was from more than $27.1 million in a state I-JOBS grant, with roughly $9.9 million in local funds, for a $37.1 million total.
Backflow prevention to stop Iowa River and Clear Creek from flooding surrounding neighborhoods, as well as flood mitigation on Biscuit Creek and Clear Creek were completed in 2012 for about $4.7 million in Community Development Block Grants, I-JOBS funds and some local funding.
New and upgraded storm water pump stations will be completed this fall, with two $5 million CDBG grants and $715,000 in local funds.
A flood protection system along the CRANDIC Rail Corridor will be completed in 2014 at a cost of $11.7 million, with grants and local funding.
Mr. Larson said the total cost of current and completed projects was $64.2 million.
Future projects include the south side Clear Creek permanent and removable flood walls; raising Fifth Street at Biscuit Creek and upgrading existing storm water pump stations, which will cost $8.8 million total.