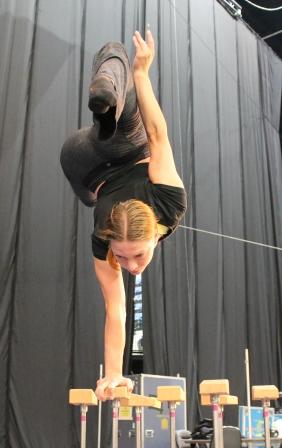 The newly-completed U.S. Cellular Center in downtown Cedar Rapids was abuzz June 5 with the nervous anticipation of performers and staff preparing for the June 6-9 performances of "Quidam" by Cirque du Soleil. Tickets start at $40 and are available through Ticketmaster.
Ninety performers and staff of Cirque represent 25 countries. They travel to each show with 15 semitrailers, one of which contains the $2 million worth of costumes for the performances. Each costume is custom tailored to the performer and is constructed with material designed to protect from rope-burn and other minor injuries. Performers spend 45-60 minutes before each show applying their own makeup, said Jessica Leboeuf, a Cirque spokeswoman.
Cirque du Soleil invited the Corridor Business Journal backstage for a pre-performance peek. View the slideshow below.
Photos and story by Gigi Wood