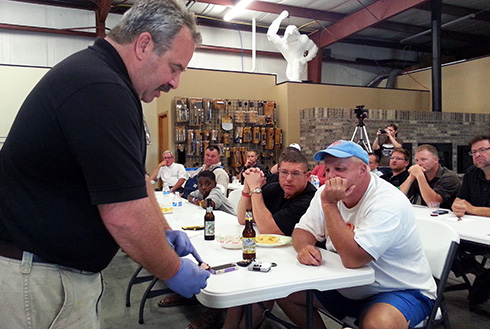 Barbecue master Chris Marks teaches a class on smoking and grilling meats at Spotix' headquarters in 2014. The North Liberty-based retailer is planning an expansion later this summer.
By Chase Castle
chase@corridorbusiness.com
Spotix plans to add some fresh additions to its fires in online retailing, and will do so this summer while building a new office in North Liberty.
The company that sells fireplaces, fire pits, hearths, grills and related accessories to both consumers and other retailers has grown significantly since its founding five years ago. The company experienced 284 percent growth in revenue between 2012 and 2014 alone, with virtually all of the company's sales completed online.
That achievement was enough to nab Spotix a place atop the Corridor Business Journal's Fastest Growing Companies list in 2015.
"Sales are well ahead of last year already," said Founder and President Scott Ramspott. "So we're doing what we do better and more effectively. We need more space to store more product and … to hire more employees."
Spotix will this summer end its lease on a property near Interstate 380 and Penn Street in favor of a roughly 90,000 square-foot building just west of its current office and just south of Frontier Co-op. Spotix will own and occupy about 23,000 square feet of the space, while the remaining four bays of the building, constructed by Grand Rail Development in North Liberty, will be home to still-unannounced tenants.
Mr. Ramspott said he hopes to have the building completed with all employees relocated to the new site by mid to late summer.
Under an agreement between the company and the city of North Liberty approved Feb. 23, Spotix will benefit from tax increment financing worth an estimated $322,000 over a seven-year period, wherein all newly-generated property taxes resulting from the new building will be waived. The city projects that the company will annually pay an estimated $61,000 in property taxes, about $46,000 of which will be remitted to the company.
To receive that incentive, Spotix will be required to spend $1.9 million in the acquisition and furnishing of the new space, and by September 2018 must add 15 new jobs at an average salary of $40,000 – a requirement Mr. Ramspott expects the company to meet handily.
"I think we'll well exceed that with the current growth we're seeing," Mr. Ramspott said. "We could use several people right now. We just don't have offices for them."
The new hires would effectively triple the company's workforce, which city records say is comprised of eight people as of last month. The new hires will likely include professionals focused on digital marketing, a pay-per-click strategist and a search engine optimization (SEO) specialist in an effort to maximize the visibility of the company's websites.
The sites themselves will likely be getting a facelift soon, as hires specializing in photography and videography are on the company's agenda.
The planned investment in video harkens back to one of the company's early inspirations, Zappos, the online shoe retailer Mr. Ramspott has unapologetically modeled portions of his own company after.
"We know videos are very important to the consumer these days – short videos, whether they're on grills or the fire pits [as] how-to videos, or just explaining the product better," Mr. Ramspott said. "There are a lot of people who don't want to read [about products]. They want to watch short videos, I myself being one of those people."
Spotix plans to add high-end cutlery and pots and pans to compliment its grilling hardware, including cutlery by German knife manufacturer J.A. Henckels, for which Spotix signed on as a vendor earlier this year.
The company has also added accessories for sous-vide cooking, a preparation method where meats and other foods are vacuum-sealed then boiled to temperature before being finished on the grill.
The scope of Spotix's products is rapidly expanding beyond the patio, however, as the company considers adding foosball tables, shuffleboard and related entertainment to its online repertoire.
"So we're looking for the niche [of] high-end products that are hard to find locally," Mr. Ramspott said. "That's our niche in our products."