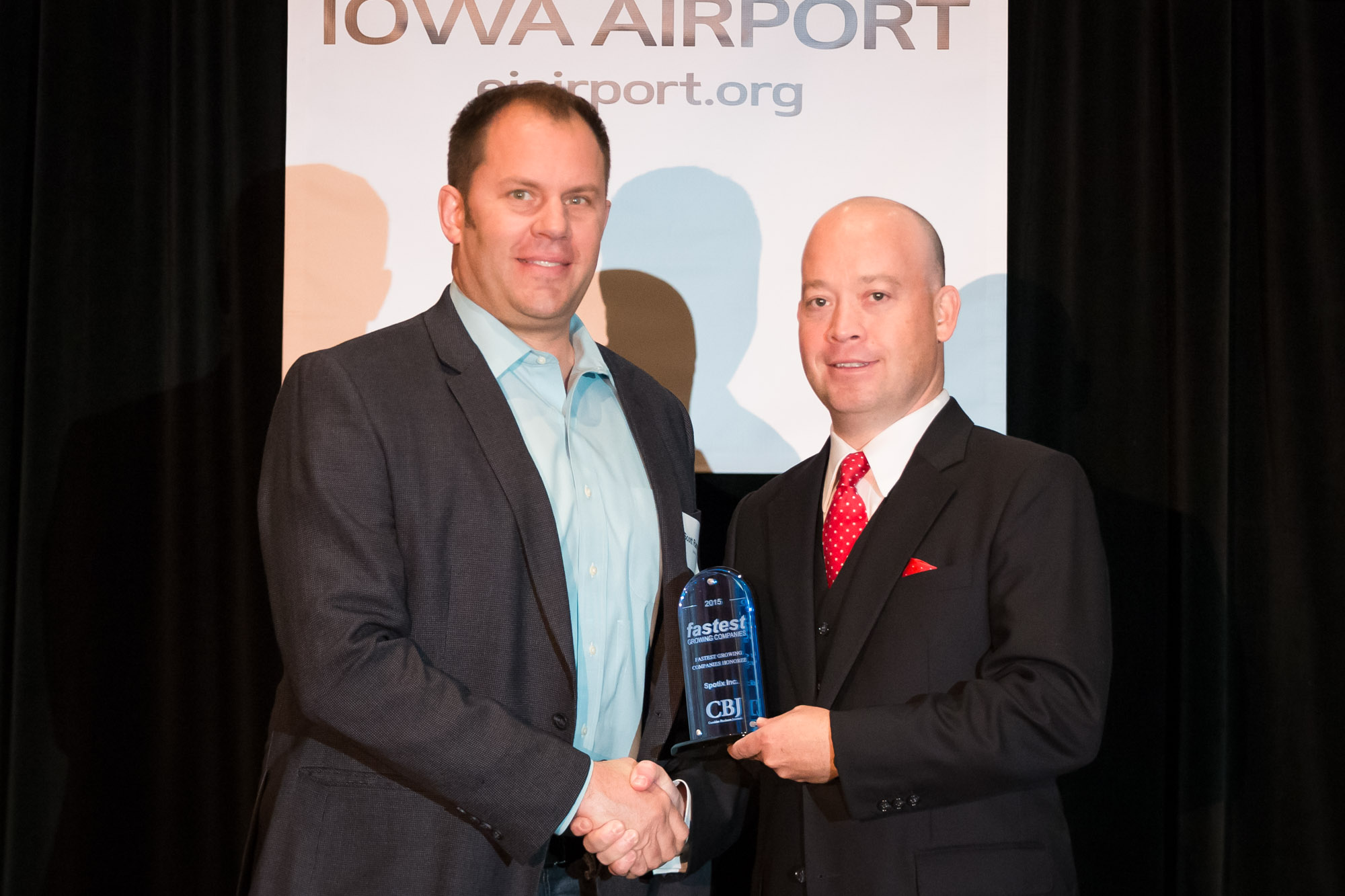 By Chase Castle
chase@corridorbusiness.com
Few companies in the Corridor have experienced the rapid growth of North Liberty-based Spotix Inc., which sells fire pits, grills and related accessories to both consumers and retailers and has more than doubled its sales since 2012.
The fuel for the company's combustion? Online sales.
Named overall leader of the Corridor Business Journal's 2015 Fastest Growing Companies list in its first year on the list, Spotix achieved a nearly 284 percent growth in revenue from the 2012 calendar year to the close of 2014, with virtually all of the company's sales completed online.
A total of 25 companies were honored at a May 19 awards breakfast, with rankings based on confidential evaluations provided by accounting firm Honkamp Krueger & Co. of tax return information submitted by the companies.
Company founder and president Scott Ramspott said less than 1 percent of Spotix's sales take place in Iowa, despite noteworthy local projects such as fire pits at Vesta, Backpocket Brewery and 30hop in Coralville's Iowa River Landing.
"We truly are an e-commerce based company," said Mr. Ramspott. "We can pick up and move anywhere."
Spotix does have a showroom at its office in North Liberty, which also houses about 60 percent of the products the company ships. However, that addition, made in 2012, was installed merely to appease distributors that require stores to have one to carry their products.
"That's the long of the short of it," Mr. Ramspott said. "It came to fruition strictly so we could sell products online."
Those strong web sales have prompted demand for additional employees, with plans in place to hire a web traffic specialist, a digital marketing specialist and another salesperson as soon as possible, Mr. Ramspott said.
"So immediately, we have three positions we'd love to fill," he said.
Although the company emphasizes the need for technical savvy in its hires, Mr. Ramspott said employee chemistry and company culture are equally important – not just to Spotix, but to prospective hires as well.
"They're looking for a place they belong to, and that's what I want to create," said Mr. Ramspott, who has hopped between different sales environments himself.
Prior to Spotix's founding in 2011, Mr. Ramspott worked as a sales manager at Ralston Creek in Coralville before branching out with distributor Dave Kady. In 2005, the two men started Hearth Partners. The rep agency, which Mr. Ramspott still operates, sells product lines for Kozy Heat Fireplaces and Hearth Products Controls to brick-and-mortar retailers around Iowa.
Slow sales in 2008 and differences between the two later prompted them to part ways. In 2011, Spotix was formed with the intention of capitalizing on the online marketplace.
"So there was already a little momentum at that time," Mr. Ramspott recalled.
The following year, Mr. Ramspott hired Aaron Verhorevoort, whose addition marked one of the turning points in the company's development.
"Aaron had entrepreneurial spirit," Mr. Ramspott recalled, noting that Mr. Verhorevoort's experience as a flight engineer in the Iowa Army National Guard tipped him off to his general manager's eye for detail.
"He's the guy that crosses the T's and dots the I's," he said. "He's the sales guy. I'm the wild card. He's the guy that makes it all happen."
Mr. Verhorevoort said a frequent misconception exists in online retailing that unless someone is making a purchase through Amazon or another major national retailer, the operation presumably takes place in someone's basement.
"There's definitely a lot more that goes into it," Mr. Verhorevoort said. "It's probably a pretty comparable set of challenges that come from a regular walk-in customer. They're different, but at the end of the day, they're just as hard to overcome."
Among those challenges is making the shopping experience as intuitive and efficient as possible. To accomplish that, Mr. Verhorevoort helped redesign the company's website in order to minimize time-consuming email and phone communications. With the company's platforms now dialed in, Mr. Verhorevoort said he views any significant spike in email or phone contact with customers as an indicator of possible issues.
"It's actually a really good barometer for the overall status  … of the content, the service, the product," Mr. Verhorevoort said.
The company website also allows contractors to sign up to be a contractor with Spotix. Once logged in, contractors can automatically view all orders at a discounted price.
"So it really helps create a loyal customer right away," Mr. Verhorevoort noted.
Spotix has also taken inspiration from other successful e-commerce companies that have rebranded some of their assets online. The Omaha-based NetShops, for example, first launched as Hammocks.com before acquiring other product-specific websites and later changing its name to Hayneedle.
Spotix similarly sells its products through a series of websites including firepitsdirect.com and skytechremotecontrols.com, which effectively enhance the sites' appeal as specialty stores.
Online sales are closely linked to population levels, Mr. Verhorevoort said, with California, Texas, Florida and the Northeast representing the bulk of sales, which are effectively split between commercial and residential customers.
Mr. Verhorevoort said he believes the business outlook for Spotix is positive, due to economic indicators such as home construction and new home sales, which increased 6 percent nationwide the first quarter of 2015 over the same time period last year.
"I think it looks like a pretty rosy picture with some slow, steady growth for the next couple of years, at least as far as big-picture, macro growth goes," he said.