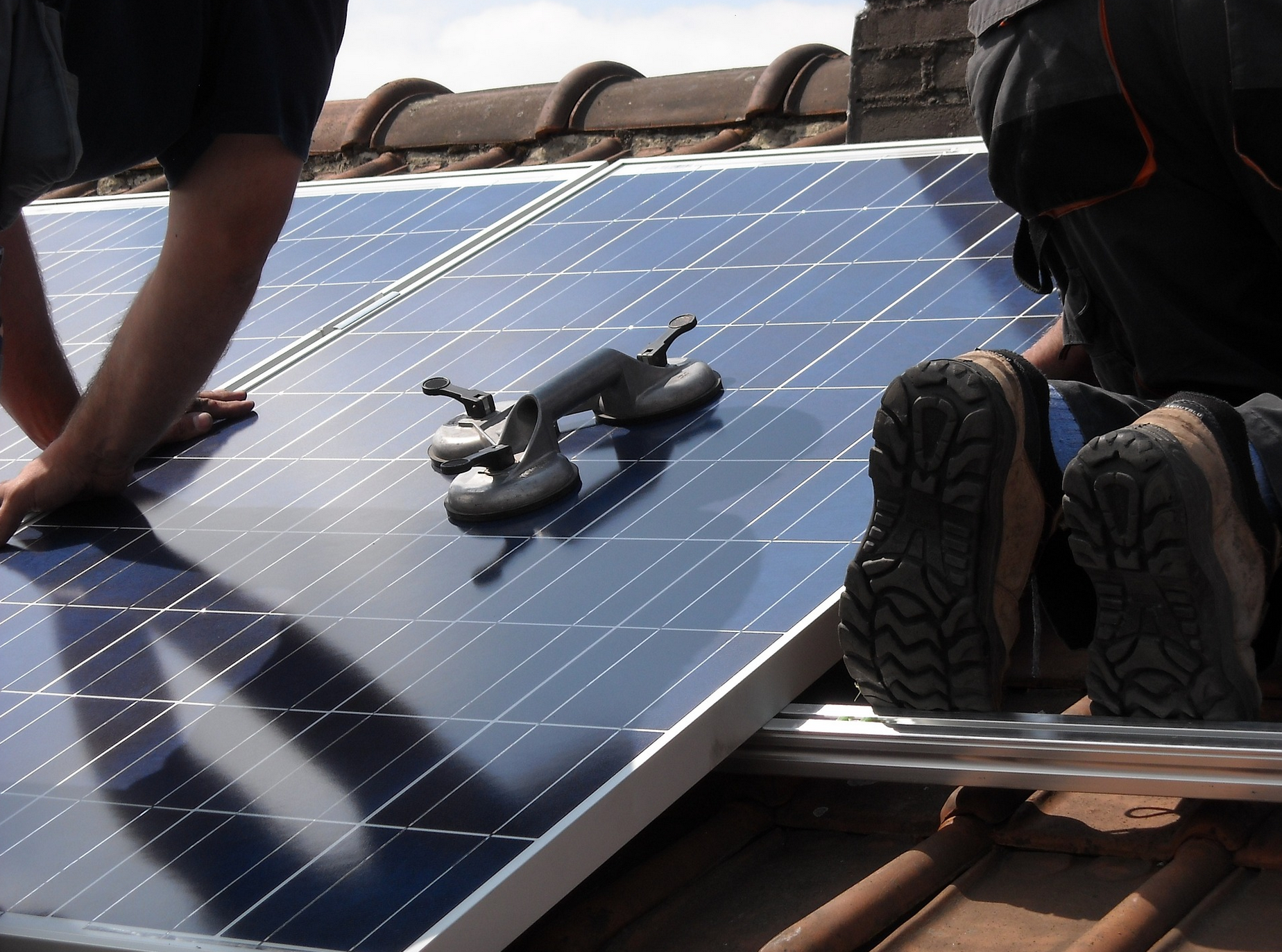 Workers install solar panels on a home roof in an undated photo. CREDIT PEC

By Katharine Carlon
katharine@corridorbusiness.com
When Mirna Garza and Nancy Williams became neighbors about two years ago, they quickly bonded over their concern for the environment, joining forces to create a rain garden with native flowers and installing rain barrels to reduce their water consumption.
So when Johnson County launched its Solarize Johnson County program this spring, the Peninsula neighborhood duplex dwellers quickly signed up to attend one of the program's 22 Solar Power Hour educational sessions. From there, it didn't take much to persuade them to sign contracts to install a solar array to power both of their homes – eight panels on Ms. Williams' side of the roof and 16 on the side Ms. Garza shares with her husband, Guillermo Aguilar.
"Nancy and I are very, very passionate about being environmentally friendly, and thinking about our resources in a more sustainable way," Ms. Garza said, adding that she and her neighbor began exploring solar power about a year before the discounted installation and group purchasing program offered by Solarize tipped them over the edge.
"It makes sense to use renewable resources, more than just something that pollutes and things like that," she said, "but it's also going to make your electricity bill cheaper. Yes, it's an investment, but you're going to see that back in your pocket when your electricity bill gets cheaper and cheaper, and with [federal and state tax incentives], it makes sense that we take advantage of those of those opportunities."
Johnson County's program, which kicked off in April and runs through next month, follows last summer's successful Solarize Linn County initiative. The Linn County program ended with about 607 kilowatts of solar energy added to 105 properties – nearly double the original goal of 350 kilowatts. As of July 17, according to Johnson County Sustainability Coordinator Becky Soglin, about 33 Johnson County households had signed contracts to "go solar," with an average array size of 6.17 kilowatts and 185 kilowatts installed altogether.
Solarize Johnson County blew through its first "benchmark" of 50 kilowatts in June, reached its second benchmark of 150 kilowatts earlier this month and is on track to hit its third target of 250 kilowatts by month's end. Hitting the benchmarks matters, Ms. Soglin said, because the more people that participate, the less expensive the installations become.
"It allows you to put solar on your own home, taking advantage of economies of scale," she said, adding that although North Liberty-based Moxie Solar, the installer for the program, offered a discount on materials from the get-go, hitting threshold targets reduces the cost further for new enrollees while earlier adopters receive rebates. The federal Solar Investment Tax Credit also allows homeowners to deduct 30 percent of the cost of installing a solar energy system, along with a state tax credit, providing "the other piece of the affordability puzzle."
Ms. Soglin said the program originated when the Wisconsin-based Midwest Renewable Energy Association (MREA), which administered last summer's Linn County Solarize initiative as well as others across the Midwest, approached Johnson County officials about capitalizing on the county's already-strong commitment to sustainability and green power, including the use of solar and other renewable sources to power its buildings.
"MREA has a great track record of putting on these Solarize programs and getting results," Ms. Soglin said. "We thought it was time to bring this model to our residents."
MREA, the county and the cities of Coralville, Iowa City, North Liberty, Shueyville, Solon and West Branch have teamed up to hold 20 of the planned 22 Solar Power Hours so far. Although the focus of the meetings is "no pressure" education on the benefits and mechanics of solar energy, Ms. Soglin said, they have been enthusiastically received, attracting an average of about 25 interested residents and generating 500 "leads," including those who attended meetings in person or signed up for information online.
With price decreases in solar materials coming year after year, "people end up kicking the can down the road," said Peter Murphy, solar program manager for MREA, whose mission is "promoting renewable energy through education and demonstration." Mr. Murphy said his organization creates urgency, motivating homeowners to action by partnering with installers for discounted installation, tying pricing to benchmarks and setting a deadline.
Mr. Murphy said MREA's experience in Linn County – the organization's first foray into Iowa – was inspiring, and "in Johnson County, we wanted to set our sights even higher."
"It's hard to know [whether Johnson County can match Linn County's success] because typically, the numbers shoot up at the very end," he said, adding that turnout numbers for meetings suggest keen curiosity. "[Enthusiasm] has been incredible and goes to show there's an ongoing demand for information and an interest in going solar."
Perhaps the most daunting hurdle in encouraging a conversion to solar power is the upfront cost of the equipment. Mr. Murphy said there's no "typical installation" because of the wide range of available sunlight from house to house, as well as differing energy usage profiles. But in general, he said, homeowners are looking at an investment of between $10,000-$18,000 before federal and state tax credits, "which softens that number quite a bit."
Payback on residential installations is between seven and 12 years, making a solar installation affordable for those planning to remain in their home for years to come, Mr. Murphy said. "When people see payback in the foreseeable future, they think, 'Yeah, I can do this.'"
Ms. Garza said her system, which she expects to cover 90 percent of her household's annual energy consumption, cost about $13,000 before benchmark discounts and state and federal tax incentives.
"It is expensive at first, but [the Solarize program] makes the return on investment quicker because the more people joining, the cheaper it is for everybody," she said. "Of course, we hope that more people get on board so we save as much as we can."
Mr. Murphy said the typical solar adopter isn't simply someone looking to save on bills, although they almost certainly will if they live in their home for long enough.
"More likely they want to make good on a commitment to the environment," he said.
That commitment is what appealed to Nancy Williams, who hopes to make a difference for the next generation and beyond.
"I have grandchildren and I've been increasingly worried about the consequences of global warming on their future," Ms. Williams wrote in an email. "I'd been thinking about ways to reduce my carbon footprint when I moved to the Peninsula. And I was very lucky to meet the perfect neighbors right next door … I'm happy to be doing something to make a difference, and I'm hopeful that others will sign up, too."
The next two Solar Power Hours will be held at 6:30 p.m. on July 31 at the Iowa City Public Library, and on August 2 at the Johnson County Health and Human Services Building.