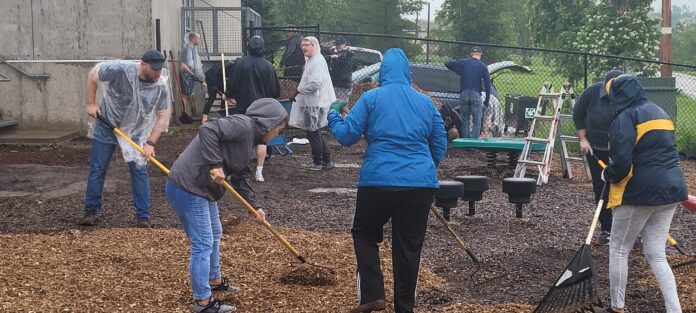 In recognition of Juneteenth, roughly 60 attorneys and staff of Shuttleworth & Ingersoll donated over 300 hours to make improvements to outdoor spaces and assist with legal forms for the Four Oaks Enterprise, according to a news release.
This group of volunteers gave their time and effort to help at the Jane Boyd Community House and Cedar Valley Townhomes in Cedar Rapids.
Juneteenth commemorates the anniversary of the day in 1865 when the last group of enslaved black Americans were freed by Union troops.
According to the release, Shuttleworth & Ingersoll representatives constructed a pergola on the playground at the Jane Boyd Community House for the children attending Achievement Academy, an out-of-school educational enrichment program for children in underserved areas.
The trees shading the playground were destroyed in the 2020 derecho.
They also mulched the entire playground, providing a protective ground cushion for active children.
According to the release, the firm partnered with the Entrepreneur Edge Program at the Jane Boyd Community House to prepare general legal forms. The program focuses on developing and supporting minority-owned entrepreneurs and small business owners in the Cedar Rapids area.
At Cedar Valley Townhomes, an Affordable Housing Network, Inc. property for diverse populations with lower incomes, attorneys and staff refreshed garden beds and filled them with flowers for an inviting atmosphere, and spread mulch throughout the playground shared by the townhomes.
In addition, they donated more than $400 worth of food to the community's food pantry, according to the release.