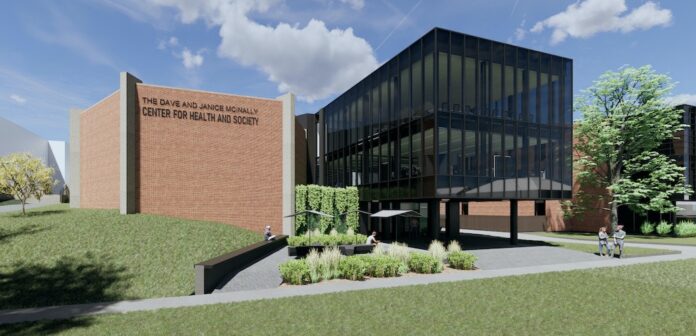 Coe College is partnering with UnityPoint Health-St. Luke's and Mercy Medical Center to provide nursing students with financial aid and guaranteed employment upon graduation.
Coe students will have the opportunity to participate in one of the two partnerships that best meets their needs, while also helping to close a gap in health care staffing shortages. This is one of the many unique educational opportunities provided to Coe students as part of the new David and Janice McInally Center for Health & Society (CHS).  
The Cedar Rapids college's long-standing relationship with the two health organizations stems from years of collaboration and Coe's convenient location within the MedQuarter Regional Medical District (MedQ) in Cedar Rapids. Coe nursing students complete three full terms of one-on-one clinical rotations, many of whom do so at UnityPoint Health – St. Luke's and Mercy Medical Center.
Students are already benefiting from CHS programs and connections, but the new facility will open this fall, further strengthening Coe's ties with the MedQ. It will increase access to state-of-the-art medical technology, workshops, guest speakers and networking opportunities. 
A National Board of Advisors guides CHS and will continue to foster collaboration between local and national health leaders. The advisory board includes prominent local leaders such as Tanager Place CEO Okpara Rice, Mercy Medical Center President and CEO Tim Charles and Medical Director, MercyCare Business Health Solutions Dr. Tim Sagers '97, and UnityPoint Health – St. Luke's President and CEO Michelle Niermann and Chief Medical Officer and Associate Medical Director of Hospital-Based Providers Dr. Dustin Arnold '91.
"It is a delight to work alongside nurses from Coe because they come in with extensive knowledge and an exceptional attitude. I hope these partnerships encourage even more Coe nursing graduates to stay in Cedar Rapids," Dr. Arnold said. "Bigger picture, doctors, nurses and other frontline health workers rely on an extensive support system and the progressive vision of the CHS to educate everyone from accountants to x-ray technicians will help establish a stronger foundation for the entire health care system." 
UnityPoint Health – St. Luke's Senior Student Promise Program is now available to Coe's graduating nursing students. There are four 2022 graduates participating in the program that covered the tuition and fees of their final two terms at Coe. 
In exchange, students accept a guaranteed job offer to work in a unit or department in critical need of staff for a minimum of 18 months post-graduation but must secure an Iowa Nursing License first after passing the National Council Licensure Examination for Registered Nurses (NCLEX) – which Coe grads pass with scores above the national average. A sign-on bonus will also be available for Kohawks joining select inpatient nursing units such as critical care, adult acute care, inpatient rehabilitation, behavioral health, emergency department and operating rooms.
Meanwhile, Coe nursing students also have the option to enroll in the Earn and Learn Program with Mercy Medical Center as early as their sophomore year. Mercy Medical Center will provide students with financial aid and part-time jobs at the hospital while they complete their studies. 
Coe nursing students will work for a minimum of 20 hours a month, but scheduling is flexible for students interested in working more hours at the hospital. After graduation, Kohawks will have full-time registered nursing jobs which they must agree to keep for 18 months as a requirement of the program. These job offers will help staff areas in need of help. One Coe nursing student is already part of this program.