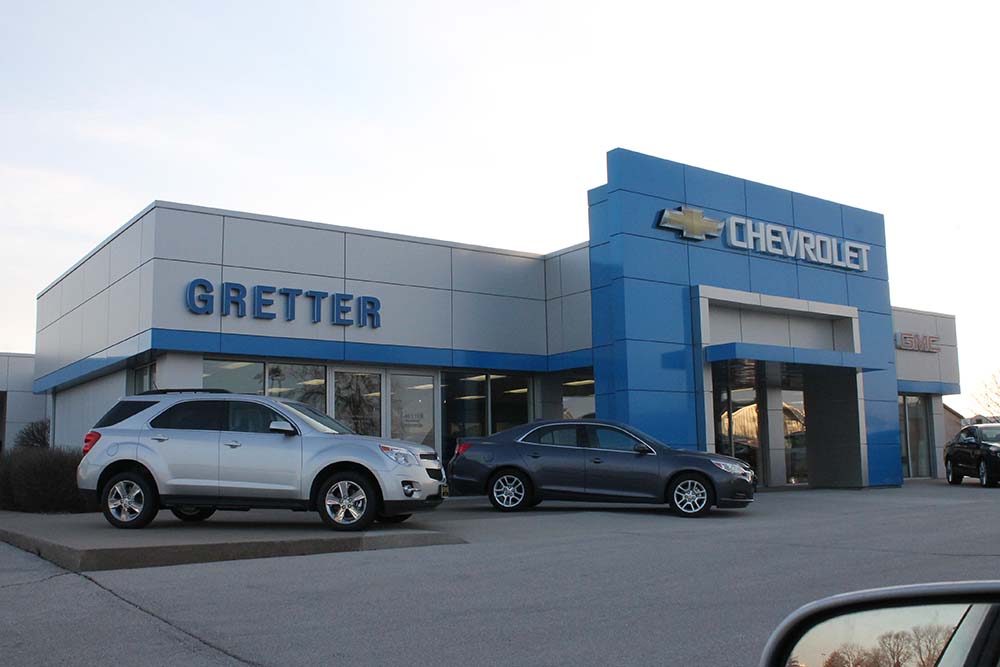 By Dave DeWitte
dave@corridorbusiness.com
The Gretter Ford and Chevrolet dealerships in Washington could be acquired soon by a well-known Corridor auto dealer after filing for bankruptcy protection.
Gretter Autoland and Gretter Ford Mercury filed a voluntary petition for Chapter 11 bankruptcy reorganization on Dec. 1 in U.S. Bankruptcy Court in Des Moines. Financial difficulties arose at the dealerships from losses on the sale of used cars, costs updating its dealership facilities to meet manufacturer requirements and high debt service costs, according to court filings.
Five days later, the dealerships entered into a letter of intent with Jon Monte Bell, managing member of Iowa Automotive Holdings, for the sale of most of the dealership's assets, as well as real estate leased by the dealerships from Gretter family members, according to court records.
Mr. Bell is currently director of operations and dealer manager of Dene Lambkin Honda/Hyundai in Quincy, Ill., in addition to his role with Iowa Automotive Holdings. He was previously dealer principal and owner of Chezik-Bell Ford Lincoln Mercury in Iowa City and its director of operations over a three and a half year period, and was dealer manager at Chezik-Bell Honda in Iowa City and dealer principal at Chezik-Bell Imports in Iowa City over a period of 19 years
An application by the Gretter dealerships for emergency authority to employ Iowa Automotive Holdings as manager of the dealerships is scheduled to be heard Jan. 6 in U.S. Bankruptcy Court.
According to the motion, the Gretter dealerships' financing of new car sales and used car sales involving trade-ins have been restricted by Ally Financial Inc., which provides its floor plan financing of vehicle inventory.
Iowa Automotive Holdings requested that it be permitted to manage them in order to stabilize business operations, fully restart vehicle sales and preserve the "going concern value" of the dealership business until a sale can be completed.
The Gretter dealerships have been marketed for sale since May 15, 2014, through a professional broker, according to court filings, but Iowa Automotive Holdings submitted the only letter of intent to purchase them. However, the buyer's interest is conditioned on the dealerships remaining open as going concerns, and on being allowed and enabled to fully restart sales operations.
Ally Financial, the major secured lender for the dealerships, is owed more than $10 million secured by vehicle inventory, parts, machinery and other assets, according to court filings, but is undersecured by approximately $3 million.
The dealerships owe Washington State Bank a total of $3.2 million, according to court records.
The dealerships are seeking court approval for a stipulation authorizing the use of cash collateral from the secured lenders to continue operating in exchange for a list of protections for the lenders.
Thomas Gretter, president of the dealerships, declined to comment on the proposal to sell the dealership assets and employ Iowa Automotive Group as manager, saying only that nothing is final.
Mr. Bell did not immediately respond to an e-mail inquiry about the proposed Iowa Automotive Holdings takeover of dealership operations.
The bankruptcy lists several dozen unsecured creditors, the largest of them being the Washington Journal, owed $40,766.
Gretter Ford Mercury was incorporated in 1997 and Gretter Autoland was incorporated in 2007, according to incorporation records on file with the Iowa Secretary of State.