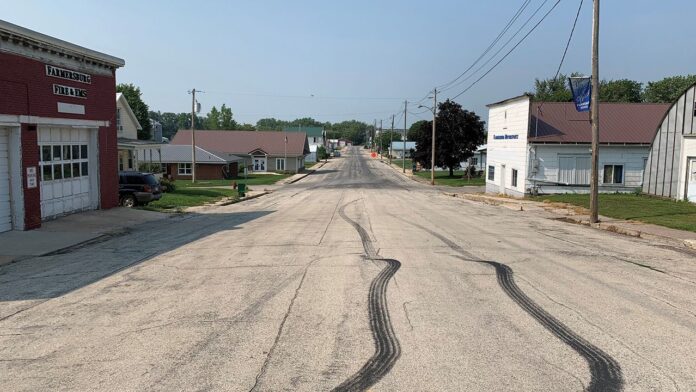 Relaxing with a cup of coffee at Madeline's in Riverside, Iowa, you could hear Morgan Rodgers chatting with customers one recent August morning. She knew them all.
"We just appreciate our customers and the continued support they've given us," Ms. Rodgers, an 11-year resident of Riverside, said about the shop she and her husband, Andy, opened in May 2019.
Knowing people is the happy trade-off for all the hard work needed to keep a small business going in a town the size of Riverside, population 1,061 in the 2020 Census. Ms. Rodgers is fortunate to have lived in a few Iowa towns with 5,000 or fewer people that grew from the 2010 census when Riverside's population was 993.
The hard work needed to be a vibrant small town is a big reason Iowa's government, business and civic leaders are worried when they see rural Iowa losing people.
If urban areas are Iowa's heartbeat, the state's rural areas are its soul.
Figures from the 2020 Census, released in August, showed Iowa's urban population increasing to 64% of the state's 3.16 million people. Urban residents had comprised around 61% of Iowa's population in both 2010 and 2000, 58% in 1990 and 57% in 1980.
But the way of life that appeals to people in small, rural towns is at risk, according to research into multiple data sets that include population, employment figures and school performance; a series of Iowa
Watch interviews; and visits reporter Pat Kinney and I made during summer to 58 Iowa towns with fewer than 5,000 people.
IowaWatch included this information in a series of reports about small Iowa towns that are hanging in there by growing population, having something other than population growth to stay alive, or both. The series showed that relentlessly hard work by residents, small business owners and volunteers in these towns can pay off, even though success is not guaranteed.
"I don't want that to sound pessimistic because we keep trying, but it's a huge challenge," Fayette Mayor Andrew Wenthe said in one of the interviews.
Mr. Wenthe, a former Democratic state legislator, said financial help from some combination of foundations, state government or federal government is needed to keep small towns alive with adequate housing, internet and other quality of life needs. Grant programs exist at the state and federal level in Iowa.
Weaken that support, Mr. Wenthe said, and "you're going to start to see this hollowing out of these smaller communities."
Fayette's 2020 census count of 1,256 is down from 1,338 in 2010, the new data shows for this small town that is home to steady employer Upper Iowa University. Fayette County, overall, lost 1,371 in population from 2010 to 2020 to 19,509. The story is similar in neighboring counties.
Chickasaw County, next over to the northwest, had 12,012 people in 2020, 427 fewer than in 2010. Fredericksburg had 987 people in 2020, up 56 from 2010. New Hampton had 3,494 people in 2020, down 77 from 2010.
The first small Iowa town where I lived when young, Clayton County's Farmersburg, had 271 people in 2020, down from 302 in 2010. It had 250 people when my family moved away in 1967. Clayton County's population of 17,403 in 2020 was down 1,086 people from the 2010 count.
This small-town background helped shape my interest in being part of Iowa
Watch's small-town reporting project.
The loss of people creates concerns because local governments still provide essential services, such as public safety, roads, schools and general quality-of-life opportunities.
Yet, for all the dire trends facing some of these places, saying that small Iowa towns no longer can thrive misses a few points. While vitality is affected by the number of people sharing it, population growth is not the only measure of success. Towns with a sense of local awareness have shown this.
In western Iowa's Audubon, volunteers and local businesses raised enough money to open a $2.6 million community center in late 2018 that they say already needs a planned $2 million expansion. Yet, Audubon lost population, from 2,176 in 2010 to 2,053 in 2020.
Residents in eastern Iowa's La Porte City supported each other and local businesses when COVID-19 hit hard in 2020, the town's mayor, Dave Neil, says in a story Pat Kinney wrote. The 2020 Census showed it holding steady from 2010 to 2020 at 2,284. In southern Iowa, Humeston's downtown local shop owners band together and promote each other to bring people to their town — population 465 in 2020, 494 in 2010.
People still make things happen in towns like these. They do it through vision, a sense of community and persistence. Anything less will shred the fabric that keeps rural Iowa strong as the state becomes even more urban in the future. 
IowaWatch – The Iowa Center for Public Affairs Journalism is a nonpartisan, nonprofit news outlet that strives to be the state's leading collaborative investigative news organization. Read more or support its mission at iowawatch.org.
Lyle Muller is a long-time Iowa journalist who was IowaWatch's executive director-editor until retiring in 2019.