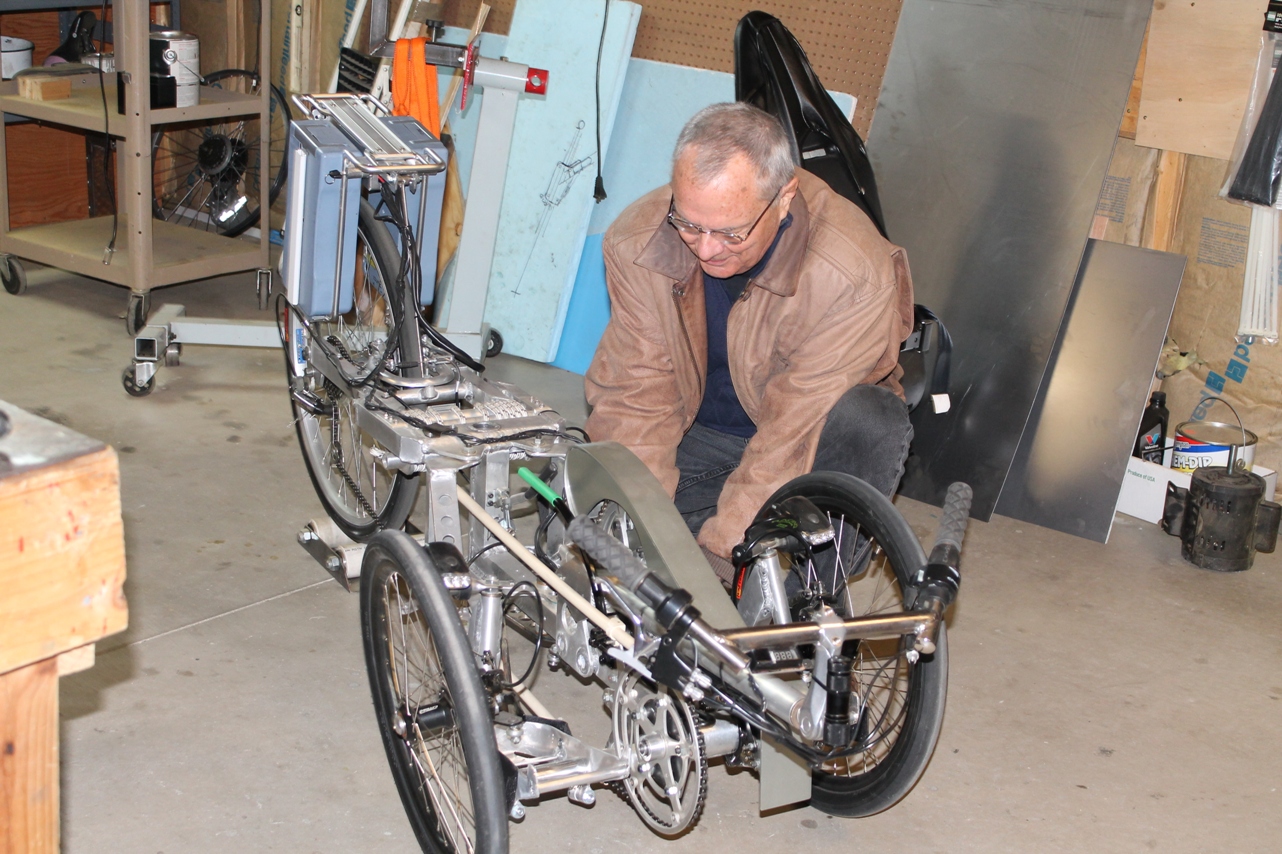 By Dave DeWitte
MOUNT VERNON – The Rowver Rowing Trike could become a new kind of freedom machine for paraplegics who want to remain active, but whether inventor Tim Kelley ever sells a single one could just depend on the computations of an insurance actuary.
The Mount Vernon resident invented the Rowver in 2009 and has given away five of them to individuals with spinal injuries. The trike's use of a 90-degree rowing action for propulsion provides a mechanical advantage compared to other trikes in the market for individuals lacking leg movement.
The Rowver also has a supplemental electric drive motor, which the rider engages to provide an assist getting over steep hills, against steep headwinds or getting up to speed.
Steve Kriz, a 63-year-old Rockwell Collins retiree who has slight movement in only one of his legs, sails along on the Rowver Trike Mr. Kelley built for him so fast that Mr. Kelley has difficulty keeping up.
"We've got to get this three-wheel trike going, because the people at the clinics (for paraplegic atheletes) are just amazed by it," said Mr. Kriz, whose fifth and sixth spinal vertebrae were shattered at age 19 in a body surfing accident.
The trike has a comfortable cushioned seat, disc brakes and seven gears. But the heart of the Rowver is a unique chain drive mechanism that efficiently converts the rowing action on the handlebars into power for the rear wheels of the trike. Mr. Kelley is seeking patent protection for the invention.
But Mr. Kelley's hopes of commercializing the Rowver are stymied by product liability insurance concerns.
 The first quotation Mr. Kelley received for product liability insurance was at a price of $10,000 per year for one trike. The price per bike would decline with production volume, but would still be in the thousands – adding far too much to the cost to make the trike commercially viable.
Some insurance companies have declined even to quote a price.
Mr. Kelley says the Rowver's design is reasonably mature. He has engineering diagrams of every unique part that could be used to begin the production process, and he is continuing to fill out insurance applications and consider design modifications to satisfy product liability issues.
A former director of ride and show engineering for Disney World, Mr. Kelley has designed rides for several famed theme parks. His inventiveness earned him the nickname "MacGyver," which is familiar to fans of a 1980s TV show about a secret agent whose technical genius under pressure always saved the day.
Mr. Kelley and his wife moved to Mount Vernon to be near their grandchildren. He came up with the Rowver's design when Mr. Kriz showed up at his door in his mobility chair and discussed his desire, more than a half-century after his last bicycle ride, to get back into cycling.
 The two neighbors have developed a mutual admiration, and have learned a lot from each other.  
When Mr. Kriz experienced small seizures that could cause him to veer into traffic or crash into objects on his bike, Mr. Kelley invented and installed a system that detects when Mr. Kriz' bike helmet is slumping forward or to the side, and applies the bike's brakes.
Mr. Kelley has gained some insight into the Rowver design from Mr. Kriz' experimentation, including progressively more powerful battery packs to include the range and speed of the electric assist motor.
The market for "adaptive trikes" and bikes to allow individuals with disabilities to participate in cycling is already well-developed. John Brunow of All Ability Cycles in Jefferson sells many of them, and understands some of the product liability issues Mr. Kelley is facing.
"He's doing something very exciting, but also extremely frustrating," Mr. Brunow said, adding the Rowver Trike has a double issue with respect to product liability, being both an adaptive bike and having electric assist.
Mr. Brunow said many of the adaptive cycles were developed by small companies started by individuals like Mr. Kelley who wanted to help others. In addition to high product liability costs, he said the companies produce small quantities that do not allow them to spread overhead and product liability costs over a large sales base.
"Many people will look at an adaptive bike and say, 'This standard bike is only $450. Why is that one $1,400?'" Mr. Brunow said.
The process of selling an assistive bike to individuals with disabilities tends to be a long one, Mr. Brunow said, as he learns about the unique physical capabilities and limitations of each customer and they learn about how different models meet their needs and preferences.
Mr. Kelley recently met with Mr. Brunow and has also been introduced to insurance specialists in the Corridor who seem interested in helping him overcome the challenge. He said one part of the solution may be installing a device to restrict the speed allowed by the electric motor.
Mr. Kelley has given birth to many innovative designs. He said most inventions require a significant period of testing, review and modification before they work as planned. The Rowver trike, however, earned a special place by functioning as intended almost from the first day.
Mr. Kelley spent close to a year learning TIG welding so that he could produce bikes with lightweight aluminum rectangular tubing, and has designed the trike so the seat can be shifted to the side for easy passenger entry.
Among the alternatives Mr. Kelley has considered are creating a nonprofit company to manufacture the Rowver trike, and selling the plans to a larger company with greater capabilities to overcome the product liability issue.
"I do not want to see it (the Rowver trike) end up in a file drawer somewhere," he said. "I've put quite a lot of time and money into developing it and I know it has made people happy. I don't want to see it go to waste."