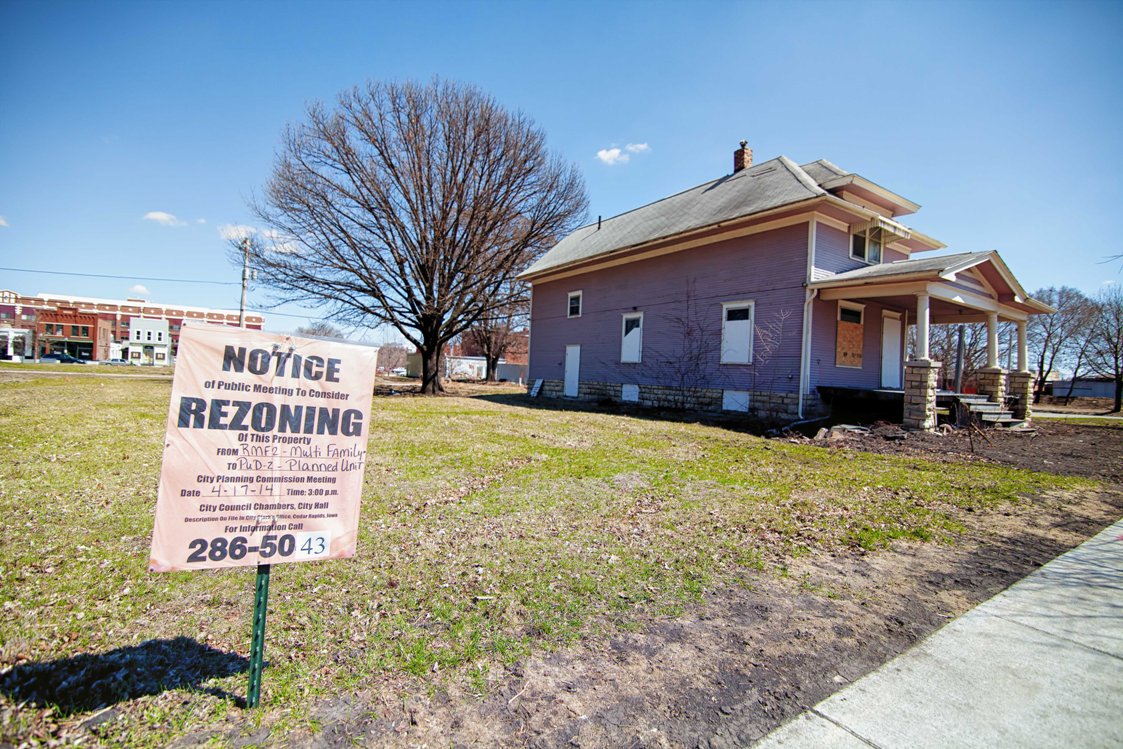 By Katie Mills Giorgio
CEDAR RAPIDS – The burgeoning New Bohemia neighborhood will continue to see new development this spring when a new mixed-use/historic preservation project kicks off.
3rd Ward Development, LLC is embarking on a development project that includes unique and distinctive housing, office and retail properties.
Don Barrigar, president of 3rd Ward Development, is excited about the project finally getting underway after years of planning and the prospects this project provides in terms of infill development in coordination with single-family and mixed-use needs for the neighborhood.
"Our vision of a coordinated redevelopment infill project combines new and historic building scenarios to re-establish some of the traditional ways of living and working in this diverse and vibrant district," he said.
The project includes building five single-family row houses—each modern interpretations of historic row houses—four mixed-use, two-story "work/live" units and the restoration of Kurik House, a historic neighborhood home flooded in 2008.
This coordinated infill project will cover most of the square block between Second and Third streets and 10th and 11th avenues southeast. It is the result of a two-year process that included acquisition of five properties—the historic Kurik House and four city-owned vacant properties—from the city through two requests for proposals for flood-affected city properties. The development team worked with various entities, including the Iowa Economic Development Authority (IEDA), Iowa State and Federal Historic Preservation Offices and the Cedar Rapids City Council-created Czech Bohemia Neighborhood Overlay District.
"The idea to build mixed-use, live/work structures developed out of familiarity with both the NewBo Overlay District study and the City of Cedar Rapids Downtown Housing study," Mr. Barrigar said. "The City's Community Development Department has been very good to work with and a real source of information and education as to the available financing and tax credits that may apply to our project."
Work begins next month with relocation of the historic Kurik House. "The Kurik house is the cornerstone of our redevelopment plan and combines the elements of historic integrity, live/work space and new development," Mr. Barrigar said. It will be restored to be rented as commercial space on the lower level and an apartment on the second floor.
Foundations for the Row Houses on Second, as they are named, will be poured in the near future, too. "The Row Houses on Second are a modern interpretation of historic row houses and address the need for more single-family homes in the area like those of years ago," Mr. Barrigar said. "The city has conducted studies showing the need for more and diverse housing. So our goal was to not only create desired live and work spaces, but also to provide these in a way that complimented the heritage already in place in NewBo." Mr. Barrigar anticipates those being ready by the end of this year.
The five row houses will each be more than 1,800 square feet and include private garages accessed via a traditional alley. They will be offered for sale this year as part of a condominium association.
The final phase of the project will be the Third Street live/work buildings that will go up in 2015.
"Our goal for our buildings on Third Street is to create live and work spaces that foster a renewal of this tradition (of living and working in the same building) while also meeting modern, urban living needs," Mr. Barrigar said.
The Third Street mixed-use buildings are planned to be similar in occupancy to that of the Kurik House with apartments above retail, office or studio space.
"The tradition of living close to, or even over, a family business contributed to the success and vitality of Midwestern cities in the past and the renewal of this tradition will enrich the neighborhood while meeting modern, urban living needs," added Ruth Fox, development coordinator and landscape architect for the project.  "As we began the project, we studied the neighborhood in detail to ensure the new buildings would fit into this historic neighborhood."
This included everything from building facade height, to building materials and landscaping small front yards, she noted. "We believe we have created a synergistic balance of old and new."
She noted the project also took into consideration the landscape, namely a very large, old oak tree behind the Kurik House.
"We did design the project so that we could keep the old oak tree," she said. "It is one of the best oak trees in the neighborhood – possibly even in Cedar Rapids."
Mr. Barrigar and his wife, Diann, are not new to the NewBo neighborhood.  They were among the original partners in the development of Water Tower Place in 2004. Acme Electric—the other company Mr. Barrigar owns—was the design build contractor on Water Tower Place and Bottleworks, as well as CSPS, the NewBo City Market, Suchy Building and several others in the area.
He also noted that his partners on this project—including Ruth Fox, consultant; Mike Barrigar, builder; Todd McNall, architect; and Candace Wong, realtor—have either been residents of the area or played a role in development of the design standards for the neighborhood. "They are all NewBo stakeholders."
This project, Mr. Barrigar said, will be similar in many ways to previous work he has done in the New Bohemia neighborhood — including in-fill on private and city-owned properties, historic rehabilitations, utilization of tax credits to offset both construction expense and providing tax benefits to the purchaser, design build construction and partnerships with city, contractors, design professionals and consultants.