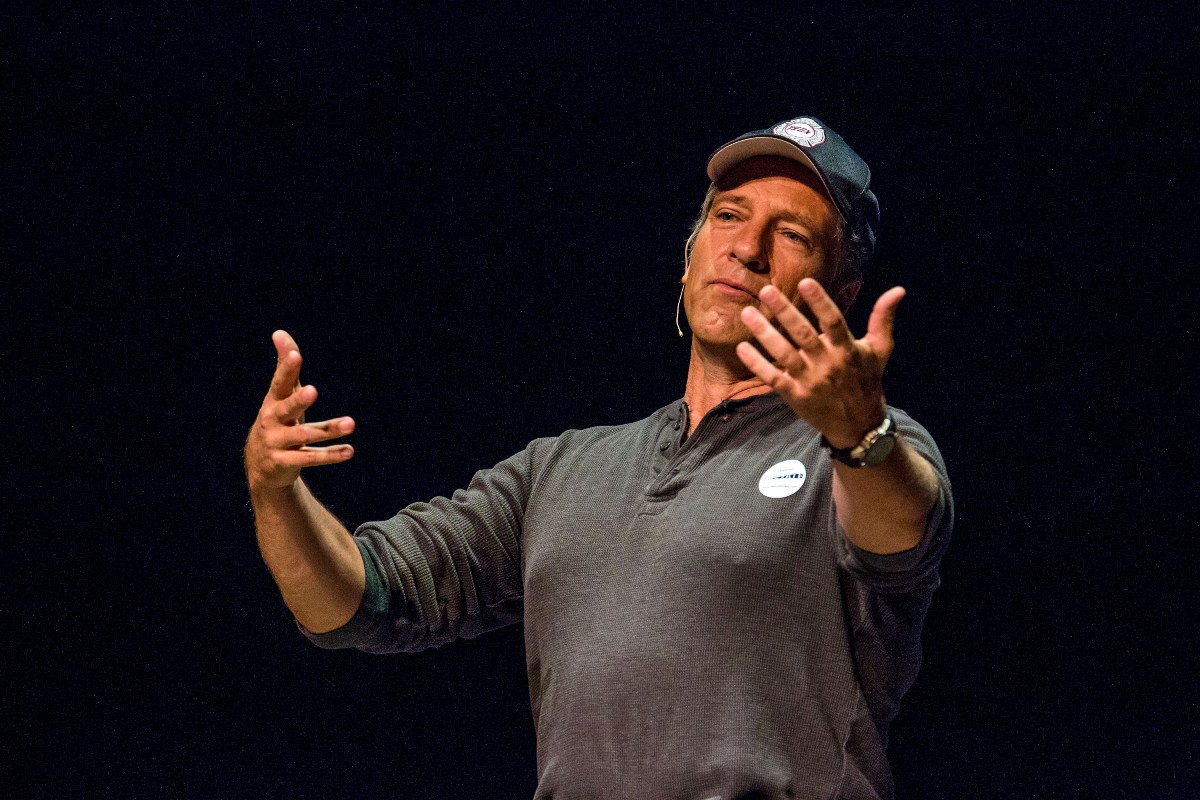 By Angela Holmes
CEDAR RAPIDS—Speakers at the Iowa Association of Business and Industry's Taking Care of Business conference last week focused on debunking stereotypes of both Iowa and the skilled trades.
Actor and filmmaker Scott Siepker of the "Iowa Nice Guy" videos and Mike Rowe, host of Discovery Channel's "Dirty Jobs," spoke to about 1,000 attendees June 11 at the Paramount Theatre.
Mr. Siepker, who grew up in tiny Mount Carmel in Carroll County and now lives in Des Moines, is an avid supporter of his home state.
"Iowa has been exporting its greatest resource – people. That has to stop," he said. "I'm committed to staying here. I want to set a precedent."
Inspired by misperceptions that agriculture is the only industry in Iowa and Iowans are behind the times, Mr. Siepker and his colleagues at Iowa Filmmakers produced a short video, "Iowa Nice," during the 2012 Presidential Caucus season.
In the nearly 2-minute video which has been viewed more than 1 million times on YouTube, Mr. Siepker bluntly points out that Iowa has voted Democratic in five of the past six presidential elections, legalized gay marriage and has a majority of its residents living in cities.  He also debunks the image that farmers are hillbillies by describing the complexity and importance of their job.
The video was followed up by Hawkeye and Cyclone Nice videos, which caught the eye of ESPN producers who asked the company to produce several videos during football season.
Iowa Filmmakers is currently working on a project about Jack Trice and Nile Kinnick, the namesakes of Iowa State and Iowa's football stadiums.
All the company's videos and films are produced in Iowa – the place Mr. Siepker wants to stay due to its intangibles, such as Iowans' hard work ethic, their loyalty and generosity, and the traffic.
"When I come back from driving in L.A., I want to make out with Interstate 235 (in Des Moines)," he said. "Our traffic is not traffic."
He encouraged audience members to tout Iowa's qualities to their friends.
"Iowa is a great place to be; let's start importing more talent than we're exporting," he said.
Any perception Mr. Rowe had about Iowa not being diverse was shattered in the early 1990s while he was shooting a commercial in Fairfield, home of the Maharishi University of Management, a training center for the Transcendental Meditation technique.
While standing in line at an ATM in Fairfield, he noticed "in front of me was the poster child for Hee-Haw and behind me was Ghandi. I learned then that in Iowa, anything goes."
He has been to Iowa several times shooting segments for "Dirty Jobs."
"I've never had a bad time in Iowa," he said. "The show wouldn't have happened without Iowa."
He explained how he got the idea for "Dirty Jobs" and how it changed the way he looks at the nature of work.
While hosting an evening magazine-style show in San Francisco in 2003, he decided to show viewers how the city's sewer system worked in a segment called, "Somebody's Got to Do It." Although shooting was a disaster, filled with cockroaches, rats and raw sewage, the experience was a turning point in Mr. Rowe's career and life.
As he watched the tape of the sewer worker doing his job and telling his story, Mr. Rowe realized he needed to share the stories of alternative jobs and the people who do them. He pitched "Dirty Jobs" to Discovery, and has since filmed more than 300 "dirty" jobs such as bloodworm digger, pregnant cow examiner, sludge remover and fish gutter.
"I was continually amazed about how many things I was wrong about," he said.
When the economy collapsed in 2008, he was interviewed by business writers from around the country, asking him for his take on unemployment and job prospects.
"I realized there was a massive problem in every industry I profiled," he said. "Everywhere I went, I saw 'help wanted' signs."
Even during the recession, plenty of jobs have been available for workers who show up early, stay late, work hard and are willing to work at jobs that are in demand, Mr. Rowe said.
This prompted him to set up www.mikeroweworks.com, a website that promotes the skilled trades and provides links to apprenticeships, training and jobs around the country. The mikeroweWORKS Foundation awards scholarships to those with a hard work ethic.
He said that when he was in high school in Baltimore in the late 1970s, a guidance counselor told him it would be a mistake to attend a community college instead of a four-year institution.
Since then, people have realized the need to challenge the sentiment of "Work Smart, Not Hard," which was printed on a poster in his guidance counselor's office.
"We need a national PR campaign that elevates alternative education," he said. "We have to redefine the definition of a good job."
While he promotes education, he said the country is lending too much money to students who earn degrees for jobs that don't exist.
"I'm not anti-college, but I am anti-debt," he said.
During a question-and-answer session, Mr. Rowe said employers need to make seemingly less desirable jobs cool to young people.
"We've got good jobs that people don't seem to want," he said. "You can lead these kids to water, but you can't make them drink."
He also addressed the stigma that surrounds some skilled trade jobs.
"Skills gap isn't the problem; the problem is the relationship to work," he said. "It's in us to want something better for our kids. But the question is, 'what is better?'"
The concept of get a degree, get a job and your company will take care of you forever is just fiction, he said.
"Tell your kids, there's not just one path for you," he said. "You need to figure it out on your own."
Other speakers during the Taking Care of Business Conference in Cedar Rapids held June 9-11 week included Robert Kriegel, author of "Sacred Cows Make the Best Burgers," and Parkersburg teacher and coach Aaron Thomas. Gov. Terry Branstad and Lt. Gov. Kim Reynolds presented awards during the Healthiest Employers of Iowa Award Luncheon on June 10, and Kyle Horn presented Iowa Job Honor Awards on June 11.