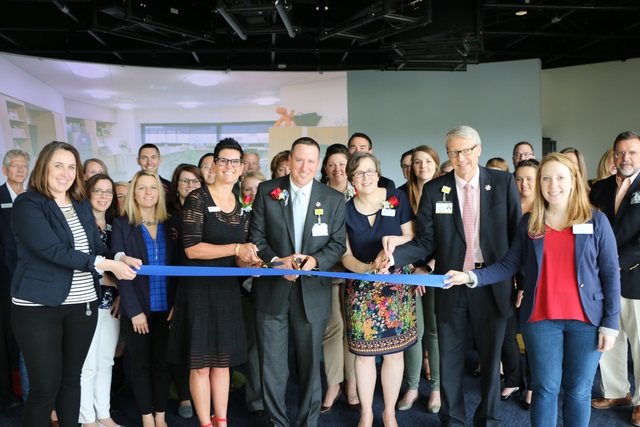 Ronald McDonald House Charities of Eastern Iowa and Western Illinois (RMHC-EIWI) has opened the Ronald McDonald Family Room at University of Iowa Stead Family Children's Hospital.
The service is designed as a respite for visiting families of a child being treated in the hospital's Pediatric Intensive Care Unit or Pediatric Cardiac Intensive Care Unit.
The Ronald McDonald Family Room at UI Stead Family Children's Hospital is made up of five spaces: the Family Room Proper, which includes a kitchenette, dining area and living room; the Family Shower Suite; a Family Sleep Room for overnight stays and naps; a Parent Respite Room; and a lounge with snacks and basic services provided at all times. The Family Room also provides self-serve breakfast and lunch and serves fresh, homemade dinners every night, prepared by volunteers.
"By the time a parent steps foot in the Ronald McDonald Family Room, they're exhausted," RMHC-EIWI Executive Director Barbara Dee Werning stated in a press release. "After spending a stressful day surrounded by equipment and doctors, it's invaluable to have a quiet, home-like space where you can get away from the chaos and take care of yourself. We're incredibly proud to provide this amazing resource, not only to our community, but to guests of our community who want the best for their child."
RMHC-EIWI increases the ability of parents to spend more time with hospitalized children, interact with the clinical care providers and participate in care decisions. Research shows that RMHC bolsters a family's psychological well-being by keeping them close together and providing emotional and physical comfort and support.
More information about the Ronald McDonald Family Room at UI Stead Family Children's Hospital as well as volunteer opportunities can be found at http://rmhc-eiwi.org.