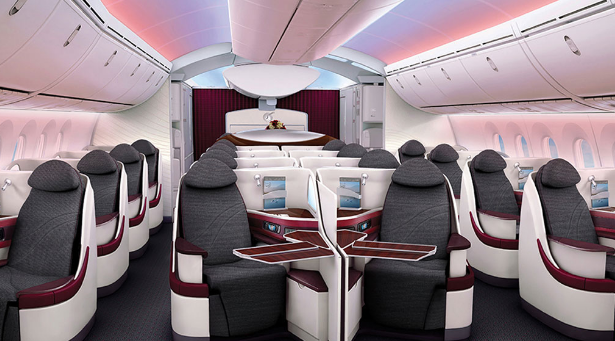 Aircraft seating produced by B/E Aerospace.   CREDIT: B/E AEROSPACE
By Dave DeWitte
dave@corridorbusiness.com
Rockwell Collins plans to acquire B/E Aerospace, the world's leading manufacturer of aircraft cabin interior products, in a $6.4-billion deal that will become the largest in the company's 83-year history.
The agreement to acquire Wellington Heights, Florida.-based B/E Aerospace was announced Sunday as both companies released fourth-quarter earnings. Rockwell Collins will pay $6.4 million in cash and stock, in addition to assuming $1.9 million in B/E Aerospace debt.
Leaders of the two firms began selling the deal this morning on a conference call, projecting that it is projected to boost Rockwell Collins earning per share by at least 10 percent in the first full fiscal year, and generate free cash flow of more than $6 billion over the first five years post-merger.
Rockwell Collins CEO Kelly Ortberg said the B/E Aerospace's large backlog of orders will help balance the cyclicality of Rockwell Collins' primary businesses supplying defense and commercial aircraft markets. He said combining the companies is also expected to generate cost synergies of $160 million on a pre-tax basis.
B/E Systems has about 10,000 employees and supplies seating, food and beverage preparation and storage equipment, lighting and oxygen systems, and modular galley and lavatory systems for commercial airliners and business jets. The products are complementary to many of Rockwell Collins' own products for distributing information and entertainment to aircraft cabins.
Industry observers cast the merger as a response to pressure from major aircraft producers such as Boeing and Airbus on suppliers to lower costs. Rockwell Collins' shares were down about 5 percent in early trading today.
Terms of the deal, expected to close in spring 2017, call for Rockwell Collins to pay B/E Aerospace investors $34.10 in cash and $27.90 in shares of Rockwell Collins common stock, for a total of $62 a share. That amount is a 23 percent premium to B/E Aerospace's closing price on Friday. B/E Aerospace will operate as a new aircraft interior systems segment of Rockwell Collins and will be run by Werner Lieberherr, B/E Aerospace's existing CEO. Mr. Lieberherr will report directly to Mr. Ortberg.
Rockwell Collins does not expect any additional workforce reductions as a result of the transaction beyond those announced Oct. 12, Mr. Ortberg told employees.
The news was announced as Rockwell Collins reported fourth-quarter earnings per share from continuing operations of $1.48, an increase of 14 percent from $1.38 in the fourth quarter of fiscal 2015. Fiscal year 2016 sales were $5.26 billion, compared to $5.24 billion in fiscal year 2015. Earnings per share from continuing operations increased 6 percent to $5.50.