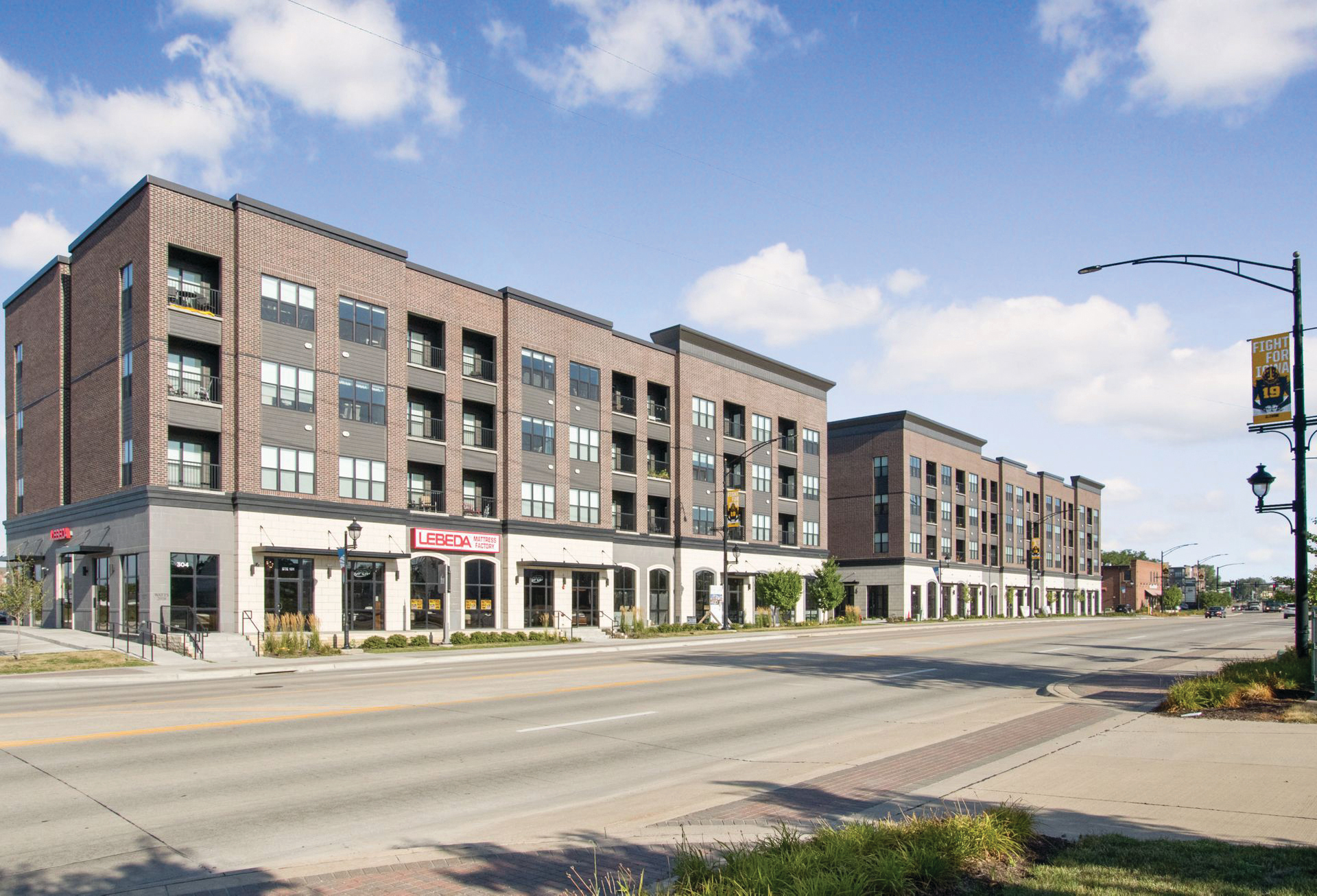 Riverview Plaza Phase I and Phase II have transformed the streetscape along First Avenue in Coralville with greater density and a more urban feel. PHOTO WATTS GROUP
By Dave DeWitte
dave@corridorbusiness.com
Coralville developer Watts Group is beginning the third and final phase of Riverview Plaza, which has transformed a flood-damaged area on one of the city's busiest arteries into a city block of apartments and retail.
The Riverview Plaza project has revitalized a declining area at Fourth Street and First Avenue that before the floods of 2008 housed older buildings and businesses like Coral Lanes, Briskey Cabinet, Lebeda Mattress, Randy's Flooring and Hawkeye Ready-Mix. It's also a big part of a $20 million-plus investment that Watts Group entities have made in the area.
CEO Gary Watts says the project began when Coralville officials issued a request for proposals for the building in the 300 block of First Avenue that had housed Briskey Cabinet, a longtime local supplier of kitchen countertops. Longtime owner Jerry Briskey made arrangements to sell his property to the city before his death in 2014.
The area's future had been clouded after nearby Clear Creek and Biscuit Creek backed up because they could not discharge into the flood-swollen Iowa River during record floods in June 2008. The city responded with a multi-year project to install berms and a flood gate to reduce the flooding risk, investing $5.4 million to buy and clear homes and businesses, including Briskey Cabinet.
"The concern was that the area was the heart of the community, and there were potential problems with using federal funds and being able to redevelop the properties," City Administrator Kelly Hayworth explained.
Watts Group had already begun a post-flood transformation in Coralville's early residential area with its nearby Old Town Development, completed in 2016. The site of Riverview Plaza actually constituted some of the early commercial development in Old Town. Watts Group and its investment partners hoped to gain an edge in securing the high-profile First Avenue site with a broader proposal that incorporated Hawkeye Ready-Mix, Lebeda Mattress and Randy's Flooring properties on the same block, allowing for more development.
Work began in June 2017 on Riverview I, located on the Briskey Cabinet site. It featured 39 living units on the upper three floors above 9,000 square feet of retail and commercial space on the ground floor.
Coralville was highly supportive of the development. Besides getting a fair price for the land, Watts Group received a $124,000 city match to secure workforce housing tax credits from the Iowa Economic Development Authority.
The city set some development requirements to achieve its goals for the area. They included a minimum post-development assessed tax valuation to ensure a high density of development, and a public courtyard space between the first two phases of Riverview.
"We're really pleased that Gary and Watts Group were able to give it a real urban feel," Mr. Hayworth said. "Part of the city council's vision was that it would feel like an urban neighborhood."
To add to the neighborhood feel, the city is developing a pocket park on the back of the Riverview Property, and is developing another one on the former Hawkeye Ready-Mix property as part of the city's flood protection system, Mr. Hayworth said.
Riverview II followed soon after, adding 51 apartments and more ground floor commercial.
The project, designed by OPN Architects, features upper-level living units with large windows and recessed balconies to take advantage of views toward the Iowa River, and sizable lower-level windows along busy First Avenue to provide more visibility to commercial tenants.
The apartments are mainly one-bedroom units with 600-700 square feet of space and amenities such as quartz countertops and stainless steel appliances. Rents fall in a range from $895-$1,095, depending on size.
As Watts Group expected from the outset, the location, apartment design and price offerings tapped a well of strong demand. Apartments leased out quickly, and there's now a waiting list to get in.
"It's been incredible," Mr. Watts said.
The ground floor retail space hasn't gone as fast, although the project has a nucleus of tenants that includes Lebeda Mattress. With traffic counts of more than 18,000 cars a day on First Avenue, Watts Group is confident that others will come.
Framing work began last month on Riverview Plaza III, located on the west side of the property away from First Avenue. The building, designed by Fusion Architects, will vary in style from the earlier phases, and will more closely resemble the buildings constructed in Watts Group's nearby Old Town development, completed in 2016.
Having witnessed the leasing success of the Old Town and Riverview projects, Mr. Watts is pleased, but not so pleased that he wishes there had been more units. He says the rapid pace of new apartment construction in Iowa City and Coralville concerns him.
"We're on the verge of being overbuilt," he said. "You've got to be cautious down the road."
Another factor is that workforce housing tax credits are currently frozen by the state while it redesigns the program. The tax credits were a big incentive to undertake the project, Watts Group officials said, and helped keep the unit rents affordable.
The city of Coralville, meanwhile, feels it's made great strides in flood recovery in a short period of time, according to City Engineer Dan Holderness.
"The decision was made early on not to go through the [U.S. Army] Corps of Engineers' recertification process, which is what it would have taken to change the flood map of the city," Mr. Holderness said. "It would have taken much more time, more grants and more property."
As a result, Mr. Holderness said the FEMA flood control maps do not reflect the city's improvements.
In the end, the city bought everything south of Fifth Street, west of First Avenue, north of Clear Creek and east of Biscuit Creek, encompassing much of Coralville's early residential area. Virtually all of the area was substantially damaged in the 2008 flood, Mr. Holderness said, and the city purchased properties with local funds rather than using Community Development Block Grants so it could get them redeveloped and back on the tax rolls quickly.
"We were aggressive about doing what we could do, and we felt good about what we were able to complete in a logical time frame," Mr. Holderness said.
Watts Group plans to complete Riverview Plaza III by the end of next summer.  CBJ