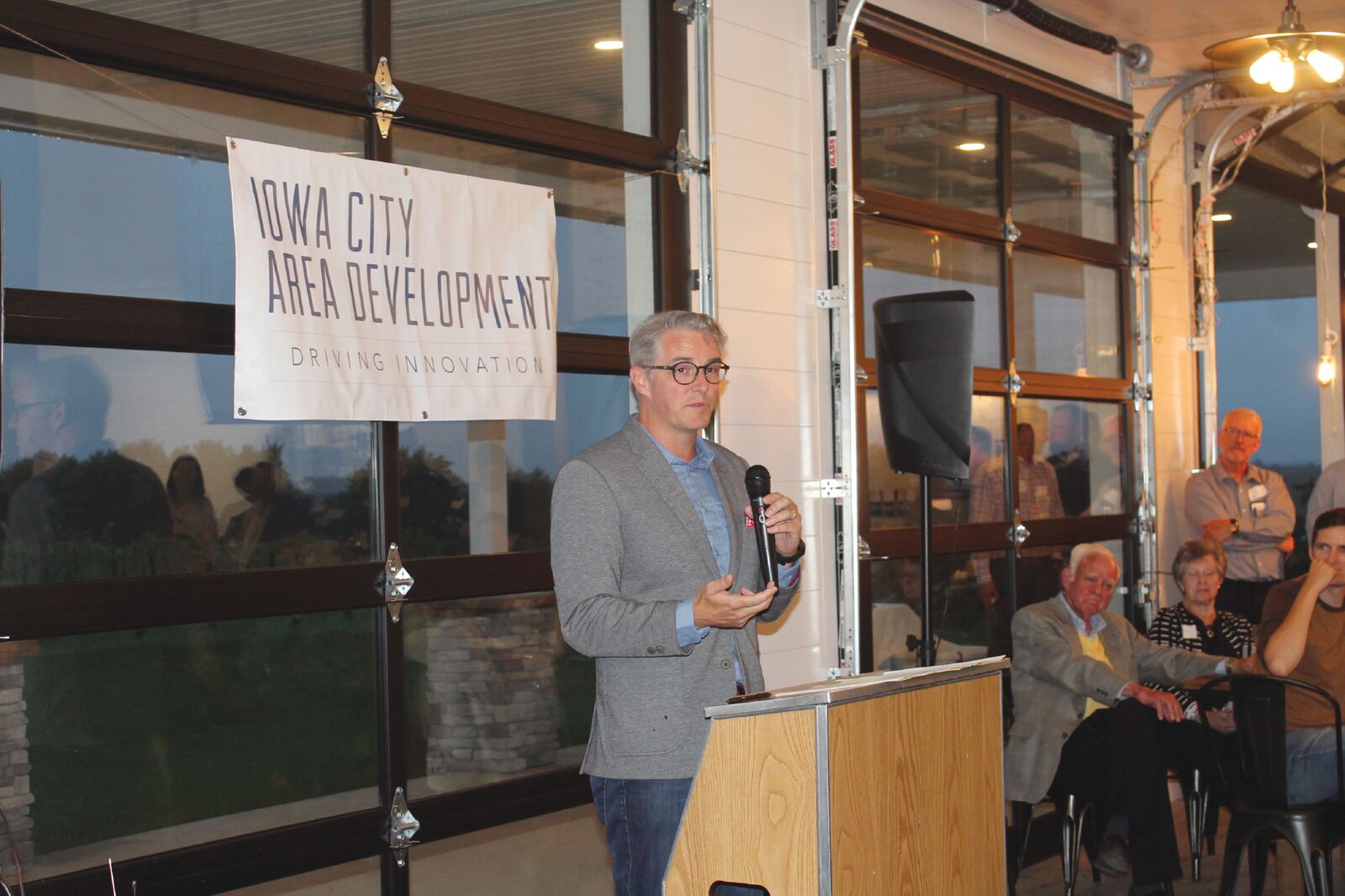 Amid a mostly upbeat assessment of the ICAD Group's past year, President Mark Nolte asked investors to continue to trust in the organization despite an embezzlement case involving a former employee. PHOTO KATHARINE CARLON
By Katharine Carlon
katharine@corridorbusiness.com
Trust was the theme of the day at the Iowa City Area Development Group's 35th annual meeting, a celebration of accomplishments and hopes for the future held at the Walker Homestead in Iowa City on Oct. 2.
"We know that your investment in ICAD is largely a measure of trust," said ICAD President Mark Nolte, who alluded several times to an "unfortunate incident" with former office manager Sheri Jelinek, who allegedly embezzled almost a $500,000 dollars from the organization over a 10-year period before being caught earlier this year.
"It was not a lot of fun," he said. "When you make that call to your board chair and say, 'guess what?' But you guys have gotten us through it and we really appreciate it."
Through testimony from original ICAD board member Bill Bywater, who traced the area's economic progress through the 1950s and beyond, to ICR Iowa Board Chair Lydia Brown touting the gains the regional economic development group has made, ICAD leaders vowed to keep economic momentum going despite the bump in the road.
"Do you trust that we're doing all that we can and in the right ways to keep our area's economy growing?" Mr. Nolte asked members, acknowledging that metrics of progress have become more complicated than just rattling off the number of new businesses brought to town. "A lot of what we do, we can't even talk about and that's frustrating because I'd love to be able to tell you some of the things we get to do for companies on a daily basis."
Mr. Nolte cited several large gets including SmartScripts and divvyDOSE, two online pharmacies that both announced new investments over the past year, boosting the area's medtech credentials.
"And I think we're very close to getting one of our manufacturing plants reopened in the coming weeks," he added.
Mr. Nolte did not elaborate, although the former Zero Energy Wall Systems plant at 428 Westcor Drive in Coralville closed almost a year and a half ago with the loss of about 60 jobs. Another possibility is Procter & Gamble's Lower Muscatine Road plant, which is undergoing a site study and just announced plans to hire 100 new workers after previously saying it would cut 500 and move operations to West Virginia.
"There are some other things that we're excited to announce later," Mr. Nolte said. "But behind the newspaper headlines, there's a daily effort with this team that I'm most proud of – that daily blocking and tackling, the work that we do behind the scenes that matters most over time."
One measure of that behind-the-scenes effort, Mr. Nolte said, are jobs created by interstate commerce employers. Several large reduction-in-force announcements, such as the more than 150 jobs shed at Iowa City-based nonprofit ACT, have been hard to overcome. Even so, he said, the companies ICAD works with have added 833 new jobs over the past year with an additional 952 jobs set to come online over the next two years.
Mr. Nolte said those companies currently had a total of 185 unfilled jobs, down from 852 last year.
"That is the difference," he said. "And the reason is with Johnson County being one of the fastest growing counties in the state and in the Midwest, people are coming here … If we can keep this going, then our companies have a chance to succeed."
Mr. Nolte also unveiled the establishment of a new Johnson County Seed Fund, led by entrepreneur Nate Kaeding and UI Chief Innovation Officer Jon Darsee. The concept is based on the Ames Seed Capital Fund, which helps fund startups out of Iowa State University and Story County.
"If we have the opportunity to champion entrepreneurs here, they'll also create roots here, create jobs here and make charitable contributions here," said Shelly Maharry, executive director of the Johnson County Community Fund. CBJ