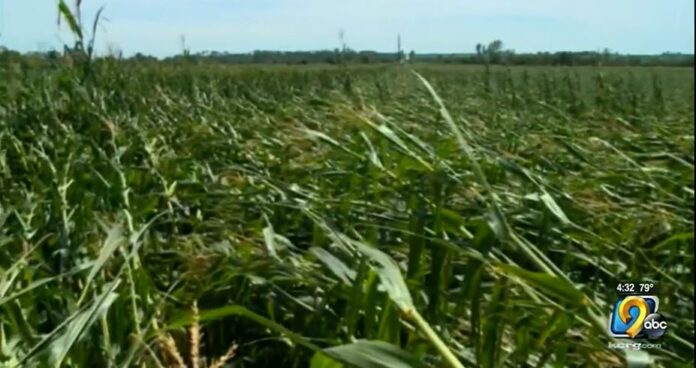 The USDA has estimated that 3.57 million acres of corn and 2.5 million acres of soybeans in the state were severely damaged by the storm. CREDIT KCRG 
By CBJ News Staff
news@corridorbusiness.com
Iowa Gov. Kim Reynolds has formally requested a Secretarial Disaster Designation from U.S. Secretary of Agriculture Sonny Perdue for 57 Iowa counties impacted by the Aug. 10 derecho, including all seven counties in the Corridor.
The designation, which is in addition to the President Donald Trump's disaster designation, would allow Iowa farmers and producers to access USDA disaster programs.
The USDA has estimated that 3.57 million acres of corn and 2.5 million acres of soybeans in the state were severely damaged by the storm, with millions more acres affected to varying degrees. The Iowa Department of Agriculture also reported heavy damage to grain storage infrastructure at several ag cooperatives in the central and east-central areas of the state. Early estimates indicate more than 57 million bushels of permanently licensed grain storage was seriously damaged or destroyed at those sites.
"The derecho storm dealt another gut punch to Iowa farmers, wiping out whole fields, demolishing grain bins and other farm buildings," Ms. Reynolds said in a release. "Iowa farmers serve as a critical anchor for the entire world's food supply and it's critical they have our support. I spoke with Secretary Perdue earlier this week and regularly engage with the Trump Administration to ensure their voices are heard as we continue to secure federal assistance." 
If approved, a Secretarial Designation would enable Iowa producers in designated counties and all contiguous counties to immediately access low-interest Farm Service Agency (FSA) emergency loans. Various other USDA programs are contingent upon the designation as well.
The Trump administration last week approved the state's request for funding under the Federal Emergency Management Agency's (FEMA) Individual Assistance Program for Linn County. Disaster assessments for other requested counties are ongoing. Residents of Linn County can now apply for FEMA's Individual Assistance Program, which provides disaster-affected homeowners, renters and businesses with programs and services to maximize recovery, including assistance with housing, personal property replacement, medical expenses and legal services. CBJ