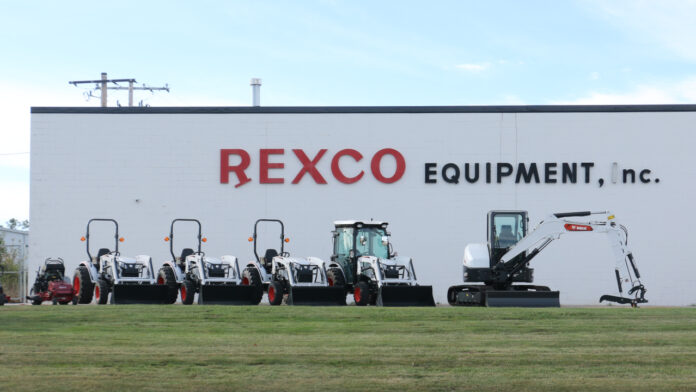 Rexco Equipment, a heavy and compact construction equipment dealer headquartered in Cedar Rapids, has acquired JP Scherrman, Inc. (JPS), an equipment dealer in Farley, effective at the close of business Sept. 30.
JP Scherrman's employees will be retained as part of the deal, according to a news release. The acquisition also strengthens Rexco's commitment to 100% employee ownership, company officials said.
"I am very pleased to be bringing the JPS customers and employees into the Rexco family," Rexco president and CEO Josh Bottelman said. "The alignment of our companies' core values make us a great match. We are confident JPS customers will continue to receive the great customer service they are accustomed to. I am also excited to combine our product offering with JPS' portfolio to enhance our customer's experience."
JPS was founded in 1919 as J. P. Scherrman's Garage and Implements, Inc. The company started as a repair service, later selling small gas engines and hardware items. They diversified in the 1940's and 1950's, becoming an International Harvester dealer along with an auto dealership, a gas station, wrecker service and tire store. The company also offered plumbing, heating and electrical services and sold appliances and TVs.
At its acquired JP Scherrman location in Farley, Rexco will continue to sell Bobcat, Kuhn, Kuhn Knight, Exmark and Supreme with the addition of Link-Belt cranes, Bandit, Link-Belt excavators and Behnke trailers.
"I look forward to the service Rexco will continue to provide our loyal customers and continue the relationships our employees have nurtured the past 103 years at JPS," JP Scherrman owner Paul Scherrman said.
Rexco Equipment was founded in 1964 by Rex Smith Sr. and his wife Mildred, who started with a store in Cedar Rapids selling and servicing Link-Belt cranes as the first Link-Belt dealer in Iowa. Their sons, Rex Jr. and Steve grew up in the business, and in 1985, they expanded the product line with compact equipment, adding Bobcat and Exmark. In March, Rexco was recognized as a top-performing Bobcat dealer.
As Rex Jr. and Steve Smith reached retirement age, they started an Employee Stock Ownership Plan (ESOP) in 2013. In November 2015, Josh Bottelman was appointed president, and an employee owner culture emerged. In 2021, Rexco became 100% employee-owned.
In addition to the Cedar Rapids and Farley locations, Rexco operates locations in Iowa City, Des Moines, Davenport, Burlington and Sigourney.