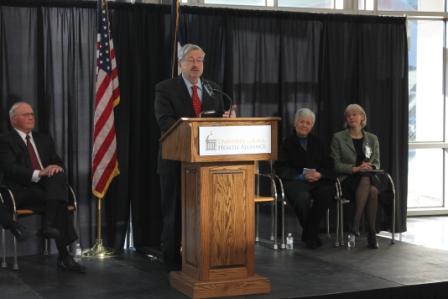 By Gigi Wood
IOWA CITY – The goal is $40 million.
A million dollars may seem like a drop in the bucket toward a $40 million goal, but organizers said it was important step for a new initiative aimed at keeping doctors in Iowa.
At a press conference on the University of Iowa's medical campus Dec. 6, the UI Health Alliance announced it will make a $1 million commitment over several years to help fund the Iowa Rural Physician Loan Repayment Program. Gov. Terry Branstad, UI President Sally Mason and other notables presented at the event.
"Having quality family physicians all over the state of Iowa, especially in these rural areas is going to be extremely important to our ability to achieve that goal (healthiest state in the nation)," Mr. Branstad said. "And it really strengthens our effort to bring more jobs and industries to Iowa because you can't get businesses to locate if you don't have quality health-care opportunities for their employees."
The legislature established the Rural Physician Loan Repayment Program in 2012. The program provides loan repayments for medical students who agree to practice as physicians in rural areas for five years following graduation and meet certain requirements. Program officials hope to eventually raise $40 million and create an endowment to make it perpetually sustainable. Last year, the state contributed $1.8 million to the fund.
The program targets family physicians, psychiatrists, internal medicine physicians, pediatricians and general surgeons.
"This important effort will help to enhance the health and well-being of communities across our great state, especially in medically underserved areas," Ms. Mason said.
The physicians in the program will agree to practice in service commitment areas, which are defined as any city in Iowa with a population of less than 26,000 that is located more than 20 miles from a city with a population of 50,000. Those communities must make a $20,000 contribution for deposit in the rural Iowa primary care trust fund for each physician in the community who is participating in the loan repayment program.
"The founding members of the UI Health Alliance believe that ensuring local access to medical care is a critical issue for our state," said Dave Vellinga, president and CEO of the Mercy Health Network, who is chair of UI Health Alliance. "By helping support this innovative initiative, we are continuing to strengthen rural communities and invest in the health of Iowans for generations to come."
Up to 20 medical students at the state's two medical schools — University of Iowa medical college or Des Moines University-Osteopathic Medical Center — can enroll in the program each year.
"This program represents a critical step toward reducing the debt of $164,000 that our students must shoulder when they graduate, as well as bringing crucially necessary health care closer to home for rural Iowans," said Debra Schwinn, dean of the UI Carver College of Medicine.
The UI's medical school is ranked among the top 10 in the nation for rural medicine, she said.
"However, there are economic realities that prevent our students from choosing to practice in rural settings," she said. "The loan repayment program provides an innovative approach to increasing physicians in the underserved areas by addressing the economic realities that drive medical student choice."
UI Health Alliance, comprised of Mercy Health Network, Genesis Health System, Mercy-Cedar Rapids and UI Health Care, includes more than 50 hospitals and 160 clinics.
"There is no question this program will do much to ensure the accessibility of needed health-care services to Iowa's rural communities," said Jean Robillard, UI's vice president for medical affairs. "In the 18 months since the alliance launched, we have achieved much to prepare for changes in the nation's health-care system and to provide more streamlined and coordinated care for patients. Nowhere is this more important than in Iowa's rural and medically underserved areas."
The Iowa Rural Physician Loan Repayment Program was spearheaded by the Iowa Academy of Family Physicians, partly in response to the Affordable Care Act and partly because of the number of retiring doctors in the state. And there are not enough graduates coming out of the state's medical schools to fill the vacancies.
"With ACA, primary care is the mainstay of all of these accountable care organizations and so it's going to be a little bit more important to have a solid primary-care base," said Brent Hoehns, president of the Iowa Academy of Family Physicians. "And there is a shortage (of doctors in rural Iowa). The shortage seems to be getting a little bit bigger and a little bit bigger. The state itself, especially rural Iowa, is getting a little bit elderly and older and needing a little bit more services, so it seems the shortage is being felt a little bit more now than 10 years ago."
The Iowa Academy of Family Physicians is working on the rules and guidelines for applying to the loan program. Resources should be ready for applicants within the first quarter of 2014, Mr. Hoehns said. For more information, visit www.iaafp.org.