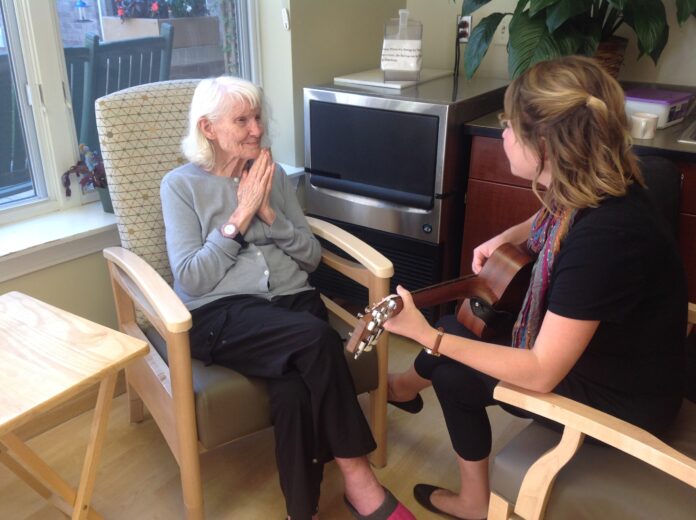 At Oaknoll Retirement Residence in Iowa City, music is not a luxury. It is essential.
Residents at Oaknoll are given the opportunity to take part in an extensive music therapy program, which has been developed by music therapist, Meghan Ross, over the course of seven years. She is Oaknoll's first full-time music therapist.
"I think the leadership team at Oaknoll truly understands the power of music," she said. "They really championed for this position to be created."
Ms. Ross received both her bachelor's and master's degrees in music therapy from the University of Iowa and has recently expanded her team at Oaknoll to include a second part-time music therapist, Emmy Kabela.
Oaknoll also works with two to three music therapy interns each year, which is how Ms. Kabela first started with the program.
The music therapy team offers one-on-one and group sessions to "all levels of care" at Oaknoll, Ms. Ross said. This includes sessions with residents in independent living, assisted living and at the health center, which is where the "memory care loft" is located.
Ms. Ross takes each resident's needs and interests into consideration when recommending music therapy. Each session is uniquely tailored to the 30 or more residents who benefit from the program on a weekly basis.
"If there are residents who I think could really benefit from the effects of music therapy, but maybe aren't interested in a group setting, I will do one-on-one sessions with them," Ms. Ross said. "Music is so powerful, and I can make accommodations to help ensure some of their success."
These one-on-one sessions can involve simply listening to music or singing and playing a multitude of different instruments. Ms. Kabela also offers hands-on lessons for piano, guitar, ukulele and newly-added steel pan drums.
If residents are interested in performing with their musical talents, they can join "The Oaknotes," Oaknoll's 50-person choir, directed by Ms. Ross, which rehearses weekly and performs three concerts per year.
"Aging is wonderful and beautiful. But on the other side of aging, there can also be a lot of loss. There's hearing loss, there's vision loss, there's memory loss," Ms. Ross said. "But getting to allow people to participate in music and to have those losses set aside for a little bit is so empowering."
With residents in the memory care loft, Ms. Ross has noticed palpable effects from each session. According to her, music therapy can help those dealing with memory loss with mood management, verbal and non-verbal communication, alertness, social interactions and overall quality of life.
"I think a lot of people are becoming more aware of the incredible benefits music has for people living with dementia," Ms. Ross said.
She fondly tells the story of one resident who is "incredibly connected to music."
"It was really hard to have a conversation with them, but when we sing together they are harmonizing, they know all the words, they are adding percussion," she said. "You get to see them be themselves again and have this part of themselves step into the light again."
Exposure to music can give these residents, and residents throughout Oaknoll, validation and a reminder of a part of who they are.
"Being able to be the facilitator for that is really cool," Ms. Ross said.