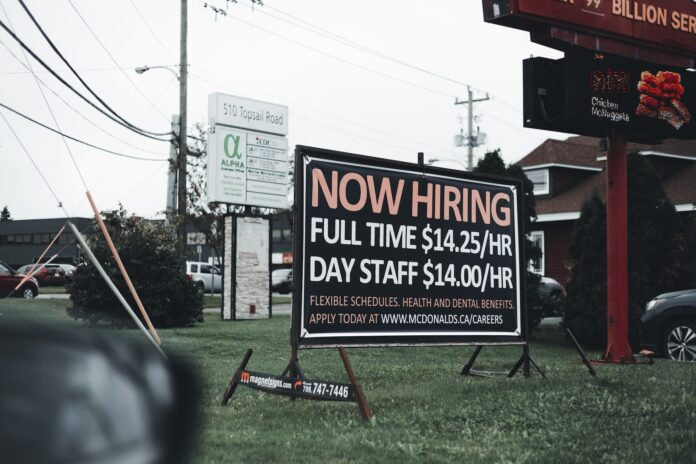 Iowa employers' hiring struggles are the fifth-worst in the nation, according to a report published by WalletHub.
During the COVID-19 pandemic, millions of Americans lost their jobs. Now, employers are having a tough time, as WalletHub reported. Labor force participation rates are below pre-pandemic levels, and some businesses are also finding it difficult to retain employees. These struggles sometimes lead to delays in service and reduced business hours.
Certain states are finding hiring more difficult.
In the past month, Iowa's job openings rate was 8%. It was the fourth highest in the nation. Only West Virginia (9.1%), Louisiana (8.7%) and Alaska (8.5%) had a higher rate. New York (4.6%), New Jersey (5.4%) and Connecticut (5.7%) have the lowest job openings rates. Across the country, the median rate was 6.85%, and the average rate was 6.88%. All but eight of the states had rates between 6.1% and 7.7%.
Over the past year, Iowa's job openings rate was 6.97%, or about equal to the median among states: 6.98%. New York (5.38%), District of Columbia (5.85%) and New Jersey (5.88%) had the lowest. Alaska (9.25%), Montana (7.98%) and West Virginia (7.92%) had the highest. The rest of the states had rates somewhere between 6.1% and 7.83%.
University of Northern Iowa economics professor Lisa Jepsen and University of Northern Iowa Institute for Decision-Making Director Drew Conrad co-wrote responses to researchers' questions in the report. Conrad also represents the Board of Regents on the Iowa Workforce Development Board.
Conrad and Jepsen said many employers are struggling to fill positions because there are far more job openings than job seekers, who would include unemployed individuals and new entrants into the labor force. In March 2022, the Bureau of Labor Statistics found that the U.S. had more than 11.7 million job openings compared with 6 million unemployed people. In Iowa, there were 112,000 job openings compared with 55,600 unemployed individuals. The April 2022 unemployment rate was 3.0%, three-tenths of a percentage point less than the nation's.
While Iowa's traditionally had among the highest labor force participation rates in the country, the population's aging, bringing higher retirement rates, Jepsen and Conrad said. One quarter of Iowa's workforce members are at least 55 years old, they said.
The Hawkeye State's Future Ready Iowa Act, which launched in 2018, offers college scholarships for programs with high-demand jobs, such as nursing and engineering, but it will take time to build a workforce of people whose skills fulfill employers' needs, they said.
Employers must offer competitive wages and benefits and create flexible work environments, to meet employees' desire for work-life balance, they said. Businesses may also need to be creative to retain older workers and attract new, younger workers.
"Our material standard of living depends on how much we produce. If the labor force participation rate is shrinking, then production depends on relatively fewer people," they said. "Other things equal, that will adversely affect our standard of living. The same is true if people cannot find jobs because they do not have the requisite skills. In addition, with relatively fewer people working, payments into the Social Security system are relatively smaller. The system is already under financial stress, so the problems in the labor market will make it worse."