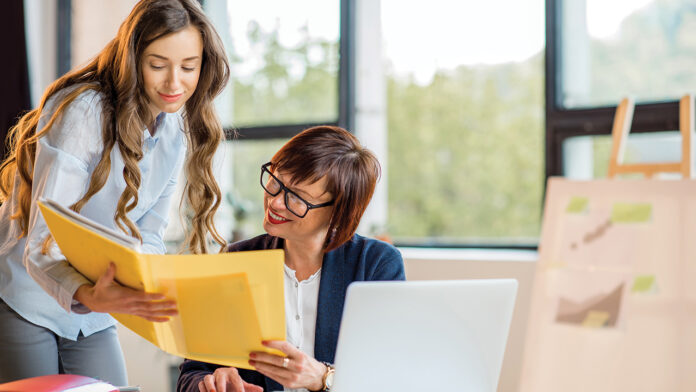 In today's ever-changing workforce, employers have to find unique tactics to attract skilled employees. 
A Registered Apprenticeship (RA) program is a rewarding option for both a business and a future employee. The opportunity combines on-the-job learning with related classroom instruction. In the end, the program offers a certification and possibly even a college degree, depending on the occupation.
An RA program allows an apprentice to receive a paycheck from day one and wages increase as skills grow. They receive on-the-job training by an experienced mentor. For the related training, or classroom training, they attend a community college, technical school or an apprenticeship training facility. 
Did you know that Registered Apprenticeship programs result in guaranteed qualified employees with a nationally recognized credential awarded by the Department of Labor? The programs reduce turnover costs and increase employee retention. About 85% of employees who complete a RA program remain employed after its completion.  
RA programs also allow increased access to more high-demand occupations, particularly as employers look for more skills-based solutions to their pipelines.
Our future workforce is also able to explore the rewarding opportunities RA programs have to offer. Programs for ages 16-24 combine academic and technical classroom instruction with work experience, which provides the chance for youth to choose multiple pathways — to enroll in college, begin full-time employment or a combination of both. 
Area school districts are offering exposure to RA programs as early as middle school. The U.S. Department of Labor has collaborated with Scholastic to develop materials to introduce middle school students, parents and teachers to future careers and apprenticeships.
There are hundreds of RA occupations. Programs continue to grow in areas such as health care, transportation, information technology, food, hospitality services, logistics transportation and advanced manufacturing. You may be surprised to find an occupation that you already have in your business may qualify as an RA program.  
Even better, your business may qualify to receive a grant to help offset the costs of the training. The Registered Apprenticeship Development Fund awards grants of up to $1 million for new programs in high-demand occupations.
This year, the state added an additional $50 million in support for new high-demand career pathways beginning at the high school level, including an innovative Health Careers and a first-in-the-nation Teacher/Paraeducator RA program.
National Apprenticeship Week (NAW) is Nov. 14-20. The nationwide celebration highlights programs in our community through events that showcase the successes and value of a Registered Apprenticeship. Consider attending one of these events to see how a program can benefit your business. Visit www.apprenticeship.gov/national-apprenticeship-week to find an event near you.
Implementing a RA program in your business may be the proven solution for recruiting, training and retaining world-class talent.
You can learn more about registered apprenticeship programs at www.earnandlearniowa.gov or by calling (319) 365-9474, Ext. 3. 
Martha Garcia-Tappa is a business engagement consultant with IowaWORKS, Davenport. She can be reached at (563) 445-3200 Ext. 43311 or martha.garcia-tappa@iwd.iowa.gov.