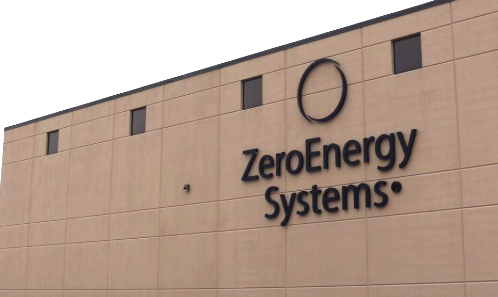 Zero Energy Systems' factory and headquarters at 428 Westcor Dr. stands silent and unoccupied on June 19 after closing in mid May. The owners and the bank to which they owe more than $16 million are blaming each other. PHOTO DAVE DEWITTE.
By Dave DeWitte
dave@corridorbusiness.com
Three months after its lender foreclosed, the financial challenges that brought Zero Energy Systems in Coralville to a standstill have become clearer, but the future for what was once one of Iowa's promising "green" companies is more clouded than ever.
Efforts to rebuild the crumbling financial foundation of Zero Energy Systems (ZES) in bankruptcy have been dropped in favor of plans to liquidate. Negotiations toward a global settlement of the bankruptcy case have been abandoned. ZES' owners are fighting the foreclosure in state court, and customers who ordered the company's walls are in limbo as its factory in Coralville's Westcor industrial park stands idle.
ZES manufactures precast concrete walls with built-in insulation that offer strength, resistance to threats like wildfires, tornadoes and hurricanes, and a high R-value for energy efficiency. They come out of a highly automated manufacturing system with attachment points and openings for windows and doors already built in. Once finished, they are shipped to construction sites by truck and hoisted into place with a crane.
ZES founder Scott Long and partner Manoj Krishan of Houston opened the Coralville factory in 2014, based on wall technology developed by Mr. Long's father and his own work over much of the preceding decade producing a system to take designs directly from CAD/CAM software into automated production.
The venture received financial support from local government and economic development agencies, and still owes $600,000 to the city of Coralville, $375,000 to the Iowa Economic Development Authority and $475,000 to Kirkwood Community College.
By 2018, ZES had 62 employees and a growing list of customers. The company's cash flow was not keeping up with its growth, however, and signs of trouble began to surface in February.
Trucking companies that shipped products for ZES were becoming impatient at not being paid, and in February, Iowa Motor Truck Transport of Garner sought a judgment in Johnson County District Court to recover $72,150 it said was owed for 32 ZES shipments. Eventually, three trucking companies and a Des Moines construction contractor sought court judgments against ZES.
Iowa City-based MidWestOne Bank, ZES' lender, filed a foreclosure action on March 5, saying ZES owed $16.25 million. The bank asked the court to appoint a receiver to take over control of the business, noting in the action that ZES' leadership team "has demonstrated an inability to run its business."
The lawsuit revealed the bank and ZES had already restructured the company's loans less than two years earlier when it was running low on funds. MidWestOne had placed stipulations on the restructured financing, with which ZES had failed to comply, the foreclosure action said. Among the issues cited were that Mr. Krishan had failed to maintain the $1 million balance he was required to have in an account that was to serve as a guarantee for the company's loan; that ZES hadn't made certain payments when due, leaving its entire debt of $16 million owed; and that the company had sent out an email on Feb. 20 indicating it planned to cease operations, jeopardizing its ability to repay its loans.
ZES' owners countered many of the bank's claims, however, and the foreclosure case has become a battlefield.
Claims & counterclaims
On March 25, the day before a hearing in state court on the bank's motion to appoint a receiver for the company, ZES filed for Chapter 11 bankruptcy reorganization, at least temporarily blocking the court from allowing the bank to transfer control. In a press release, Mr. Long cited a lack of support for the company's growth from its current lender, and said ZES planned to reorganize with venture capital.
The foreclosure action in state court kept boiling, however. Mr. Krishan and Mr. Long filed a counterclaim against MidWestOne claiming breach of contract, seeking dismissal of the case, and accused the bank of making fraudulent misrepresentations during the 2017 refinancing of ZES' debt to get Mr. Long to sign a guarantee on promissory notes. The duo maintained the bank interfered with their efforts to recapitalize the company through venture capital investors, arguing that bank officers acted with malice, warranting punitive damages.
Among the more unusual financing arrangements highlighted by the lawsuit was ZES' use of two loans from Donald Stalkfleet, an Iowa City businessman. ZES claims Mr. Stalkfleet was a longtime MidWestOne customer and that the bank helped arrange the loans, even subordinating its own lien position behind Mr. Stalkfleet's loans of $450,000 and $500,000, made at interest rates of 20 percent and 30 percent, respectively.
Mr. Long and Mr. Krishan argued the bank skirted normal loan monitoring and reporting requirements to make Mr. Stalkfleet's loans possible so that MidWestOne would not have to report its own loan to Zero Energy Systems as a nonperforming loan, jeopardizing executive bonuses at the bank.
Separately, they argued that the bank applied about $1 million put up by Mr. Krishan as security for ZES' loans to an account of the bank's choosing when applying it to a different account would have avoided a default on the loan.
MidWestOne issued a strong response to the counterclaim on May 23, arguing that the bank had already been highly flexible in dealing with the company's repayment issues. ZES was in default under its loan documents for failing to pay more than $1.071 million by 2017, according to the counterclaim, but MidWestOne agreed to amend its credit agreement with the company. By Dec. 31, 2017, MidWestOne said ZES had a "borrowing base deficiency" of about $180,000.
A borrowing base is a calculation that determines how much a bank will loan a customer based largely on the amount of collateral the customer provides. The bank said it was prepared to offer a forbearance agreement, which might have avoided the foreclosure, but Mr. Long did not respond.
While ZES argues that the loan refinancing was primarily done to benefit bank executives, MidWestOne responded that Mr. Long himself signed documents attesting that the refinancing was a benefit to the company.
Future fights
ZES converted its bankruptcy reorganization to a Chapter 7 liquidation at the end of May, with a possible outcome being a sale of ZES' assets under Section 363 of the Bankruptcy Code, Mr. Long said. Such a sale resembles an auction of a debtor's assets, with court supervision to ensure the final price is fair to creditors.
Mr. Long said he would not be part of a bid for the assets if the 363 sale happens, because he's pursuing a venture with others to build a plant twice the size of the Coralville operation in California, which he described as a stronger market for its walls. He believes ZES' plans to recapitalize in bankruptcy with private investors such as Kansas-based Tortoise Capital would have provided greater recovery to the bank than it could receive in a sale of ZES' assets. That plan would have kept the company alive and growing, ultimately enabling it to repay more to its creditors, he said, but the bank resisted.
"They destroyed a $100 million company without cause," said Mr. Long, who has indicated some $25 million was invested in ZES. "My loans were current. My plant was full. We were breaking even." He said customers like Flexsteel in Dubuque, Randy's Carpets in Coralville and the Meskwaki Settlement near Tama are now wondering if they'll ever get the walls they ordered, and in some cases, made significant deposits on.
Mr. Long claims ZES had agreements from most creditors to secure debtor-in-possession (DIP) financing that would have funded the completion of its orders, however objections from MidWestOne and Mr. Stalkfleet made it impossible. Unable to continue without the financing, he said the decision was made to liquidate the company.
Through attorney Bill Wassweiler, MidWestOne disputed Mr. Long's contention. Mr. Wassweiler said the bank was in agreement on a budgeting plan worked out with ZES in state court under which Mr. Krishan would have provided DIP financing, but ZES did not follow through.
"We wanted to get a court-appointed receiver back in March to get the company sold as a going concern for the benefit of many parties," Mr. Wassweiler said.
ZES' bankruptcy filing blocked that effort, Mr. Wassweiler said, but MidWestOne continued to support the sale of the company as a going concern out of Chapter 11 bankruptcy, which would have potentially saved jobs and enabled the company to fill its orders.
"The point is to sell the facility, and we tried to sell it in the Chapter 11 [bankruptcy reorganization] case and were opposed by the debtor," Mr. Wassweiler said. "We can accomplish something similar to that in state court under receivership, and that's our intent."
MidWestOne is unable to tell customers who've ordered ZES walls what will happen to their orders because the bank is not in control of ZES, he added.
The foreclosure case has unfolded against the backdrop of two changes in MidWestOne's executive leadership, although it's unclear whether they will have a bearing on the dispute. A new chief financial officer was appointed on May 4, and a new chief credit officer on June 11. The latter will succeed Kent Jehle, who is named in the proceedings as one of the bank executives involved in ZES' loan and refinancing. The bank has announced his plans to retire in September.
MidWestOne recently petitioned the bankruptcy court to lift the automatic bankruptcy stay that prevents it from taking possession of its collateral. However, the trustee handling the bankruptcy filed an objection to that motion, saying it appeared that one of MidWestOne's promissory notes with the debtor was not yet in default. Questions also remain about the strength of legal claims of the bank and Mr. Stalkfleet on certain assets of ZES, Trustee Charles Smith's motion said.
Mr. Long expressed doubt the Coralville plant will ever reopen as a wall factory. He said he controls the intellectual property the plant requires to operate, and it's unlikely a future owner could operate the plant without it. MidWestOne argued to the contrary in a motion, saying ZES put up all its intellectual capital as security for its loans with the bank
The Iowa City Area Development Group (ICAD), the area economic development agency for Johnson County, has worked to help ZES secure economic development assistance from state and local governments since it started. At the same time, MidWestOne has been one of ICAD Group's strongest supporters over the years.
ICAD President Mark Nolte said it's a sad situation, but there's nothing the organization can do now but wait until the bankruptcy runs its course.
"It's a valuable asset and we'll do what we can to get it utilized when the time is right," Mr. Nolte said.
MidWestOne as recently as June 19 was urging the court to expedite the hearing on its motion to lift the bankruptcy protection so it can get a receiver appointed in state court. It said ZES' actions have already delayed the bank's efforts by three months, eliminating the opportunity to sell the company as an operating business. MidWestOne also argued that it is being approached weekly by potential buyers interested in ZES' assets, but further delays and a lack of maintenance at the plant could cause them to lose interest.
As of last week, it appeared the bankruptcy court wouldn't expedite the hearing of MidWestOne's motion, and will consider four motions to lift ZES' bankruptcy protection for various creditors on July 9.