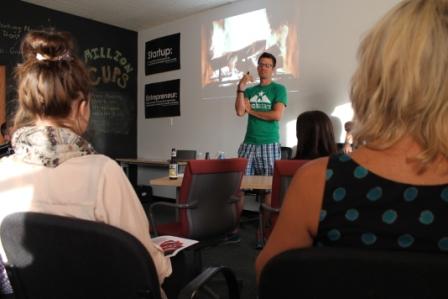 By Gigi Wood
CEDAR RAPIDS – What about Bob?
Those who follow the Corridor start-up scene may wonder about the fate of RecBob, the software program company designed to help people organize recreational sports teams. RecBob was created at Startup Weekend in Iowa City and gained enthusiasm at the 2011 Pitch & Grow in Coralville.
Since then, it's been a whirlwind for RecBob founders. They were invited to participate in the Nike+ Accelerator, powered by TechStars, which hosted 10 companies for a three-month, immersive, mentor-driven startup accelerator in Portland. They started March 18 and by the end, RecBob was no longer the company's focus.
Co-founders John Schnipkoweit and Chris Quartier, talked about their transition at Vault Coworking's Startup School first fireside chat on Sept. 10. They walked the audience through RecBob's evolution, the first four team members who left their jobs to help launch the company, the startup events the company has attended throughout the country  and its experience at the Nike accelerator, which changed everything. And how now, with a new name and new product, they are essentially back to square one.
While RecBob is still technically available online, it's no longer the focus of the co-founders. Instead, they are now NextStep.io, developing ways to use data generated by exercise/activity trackers to develop a new product or service.
The app has done well in recent months, placing in the top five among startup companies competing at Techweek Chicago. The first NextStep.IO product, which is in beta development, will be an app that enables users to identify and track the small things that are affecting their daily activity, giving them a dashboard that they can consult. Mr. Schnipkoweit noted that the co-founders relished the access to the valuable Nike data, which informed their strategy and product planning.
Nike accelerator
The group applied to the accelerator at the start of this year and at the start of March, TechStars called to say they had been accepted.
"Basically on March 1 of this year, we got a phone call from TechStars saying, 'can you be in Portland in two weeks, with your entire team, for three months?' So we had two weeks to completely pick up and move five people to Portland," Mr. Schnipkoweit said.
During the first two weeks of the Nike accelerator, each startup meets with about 200 mentors, all with different opinions.
"They give you data points every day, it's a lot of opinions, they talk to you about your business model, what they like, what they don't like," he said. "And it's up to you to find those trends and know which ones to listen to."
The accelerator included early mornings, late nights and living with coworkers.
"Starting a company is like getting married; going to an accelerator is like consummating the marriage," Mr. Schnipkoweit said. "You are literally living with your co-founders for three months. We didn't sleep in the same bed, but it takes it to the next level. And I think it does that on purpose."
Within the first three weeks of the accelerator program, the RecBob team knew it was going to completely change focus, it just didn't know what that change would look like.
"The accelerator turns your business inside out. And things you thought were sacred before, like relationships with your co-founders, are completely different and things about your business model, your product, everything is completely fair game," Mr. Schnipkoweit said. "We made the decision we were going to completely change gears."
As RecBob evolved, the team realized that players on recreational sports teams tended to leave their cell phones in their cars when playing games. Recreational sports were a way for people to escape that technology. So the team knew it needed to go in a different direction.
"We realized that what we were building was useful and it was a nice-to-have product but was it a need-to-have product? I think it is for some people," he said. "What we also had learned was I think we had taken on a lot of assumptions early on."
A few sports-related companies had approached RecBob about using the app to stay in contact with customers. But those companies were spending little to nothing on email campaigns to reach customers and weren't willing to pay much to use RecBob.
"It really became a company that's not scalable for us," Mr. Schnipkoweit said. "After building something for a year and a half, that was a really hard thing to deal with."
The team voted to abandon the product and Mr. Schnipkoweit wrote and read a eulogy for the startup.
Startup pivot
The group began coming up with new product ideas and pitching them and discarding them. Most of the other companies at TechStars did the same thing.
"I think the best advice we ever got was, 'I think you're holding on to what's left of RecBob," Mr. Schnipkoweit said. "When you go from running 1,000 mph to basically freezing development, I call that a tailspin."
Nike and other sports-related companies are developing the next generation of activity trackers. The company has droves of data about its users from these trackers.
"The thing that we saw was, nobody's really helping people make sense of the data in these devices," he said. "We saw that there was this problem that needed to be solved and that we needed to help people solve it. That's really how we got to NextStep."
The product idea is to create a program that takes activity tracker data and help people make sense of the little things that affect their wellness every day. When they returned to Iowa, the team decided to downsize from four to three to focus on development and save money.
At last week's fireside chat, an audience member asked whether Nike coerced RecBob into dropping its model and developing one that would benefit Nike. Mr. Schnipkoweit dismissed that idea, restating some of the reasons why the group felt RecBob wasn't sustainable.
Another audience member asked how private information is at the accelerator and whether they worried about other teams stealing their ideas. While there was no legal documentation in place to protect ideas, the RecBob team didn't concern themselves with it.
"Ideas are shit," Mr. Quartier said. "If you have an idea, someone has probably thought of it before. It's about the execution of that idea."
When asked about the challenges of running a startup business in Cedar Rapids, Mr. Schnipkoweit said the city lacks the density of other cities known for their entrepreneurial climate. There is also a lack of early adopters in the area, he said, adding that most RecBob customers are located outside of Iowa.
"It's also Iowa nice, people don't tell you what's wrong with your product," he said. "Entrepreneurs need that constructive feedback."
Vault Startup School
Sept. 25 Using the Business Model Canvas
Oct. 8: Finding Investment Angels with ClusterFlunk
Oct. 29: Funding to Scale: the Iowa Demonstration Fund with Bandwidth Pool
For more information, visit http://crvault.com/startupschool.c