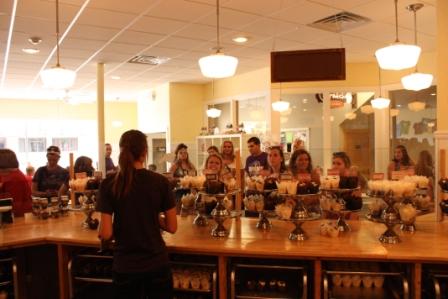 By Angela Holmes
CEDAR FALLS – After 15 years in graphic design and marketing, Natalie Brown wanted to get out from behind a computer.
"I had an itch to do something else," she said.
Thus, Scratch was born in 2010. When she first started, Ms. Brown's plan was to focus on cupcakes, but she was talked out of that idea and served breakfast and lunch.
"People said not to start with just cupcakes and I listened to them," she said.
Although business boomed with customers wrapped around the block, she went with her instinct to scale down the menu.
"It was just three or four weeks before we changed to just cupcakes," she said. "I took a risk to close and regroup and eliminate the menu."
The risk paid off as she quickly regained her customer base and added a legion of new fans.
"The line never went away, it was very encouraging," she said.
Originally Scratch Bakery and Café, the franchise, now Scratch Cupcakery, has expanded to stores in Cedar Falls, Waterloo and West Des Moines. Its newest location, in the Iowa River Landing in Coralville, is set to open later this year.
As Ms. Brown was building her business, Deanna Trumbull, director of leasing for Iowa River Landing, approached her about opening a store in the budding Coralville development.
"I declined because I was overwhelmed," Ms. Brown said.
When Ms. Trumbull called a year later in 2012, Ms. Brown verbally committed to Coralville but was in the middle of the West Des Moines project.
"The wheels began to turn this spring," Ms. Brown said.
Although initially scheduled to open this summer, the 2,900-square-foot Coralville location is now slated to open in November or December. It will have two levels and will serve hot drinks, fruit smoothies, frozen blends and slushies as well as cupcakes.
Building the larger store has been a different process than her other stores, Ms. Brown said.
"It had 20 point people instead of one," she said. "It's been a challenging process; not necessarily in a bad way. I love a challenge."
She has been tackling challenges ever since starting the original store three years ago with a $20,000 loan and some money she had saved.
"We cut corners because of lack of money," she said.
A lot of workers were willing to work for free in the beginning.
"Help from other people got me started," she said. "Sometimes they still call and I have to take them up on it."
The business quickly outgrew its small space on Cedar Falls' Main Street, and in November 2011, Scratch Cupcakery moved to its current building at 315 Main St., Cedar Falls.
With the help of Ms. Brown's father and brother, the building was completely gutted and the cupcake shop opened for business on Black Friday in 2011.
The larger store presented new, but welcome, challenges, such as increased customers and demand.
"We had to think, 'how do we process this many customers?'" Ms. Brown said. "It's a whole different ballgame."
The store's location on Cedar Falls' rejuvenated Main Street has played a key role in the business' success.
"Foot traffic is amazing," Ms. Brown said. "Main Street is where it's at."
Out of demand, Scratch opened a Waterloo store at 1517 Flammang Dr., in July 2012.
"We couldn't keep up the process at this (Cedar Falls) store," she said. "It has helped overall traffic flow."
The Waterloo store is the only Scratch location without a kitchen or tables for customers. Cupcakes are delivered from the Cedar Falls store throughout the day.
Ms. Brown, 34, uses the same recipe she used when she catered in college, but has tweaked it as orders increased.
"Everything starts with the same basic recipe and then we go from there" she said. "I'm a firm believer that no recipe belongs to anybody."
Scratch features 140-150 flavors of cupcakes each year with 22 rotating daily. Popular selections include Wedding Day (almond cream cake with vanilla buttercream), Salty Dog (vanilla cake, peanut butter buttercream and salted peanuts), Maple Bacon and Red Velvet. Ms. Brown's favorite is Sully (peanut butter cake, peanut butter cookie dough, oat and chocolate chip buttercream, rolled oats and mini M&Ms).
"Baking is a science, but we are trial and error," she said. "It's a fun process; the workers come up with new flavors."
Word of Scratch's tasty product reached the Des Moines area, again causing demand to open another store. The West Des Moines store opened in January of this year. This was the first store to be built, well, from scratch.
Along with daily foot traffic, Scratch has a large catering base, especially for weddings and special events. Another part of the business is Scratch Curbside, a van that travels across the state selling cupcakes and testing the market.
"There are a lot of locations we are scouting," Ms. Brown said. "But we want to do it well. If we have four stores and succeed, we are fine. If we stop there, that is not a sign of failure. We literally do what we have to do."
Starting with seven employees at the first location in Cedar Falls in 2010 with Ms. Brown as the only baker, the business has grown to about 120-130 employees between the stores in Cedar Falls, Waterloo and West Des Moines. Another 60 will be added at the Coralville location. Most employees are college-age.
"Everybody loves coming to work," Ms. Brown said. "It's a fun, family environment."
Ms. Brown's parents, Peg and Hank Brown, are also on the payroll. Peg has a background in accounting. Hank, with a background in concrete paving and construction, is operations manager of the Cedar Falls store and project manager of the Coralville store under construction.
"I didn't want them to be partners," Ms. Brown said. "I do value their time and pay them."
Although she has not had any formal business training, she has learned along the way, starting with her job as graphic designer at Orchard Hill Church in Cedar Falls.
"I had a boss at Orchard Hill who invested in me," she said. "I hire people for them, not actual positions. That happened for me at Orchard Hill. I was trained in leadership, now I'm training my leaders."
While the unique cupcakes practically sell themselves, Ms. Brown's business model revolves around the customers and the community.
"It's about the customer, not the money," she said. "We donate more than what I thought we would make in a year. It's smart marketing. Our goal is to serve the community, but also to get the product out there."
She admits she is still learning the ins-and-outs of running a business, but continues to welcome the challenges.
"When I stop learning, we'll stop growing," she said.