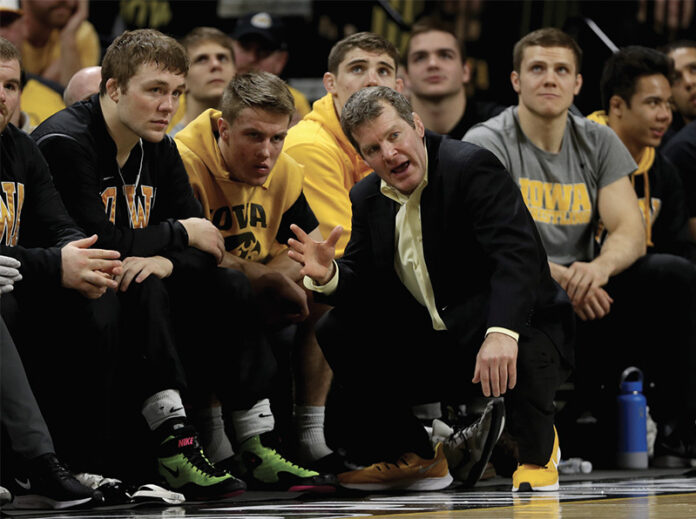 Coach Brands instructs members of his bench during a recent match at Carver-Hawkeye Arena. Coach Brands has become known for his focus on attitude and mental preparation: "When you get ready for your match, there's nobody better." PHOTO UI ATHLETICS

Sponsored by MidWestOne Bank, this is the latest edition of the CBJ's new podcast feature with Nate Kaeding and notable Iowa business and cultural leaders, available first to CBJ members. Listen to this episode below, and subscribe on Spotify, iTunes, Google Play, Stitcher and SoundCloud.
By Nate Kaeding
news@corridorbusiness.com
For Tom Brands, the energetic coach of the legendary Iowa Hawkeyes wrestling team, hard work means nothing without results – which his team has delivered in spades this year. The Hawks closed out an undefeated season in late February with a big win over wrestling powerhouse Oklahoma State, and are heavy favorites to win both Big Ten and national titles for the first time since 2010. Iowa fans, feeling the energy emanating from the mat, have followed, setting a new single-season average attendance record at Carver-Hawkeye Arena, of 12,568.
That has earned Mr. Brands, a three-time national champion and Olympic gold medalist, a contract extension through 2026 and a new $20 million wrestling operations facility. In short, things are looking good for Tom, but he refuses to be satisfied.
"Complacency is a mindset and excellence is a mindset," he told me. "You don't have to look very far to find an example to rejuvenate you if you need that. You shouldn't need it, but if you need it, you don't have to look too far. I mean, you look to your right, you look to your left, there's some pretty high-level guys."
Tom sat down with me at his office to talk high-level coaching, the art of recruitment and competing with the best of the best.
Tom, describe the Iowa wrestling culture. If you're sitting in the living room with a recruit, how do you describe it?
We want our guys to feel good about where they're at today and about where they're headed. If you think about that statement, that's pretty basic for being the best that you can be every day. That means that when you are in a role that you don't like, you still have to get better and you still have to support the overall organization.
When you can do that, then you're going to see the energy that maybe the public's been talking about with our bench, which has been a topic this year. They're athletes that aren't necessarily the starters and that's because they've embraced a role that they don't necessarily want to be in, but they also realize that it's an important job, if you want to call it that, and they're doing it at a high level.
What's the mentality test? If you're in the living room, how do you gauge that?
You look at how someone handles a loss. You think about a guy like [late U.S. Army General George] Patton, who's famous for saying, "I wouldn't give a hoot in hell for a man who lost and laughed," but that's not overriding either, because sometimes you have to forgive yourself in a healthy way – but you can be hard on yourself in a healthy way, too. You listen, you look, you ask questions to the people that you know and trust in the sport. It's a small world when you're talking about the very best in whatever you're doing, whether it's wrestling or anything else.
We rely a lot on that intelligence. We have a guy, [wrestling coach] Ryan Morningstar, who has very good people skills. He can find a contact who knows somebody who knows somebody, and figure out the real dope on what's going on. That's how you do it.
Was coaching and leading a team always a dream of yours?
Yeah.
Talk a bit about your evolution from a wrestler and an athlete into Tom Brands the coach, the leader.
I think when I graduated, it was like, "This is what I'm going to do, but I'm still going to wrestle internationally." I was fortunate to be hired right out of college. While I was still competing internationally, I was [former UI Wrestling Coach Dan] Gable's second right-hand man. Jimmy Zalesky was his right-hand man.
The next thing you know, you have a real platform and footprint because of the success not that you had in college, but that continued at a high level in international [competition]. And so – not to pat myself on the back too much – but you become a household name and now all of a sudden your name carries weight. So there's that thought, "I want to be a head coach. I want to go take this somewhere else. And then I got the opportunity to go to Virginia Tech for 22 months.
The best thing I ever did … was come back to my alma mater. We won three titles, but haven't won since 2010. We need to continue to get better every day…
Read the full interview with Tom Brands in the March 2 print or digital editions of the CBJ. Not a CBJ member? Join today.