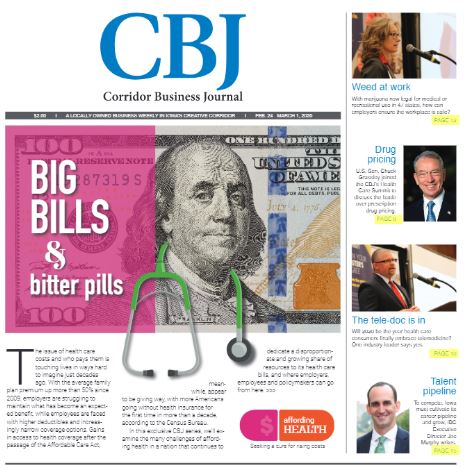 In this six-part, subscribers-only series, the CBJ is exploring the crisis of health care affordability as it relates to employers and employees in the Corridor. This week's kick-off focuses on the current health care affordability picture from the perspective of employers; our next edition, out April 6, will explore the issue from employees' perspective. Future installments will also look at the state of the Affordable Care Act, the privatization of the state's Medicaid program and strategies that have (and haven't) worked for cost containment. Share your perspectives and interact with the CBJ's news team on our Facebook and Twitter pages, #CBJhealth.
By Dave DeWitte
dave@corridorbusiness.com

Years of effort to address rising group health insurance costs at the federal, state and local levels have instead left employers with a sinking feeling, as premiums continue to rise at rates long thought unsustainable and more risk is shifted to employees.
Health plan redesign has become an annual rite at many organizations, as employers trim away at coverages to keep rising costs from crushing the bottom line. Meanwhile, Iowa's employer group health insurance premiums rose by 7.1% in 2019, about triple the rate of inflation, despite higher deductibles and copayments for many.
High-deductible health plans – defined by the IRS as any individual plan with a deductible of at least $1,400, or $2,800 for a family plan – are becoming the norm. One result is that more insured employees and their families are delaying care, skipping care or seeking care at free clinics because they lack savings to meet their deductible or drug co-payment.
"We recently had a patient who was real excited because she had gotten a job that paid $12 an hour," said James Henley, the COO at the Community Health Free Medical Clinic in Cedar Rapids. "It was more than she had ever made, and she had benefits. Then she went to get the prescription filled for her insulin and it was a $500 deductible. It was still $500 a month."
Similar price shocks continue to roil Corridor employers – particularly those at the smaller end of the spectrum.
At Bankers Advertising and TruArt Color Graphics in Iowa City, sister companies that employ about 90 altogether, this year's health premium increase was just under 19% for more traditional PPO and HMO plans, while the compound rate of increase for the past five years has been 20.5%.
"Put simply, a $1 health cost in 2015 will cost our company and our enrolled employees $2.54 in 2020," said the companies' CEO and General Manager David Bywater, who has been on a personal crusade for reforms to help mid-sized companies like his. "No business can sustain this pattern of cost increases."
Companies with between 50-150 employees are rated both on their group demographics and claims experience, he said, while groups below 50 are rated only on demographics. Yet the size of the 50-150 employee group remains too small to absorb the impact when a small number of employees have unusually high claims.
The smallest employer groups are also seeing much bigger increases than the publicized statewide average, according to Brenda LaMarche, founder and president of BRL HR Consulting, a human resources and payroll firm in North Liberty with eight employees.
When the premiums for BRL HR Consulting's most popular health plan went up 14.4% this year, Ms. LaMarche realized it was unaffordable and switched to a plan with higher deductibles, co-payments and prescription copayments in exchange for a lower premium increase of 6.7%. Because the coverage is "age-banded," she said four older employees experienced greater increases.
Small employers are changing carriers with increased frequency, shifting to partially self-insured plans and even talking about canceling insurance, Ms. LaMarche said.
"It's a frustration not only with my own company, but for all the businesses I work with," she said. "They're dreading open enrollment, because they know they're going to get socked again."
Read the full, members-only feature in the Feb. 24 print or digital editions of the CBJ. Not a member? Join today.