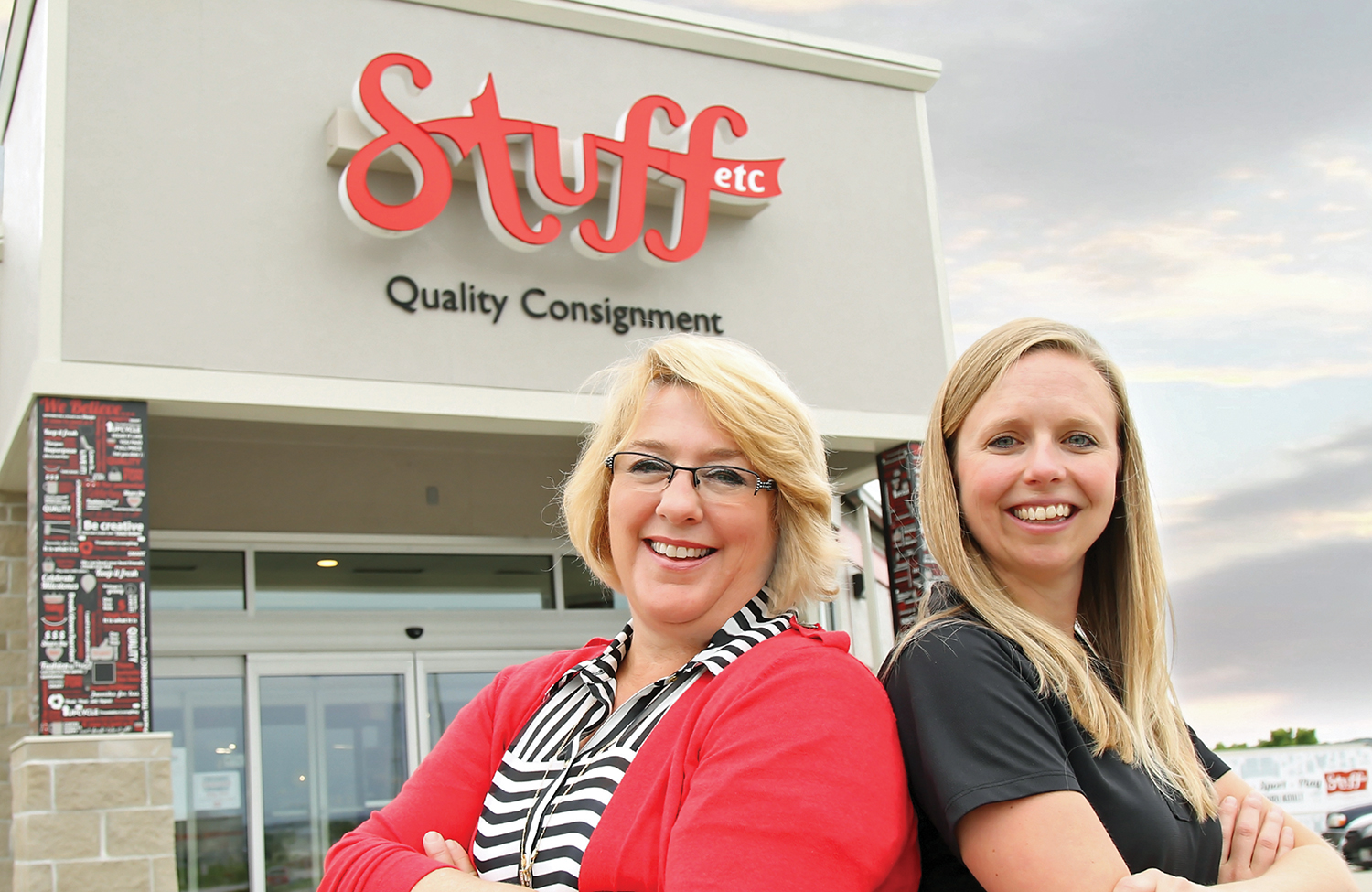 Mary Sundblad poses with Sara Sundblad, her daughter-in-law and corporate director of operations, outside a Stuff Etc. location in 2017. PHOTO STUFF ETC.
Sponsored by MidWestOne Bank, this is the latest edition of the CBJ's new podcast feature with Nate Kaeding and notable Iowa business and cultural leaders, available first to CBJ members. Listen to this episode below, and subscribe on Spotify, iTunes, Google Play, Stitcher and SoundCloud.
By Nate Kaeding
news@corridorbusiness.com
The "risk-taker" personality is central to the success of most entrepreneurs, and it's key to Mary Sundblad, the owner of Stuff Etc., the retail consignment store chain based in Iowa City. The former "Army brat" with seven brothers grew up making her own way and trying new things, whether working at businesses up and down the Coralville Strip or enrolling in the University of Iowa's radiology program. When she discovered the former Merry Go Round consignment shop in Iowa City, she took her next leap, buying what would become Stuff Etc.
That entrepreneurial spirit has served her well as the company begins to expand nationwide through franchising. In an age of online retailing, Mary has seen that people still like to find bargains they can touch, feel and try on before buying. She's employed her sharp powers of observation to tweak the business model, and see what the  market wanted. Growing Stuff Etc. to eight store locations is quite an achievement, yet it could be just the foundation for something even bigger, as we learned from talking to Mary.
We sat down at the CBJ Studios in North Liberty to discuss her upbringing, her introduction to the world of business and where she sees the consignment model headed in the next decade, as the world continues its digital migration.
Where were you from originally, Mary?
I'm an Army brat. I was born in Frankfurt, Germany, and we lived in Germany from 1957 to 1969. We came back and forth to the states, when Dad went to Vietnam and Korea. But all my elementary years were pretty much in Germany. So it was a culture shock when we came back here in 1970. My Dad got a job here at the ROTC, running the ROTC department at the university.
Did you go to a metro school, or where?
I went to Regina [in Iowa City]. I started there and then transferred to West [High] for high school. We loved it here, though. We call this home.
Tell us a bit about your upbringing and your childhood.
I was the only daughter. My parents had eight kids, so I had seven brothers. We were a large Catholic family. We were not exposed to television over there [in Germany]. We had comic books and I remember putting them in a milk crate and carrying them around, trading them with friends over there. And that was our exposure to television. We couldn't wait when people would come over from the states – we would drill them to see what was going on and what's the new fad. And you just felt deprived, but yet every weekend my parents would take us to a different castle or historical place, just to get all the culture we could while we were over there.
Is there a memory or a trip in Germany that stands out to you?
Yeah, all the time. We were a big family and we had a station wagon. And over there, there were streets that you couldn't get this American station wagon down. I can remember watching the Europeans just kind of stare at us. All these kids would get out of this station wagon and we would always camp, because with eight kids, you just don't go to hotels. And it was fun. We got to see things that maybe we wouldn't have seen otherwise.
Did you have any experience with entrepreneurship as a kid growing up?
Oh, all the time. I started out babysitting really young, and then just worked my way up and down the Coralville Strip, working at different businesses. And it was so fun. Each one was different.
Talk a bit about where you first started finding a love for business. Did you see yourself getting that itch for what you're doing now?
I always enjoyed working. … I got accepted into the radiology program here at the university and went through that program and graduated. And my husband at the time owned a construction business and needed help. And so instead of going to do radiology, I helped him with his business, and realized that it was something I wanted to explore and do, running my own business.
What was it about the idea of running your own business that you liked?
The feeling of accomplishment and helping people and being successful in moving forward with things. It was your own and you created it.
There was a store in town … called the Merry Go Round on Riverside Drive. I would frequent it because I had young children, and I asked the ladies if they would be interested in selling their business. I must have caught them on a bad day, because they were very willing to hand over everything.
Read the full interview with Mary Sundblad in the Nov. 11 print or digital editions of the CBJ. Not a CBJ member? Join today.