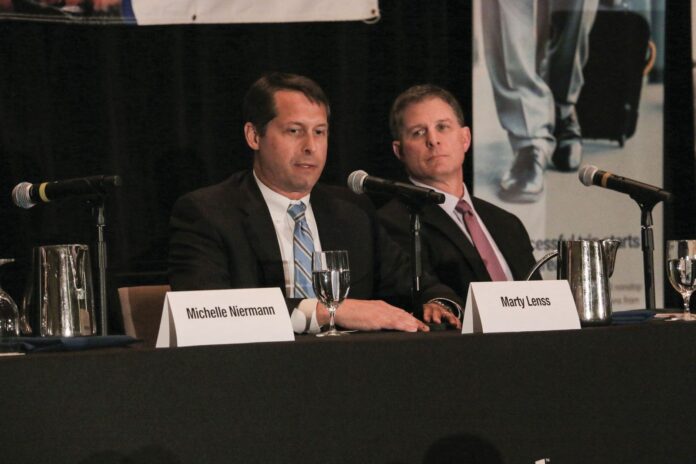 Marty Lenss speaks to the CBJ's Economic Forecast Luncheon in January 2019, as part of a panel of local business leaders. PHOTO ADAM MOORE
Sponsored by MidWestOne Bank, this is the latest edition of the CBJ's new podcast feature with Nate Kaeding and notable Iowa business and cultural leaders, available first to CBJ members. Listen to this episode below, and subscribe on Spotify, iTunes, Google Play, Stitcher and SoundCloud.
By Nate Kaeding
news@corridorbusiness.com
Marty Lenss is a humble, unassuming guy, but don't let that fool you – he's also one of the key players in our region's economy as director of the Eastern Iowa Airport, which has grown to handle roughly a third of the state's passenger volume and half of all air cargo going in and out of the state.
Marty has also become one of the Corridor's biggest boosters since his arrival in 2015 from Rochester, Minnesota. Under his watch, the airport has rolled out a "fly local" program aimed at further strengthening the airport and attracting more routes, and launched an innovative funding campaign called Wings2Water that raised money to improve water quality and reduce agricultural runoff. He has also overseen several ongoing expansions at the airport, including in the terminal and a larger UPS air cargo facility.
Granted, his job has been much tougher this year, with the pandemic and recession sapping demand for both leisure and business travel through CID. But Marty has rallied his team to take on the challenge.
"We've got to all come together to make this to make it through this one," he said. "This isn't like 9/11, this isn't like the Great Recession. This is unchartered territory for our industry and it has really pressed our teams to come up with ideas."
We spoke about his start in the industry, the challenges facing it today and his thoughts on where we go from here.
What originally attracted you to the airline and airport industry?
It started with my first airplane ride. Seventh or eighth grade was my first trip. We went to visit my sister, who at the time was living in Newfoundland, Canada. And I just loved it. I got the aviation bug. I was fascinated by it. I went to the University of North Dakota's aviation program and started out flying. I wanted to be a pilot. But back in the late 80s, early 90s, there weren't the jobs available and going that route is expensive. I was paying my way through college by bartending and waiting tables. Essentially, I was broke trying to make things work. So, I switched from flying to airport administration. Flying became more of a hobby.
Do you still fly?
I'm not current. I would love to get back into it. Our son is very interested in being a pilot. That's exciting to me. Flying just hasn't been able to balance other competing hobbies, like fishing. So, I haven't gotten back into it, but just love the dynamic nature of the business. There's just a lot of emotion going on with people in a terminal. Whether they're coming in for a wedding, maybe it's reunion, maybe it's a funeral, maybe they're leaving and they just got this big business deal – there's just a whole range of emotion.
I have no regrets from making the jump to airport administration. It's been a fantastic career. I love what I do. I don't know what I would do if not this – I would be at a complete loss. But you know, when people talk about trying to find your passion and do what you love, I feel like I've been able to do that.
Read the full interview with Marty Lenss in the Sept. 14 print or digital editions  of the CBJ. Not a CBJ member? Join today.