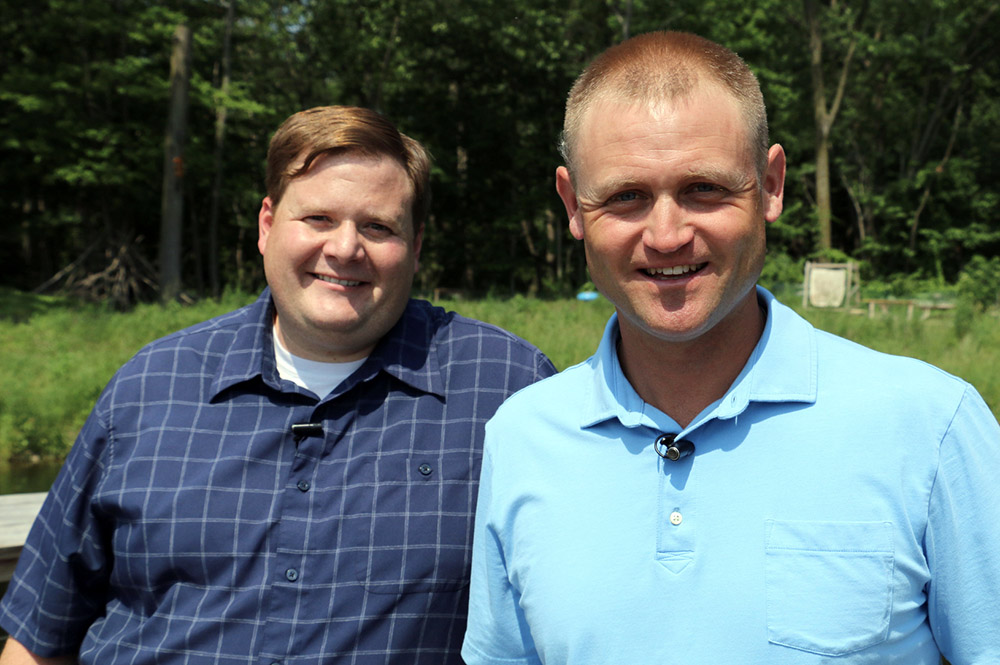 Nate Kaeding (right) with John Myers, of Indian Creek Nature Center, at the nonprofit's home in Cedar Rapids.
Sponsored by West Bank, this is the latest edition of the CBJ's new Q&A feature with Nate Kaeding and notable Iowa business and cultural leaders, available first to CBJ members. Read more about the idea for the series here, and watch exclusive video interview footage below or at the CBJ's YouTube channel.

By Nate Kaeding
news@corridorbusiness.com
John Muir, the beloved environmental philosopher and the "Father of the National Parks," got it right when he wrote, "In every walk with nature, one receives far more than he seeks." Since retiring from the NFL five years ago and moving back to Iowa, I've come to truly appreciate the generosity and beauty of the great outdoors.
Professional athletes are indeed creatures of habit. While I was playing football, I never spent much time exploring the outdoors, because it wasn't part of the prescribed workout plan. Now that I don't have to save my legs for an offseason workout or Sunday game, I've fallen in love with outdoor adventure – dawn trail runs at Squire Point in North Liberty, gravel bike rides on B roads in Johnson County and hikes at Hickory Hill Park in Iowa City have become an essential part of my life as a time to unplug, explore, challenge myself and bond with friends and family.
Here in Iowa the opportunity to enjoy nature is relatively limited. Our state ranks 47th in the United States in terms of public land ownership, at only about 3 percent, which is why places like Indian Creek Nature Center in Cedar Rapids are so important to the quality of life in this region. I sat down with John Myers, executive director of Indian Creek Nature Center, to discuss the impact nature has had on his life, and the impact he hopes the organization can have on the entire region:
NK: What are some of your favorite childhood memories of being outdoors?
JM: I actually grew up in the mountains of Virginia, so I'm an Iowa transplant. We lived out in the country and one of the things I remember most is tromping through the woods and building forts. We were in the Blue Ridge Mountains, so it was beautiful, lots of trees. We did a lot of camping, hiking…it was just natural to get outdoors. Ultimately, that's what inspired me to work for the Boy Scouts and then ultimately for the Nature Center. Those memories of building forts when I was 10, 12, 15 years old, that's something you never forget.
Was there a favorite place you visited regularly?
We did a ton of stuff around the Appalachian Trail and the different national parks out there. Some of my fondest memories with my family and friends were going camping. It's not where you're at, but the fact that you're outdoors learning and engaging, having fun in a way you just can't replicate inside.
It must have been a big change coming from the Blue Ridge Mountains to Iowa.
First and foremost, coming to Iowa right before high school and leaving the mountain area was like the worst part of my life. I really was not happy for a while, but now that I've actually been in Iowa for twenty-some years and I see the beauty and joy, it's the best decision that our family ever made. Even though we don't have the mountains or oceans, we have just as equal beauty. If you go out in the prairie or out hiking or canoeing, you can see sights that are just absolutely amazing, whether it's bald eagles or seeing flowers. There are things that are just absolutely tremendous about Iowa.
Even though most of it [Iowa] is farmland, that's what makes places like Indian Creek Nature Center more important. We have 500 acres of protected land that we use to create those experiences for people. Just like the experiences that you had or I had growing up, we really  give people opportunities to build those memories as a family.
Indian Creek is an awesome place for kids to explore, but there's tons of adult programming, as well.
I think it's important to know that while we often complain about our phones keeping us inside, that's been a problem since the invention of the radio. Back when the radio was invented, it kept people inside, often on a Sunday afternoon. So we've been fighting this problem of staying inside not just with the advent of cell phones but for many, many decades. What the nature center has always done since we were founded in the '70s was find ways to get people outdoors. For many years that was focused around kids, but now we're seeing a strong opportunity for adults to get outside, too. One of the most popular things has been our free yoga series during the summer every Tuesday night. There's been some nights where we have 150 people out here on this patio doing yoga. Last year we had ducks wander through the crowd. Those types of experiences are what the nature center is about.
This is an easy question, but from your perspective, why is it important to spend time outdoors in nature?
I think it really boils down to the fact that sun, soil and earth are all so important to us, and if we're going to continue to connect with who we are as individuals, as humans, then we have to realize that the land gives us everything. Having a respect for that is so important.
What about you personally – how have you ingrained outdoor activities into your weekly or daily routine?
We really try to instill in our children that you really gotta put that phone down, and while we absolutely let them watch TV and use those phones, we also make sure that there are times where they're completely outside for unstructured play. That unstructured time I think is a huge benefit that's often overlooked. All the sports and scouting and music activities are so wonderful, but people grew up with unstructured time playing outside, and we push ourselves to do that as well.
Nature can be a great hobby but you've made nature your work. What attracted you to this role and work in the nonprofit sector?
I have a degree in business and got into nonprofit work by happenstance. I started out by working part-time at Foundation 2 in Cedar Rapids and just kind of fell in love with the mission-oriented side of things. But one of the things I think nonprofits don't really focus on is the opportunity to truly be successful from a business standpoint, from an innovation standpoint. We have a lot of great people in the field of nonprofits who really want to make a difference, but you can't truly be effective in delivering a mission unless you really take a look at the difference between what I call the abundance mentality and the deficit mentality.
So many people – and this is not just nonprofits, businesses have the same problem – focus on what they can't do. That ultimately starts to limit people and they don't think about the future. I learned throughout my career that you focus on what you want to do, you focus on the abundance and repeating to yourself, your team and your board that this vision is possible, and that what we're setting out to do, although it may be tough and cost a lot of money, it's ultimately going to make an impact. That's what we've done to really transform Indian Creek Nature Center, and we've been able to double our staff and double our budget since we've opened. Ultimately, it's sustainable because we had over 80,000 people come to the property last year, and that makes us the most visited cultural destination in Linn County in 2017.
Being operationally proficient from the financial side to human resources to the culture side – those really drive success, but oftentimes those are the last things to be focused on by a nonprofit. I often ask myself how much time do I spend in the woods as executive director of a nature center and unfortunately it's not much. My job is to focus on the areas that truly make the organization successful.
How would you define the culture at Indian Creek?
It's one of calculated risk taking and also one of saying yes. The best thing an organization can do is be open to possibilities. Some of the best things that have come our way are because I said yes. In fact, I was not even looking for a job at Indian Creek Nature Center when it came available. I had never worked in an environmental organization, so it was not in my wheelhouse until I said yes.
RAPID FIRE QUESTIONS
What other profession would you like to try?
Real estate developer – I love the complexity of project management, the diving into those details.
Favorite business leader?
Charlie Rohde with King's Material, for his down-to-earth nature and focus on business success and sustainability.
Daily news sources?
I go to the Gazette, Wall Street Journal and then Facebook and Twitter.
Favorite podcast or TV show?
The Office.
Favorite motivational quote?
"To work for those that you love, and for the things that you love, is to turn work into play and play into duty." If you're not doing what you love, then you're missing out.
If you had 30 extra minutes in the day?
I'd spend it with my kids.
In one sentence, define success.
The ability to seek joy. Success for me is not attendance, it's not money, it's not the ability to be the most recognized in the community – it's about, am I happy, and am I seeking happiness for my family, my team at work, my board, the people I'm around.