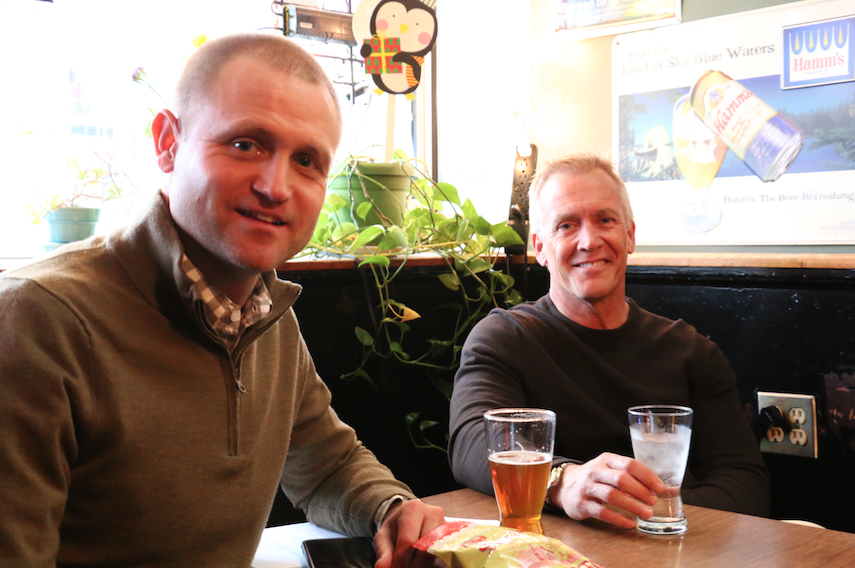 Nate and Gregg at George's Buffet in Iowa City. PHOTO ADAM MOORE
By Nate Kaeding
news@corridorbusiness.com
Ed. note: Sponsored by West Bank, this is the latest edition of the CBJ's new Q&A feature with Nate Kaeding and notable Iowa business and cultural leaders, available first to CBJ members. Read more about the idea for the series here, and watch the Flow Media-produced video interview below or at the CBJ's YouTube channel.
I first came across Gregg Hammann back in 2008 when I read an article about how he had decided to resign from his executive position at Nautilus Inc. to move back to his hometown of Bellevue and coach his son's high school foot­ball team. It was a romantic tale of sorts – CEO trades in the P&Ls for X's and O's and the chance to develop youth.
I'm a sucker for these sorts of stories. I've always ad­mired people who prioritize meaning and purpose over prestige or career. Granted, after two decades as an execu­tive for several Fortune 500 companies, Gregg had earned the ability to make an unconventional career choice, a choice most people don't have the luxury of making.
But it turned out Gregg couldn't stay on the sidelines for long. After five years coaching and consulting, he's back in business as CEO of MetaCommunications, an Iowa City-based enterprise resource management solutions firm.
Gregg and I sat down at the ven­erable George's Buffet in the histor­ic Northside neighborhood in Iowa City. We are both former University of Iowa football players, so our con­versation naturally started with sto­ries about our time as Hawkeyes:
Hayden Fry is one of the more legendary coaches in all of college football history. What do you re­member most about him?
If we had an hour and a half, I would tell you all the good stories, but I will tell you this – I learned more from Coach Fry about business and life than I did in any class I took at Iowa. And that's not to be disrespectful to the professors here – they did a great job – but Coach Fry was always the first guy to the office and the last guy to leave. If the team lost, it was his fault, and if the team won, then it was the players and assistant coaches who did a great job. He al­ways gave credit to other people for his success and he always took the heat when things weren't so great. He was the hardest working guy I knew on the football team.
If you had to put your finger on one specific leadership philos­ophy of Coach Fry that made him great, what would it be?
Back when I graduated from col­lege and started with Procter & Gamble, one of the things they al­ways taught us was to fix our defi­cits … the importance of identify­ing those things we aren't good at. So they had these [self-evaluation] tests you would take about how you work with customers and how you thought about things that you weren't good at. They always fo­cused on what you weren't good at. But what I learned from Coach Fry was … he did a great job of taking the best out of everyone. If it was a quarter­back that was a great scrambler, he'd use them for that. I kind of use that in my business career. I'm not interested in what people have as their weakness. I try to find what their real strength is and leverage the heck out of it.
Coach Fry also had a knack for hiring great assis­tant coaches and recruiting outstanding players. What are some of the attributes you look for when you're trying to find someone to work for you?
It's much like you [do] when you're an athlete – and we actually call the team we have over here "team members." We don't call them "employees," we don't call them "headcount." In all the dialogues we have, it's always about the team members and what we can do. We try to find people who want to work together and we want to find people with a unique skill set. It's that simple.
What are some of the biggest challenges in getting all of those diverse role-players to work well together?
The one thing I will say is that when you get younger peo­ple and older people [together] … as you get that mix, what's interesting is how they do their work and what they want to do to get things done. Five years ago, I'd nev­er heard anything about Quip or the 15 or 16 apps we're using today. These guys are doing all kinds of things to communicate, where my method was just to walk down the hallway and say, "Hey, can we sit down for a few minutes and talk about this?" And the comfort level in those more modern forms of communication is much higher and gives them a chance to really think through what they're going to say before they go and do it. They're learning to talk to me and I'm learning to "Slack" them. It helps us when we go to meet with customers, because all of our customers are going through that same kind of change. Everyone has their own style of communication, and if that's what we're going to do, then we've got to be really good at it.
What tactics do you use to reinforce your culture and mission at Meta, even when some of your team works remotely?
We do a few things. Because people are remote and we don't have everybody here in one place, we strive to be con­sistent with what we're trying to do by sharing the message both verbally and visually. We have a dashboard set up that allows people to see how we're performing; we also have what we call our stand-up meeting once a month, where I'll get up and mumble for 10-15 minutes about what's going on and then use the rest of the 45 minutes to have someone else get up and share something cool that's been happen­ing in the company, so they have a chance to share their innovation and their think­ing. Weekly, we also have a team letter that goes out, so that's a way for us to commu­nicate with folks who aren't here and have them be part of the team. I think it's working pretty well.
As you transitioned from industry to industry during your ca­reer, did you find any universal busi­ness truths?
When it gets down to it, it's about lead­ership. It's about finding whatever ser­vice it is that the company provides, and how do you make it the best that it can be? How do you take something iconic like Coca-Cola or Levi Strauss and make that even better? That's been a common thread. The rest of it's all the same. Busi­ness is business, whether it's George's Bar or MetaCommunications. We all kind of do the same thing right.
You've worked with some iconic brands during your career – was it difficult to bring about change at companies like those?
One of our largest shareholders at Co­ca-Cola at the time I was there was Warren Buffet. Warren said, "Hey, I think we've all been drinking our own syrup way too much, so you guys have to bring in some new thinking." They brought in some new general management and I was the one guy from North America that was hired from outside the company to be an officer and infuse some different thinking. I was able to bring a bit of a different angle and still leverage a lot of the knowledge of the bottlers, and put it together in a way that looked different from what they'd seen before. I think that ability to see what's good about the brand, but still go in and see what we can make better … that's how you take it to a new level that hadn't even been thought about before.
How do you as an executive, father and husband design your life in a way that allows for balance?
I had a friend of mine say one night, "What do you want your tombstone to say some­day?" I'm not sure I want to take up space to have a tombstone – they may just throw some of my pixie dust somewhere. The point is, what do you want your life to have stood for? For me, when I really thought about it, it was how do you make a differ­ence in people's lives, make things better for other people. So through my business career, I've always tried to help folks have a chance to grow and be successful. I have a lot of friends out there that used to work in groups or companies that I've been re­sponsible for that have gone off to do great things – presidents and CEOs. You like to see that.
Coming back here to coach, one of my goals was there hadn't been anybody recruited out of Dyersville except two or three kids in 15 years, so I want to see those kids get a chance to have a college scholarship. If it was for football, great; if it wasn't, maybe it was for academics. Whatever it was, I want to give those kids a chance to do more than they might have had the chance to do if I hadn't been there.
Also, my wife and I sit down on a rolling 90-day calendar, so every 30 days we make sure that we've got 90 out. By the way, the thing that makes you most successful is marrying the right person. As much as I hate to admit it, she was actually my boss. We dated here on campus for a couple years and I went off to work for P&G, and she was a year behind me in school. I got promoted a couple of times, and she joined the com­pany but was in different cities. We ended up getting married and they put us in De­troit. She was in a different division but we ended up merging divisions.
One day my boss calls me into his of­fice, and I think that I'm getting promoted, and he says, "How do you feel about work­ing for women?" And I say, "Fine, what's the problem with that?" And he goes, "Be­cause you're going to be working for your wife." It was kind of a short-term thing, but man did she bust my chops. I've never worked so hard in my life.
Rapid Fire Questions:
If given the chance, what profession, other than your own, would you most like to attempt?
Run a charity.
Favorite business leader?
Jack Stahl was the president of Coca-Cola when I was there and I just thought his leadership style was amazing.
Preferred news source?
Wall Street Journal.
Favorite motivational quote?
It's not how many times you get knocked down, it's how many times you get back up.
If you had 30 extra minutes in each day, what would you do?
Take the time to mentally think and prepare for the things you want to do – be a little more thoughtful. That strategic time is the stuff that always gets cut out. You can book it, you can plan for it, but it always gets taken away by something else that, at that moment, is the highest priority.
Define success:
The difference I can make in other people's lives. If you help somebody be successful and you see the smile on their face, that's what makes me excited.