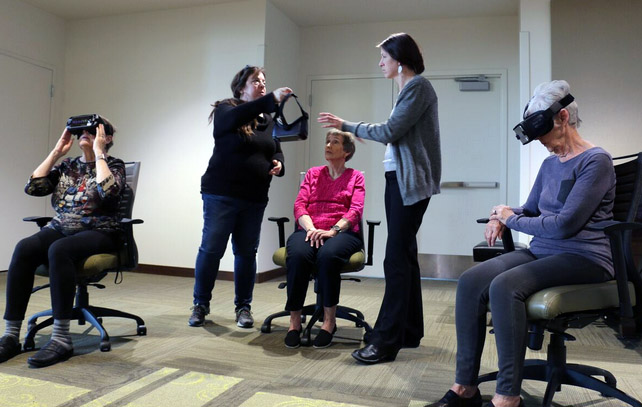 Oaknoll residents Lucy Luxenburg (left) and Joan Wuest (right) try out the senior community's new MyndVR virtual reality system on March 21 while Ariel Comstock (left, center) and Oaknoll staffer Lindsay Reed get resident Phyllis Canfield set up with a Samsung Gear VR headset to enter the virtual world. PHOTO DAVE DEWITTE
By Dave DeWitte
dave@corridorbusiness.com
IOWA CITY—"I'm with Kyle Larsen in the race car – where are you?" asks Phyllis Canfield, perched on a swivel chair with an Samsung Gear virtual reality headset covering her eyes. "And which way am I facing?"
Neighbor Lucy Luxenberg can't tell, because she's also wearing an Samsung Gear VR headset.
"I'm on the Ganges," she explains.
Exploring virtual reality worlds is something more and more Iowans are doing with the help of increasingly affordable technology, but Ms. Canfield and Ms. Luxenberg are not millennials or Gen-Xers playing games. They're senior citizens living at Oaknoll Retirement Residence who decided to give it a shot after the community last month acquired a new kind of VR system, called MyndVR, developed with seniors in mind.
The developers of MyndVR were able to tame the learning curve found in VR systems in an effort to open new worlds to seniors. The company was founded in Dallas by Chris Brickler and Shawn Wiora to provide VR systems for 55-plus living communities, home-health care providers and continuum of care retirement communities. Most of the company's offerings will be strictly recreational, although some will be therapeutic.
"A lot of VR is targeted at young gamers from 15 to 25," MyndVR's Head of Product Content Ariel Comstock said during a visit to Oaknoll last month. "We added gaze-based navigation, and they can choose where they want to go – take themselves there."
Ms. Comstock evaluated many VR environments before picking the ones to offer initially in MyndVR.
"We thought seniors would be interested in slower experiences, but a lot of them are still interested in fast experiences, extreme experiences," Ms. Comstock said. "They have a need for speed."
The emotional content of the VR environments was also important, Ms. Comstock said. She avoided combat and shooting VR action, preferring less stressful VR worlds seniors can explore.
"They want the thrill, not the fear," Ms. Comstock said.
Besides the Nascar driving environment, the MyndVR catalog includes aircraft simulations, including one that lets residents pilot a helicopter and land it on an aircraft carrier.
"I see it as an experience," Ms. Canfield said. "I will never be in a race car, but I had an experience of driving one and seeing what it was about."
Lindsay Reed, a member of the Oaknoll staff, works with residents who want to use the system. Ms. Reed said some of the VR environments are intended to bring residents back to experiences earlier in life.
"If they had cats when they were growing up, they can play with cats," she said.
Some of the environments can be nostalgic, like a jazz club from the 1930s; others are soothing, like a quiet stroll through a remote African tribal village.
The MyndVR system streams the videos from a distant server via the internet. When the system is fully installed, Ms. Reed said it will include a handheld tablet computer that will allow Oaknoll's recreation staff to see what the residents are seeing in their VR world. If the residents have difficulty navigating the system or the VR world, the staff member attending will be able to guide them through it.
Regardless of the content chosen, being in a VR world puts residents into an entirely different sensory environment. That can be disorienting, Ms. Comstock said, so the residents are expected to remain seated, and their time in VR is limited to about 20 minutes.
Although the system may prove to have therapeutic benefits, Oaknoll is primarily offering it for more basic reasons.
"It will give them a sense of peace, a sense of joy, and a quality-of-life experience during the time they're in the environment," Ms. Reed said.
Oaknoll was the first Iowa senior living community to install MyndVR and the only one in the Corridor to have the system.
VR was nothing new to Oaknoll resident Joan Wuest, who had participated in research using the University of Iowa's Advanced Driving Simulator to test how seniors react in driving situations. But there was a big difference between that and the leisurely stroll through Paris she experienced in MyndVR.
While in the virtual environment, she got to see many of the same sights she would have seen if she'd actually gone, minus the fine dining and high hotel rates.
"This is a lot cheaper than travel," she said, grinning.
UPDATED 4.10.18: This story was updated to correct the name of the virtual reality headset used by Oaknoll residents.