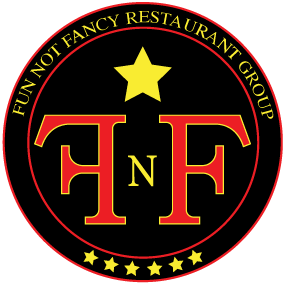 Cale Henderson, Tim Kindl, and Justin Zehr are three of the owners of Fun Not Fancy Restaurant Group, a collection of popular restaurants in Cedar Rapids and Marion.
The group shares their unique origin story, the backwards way they approach their restaurant concepts, and how they navigate the modern challenges of restaurant ownership. They also dig into BlocktoberFest and their philanthropic efforts, the new podcast they're preparing to launch, and how real success looks just a bit different to them than you might expect.
I learned a lot, and I think you will too.
Sponsored by MidWestOne Bank, this is the latest edition of the CBJ's new podcast feature with Nate Kaeding and notable Iowa business and cultural leaders, available first to CBJ members. Listen to this episode below, and subscribe on Spotify, iTunes, Google Play, Stitcher.
---
Nate Kaeding: Let's start with your origin story. How did you all get started?
Cale: I moved here and went to culinary school around the same time Justin did, and that's how I got into the hospitality scene. So I started at the home store in Pagliai's in Grinnell, Iowa, where I'm from, circa 1994 or 1995. Long story short, one of the friends I made in culinary school introduced me to these guys.
Justin: That was after we were already kind of established and kind of in the middle of our growth process. Tim and I met when I moved back from Denver to open up a place called Beckett's Public House, which is where Zeppelins is now. So we were working at the Chop House together and we got to know each other, and then I opened up that place and we just kind of kept in touch over the years for a very, very long time. Tim took over Bricks and then I left my job to open up Local Pour Street Food with him before we absorbed Bricks as well. 
Then we opened up MoCo and Cale came on, and then we did Cliff's. Then we had Tim Oathout come on with Hip-Stir and Sacred Cow, and then we just opened up Taco Gato.
Cale: If that sounds like a lot, it's because it is. 
So Bricks was really the first one?
Tim: 2011 is when I personally became an owner at Bricks. Justin was still at Zeppelins then. But we just stayed in touch for many years. Ironically, we would meet in Marion at the location that Hip-Stir is at now and talk about opening a restaurant in Marion. Then we decided to open LP here in Cedar Rapids.
So was there a vision early on to own a full collection of restaurants?
Justin: Well, Bricks was already there, so that's the only concept within the whole restaurant group that we didn't come up with. It was preexisting and he bought it. So then we opened up LP and it just went really well. We reinvested, built the patio, and just kept on growing.
One of my old favorite bars was Mahoney's and then it turned into Dick's Tap and Shake Room. I just always loved that corner there. The Irish district, the Uptown district, the College district — call it what you want, but it's a classic corner right there, and just an iconic building. That became available, and Tim and I were like "We have to do something with that."
It was a big responsibility. We were scared to do that project, actually. We were open at LP for, what, a year? Then we started building out a new place. It was just crazy. 
Cale: And none of these were just facelifts, let's be honest. LP was stripped down to the studs. We tore a load-bearing wall out at MoCo and we did it all ourselves. Tim will never do it again.
Tim: I'll never do it again. Contractors from here on out.
How do you come up with your concepts for your restaurants?
Tim: We work backwards compared to most people. We don't have a name or an idea. We go to a location and we sit down on the floor — at least I do — and I just envision the layout and what it could be. Sometimes I feel like I'll start spitting some ideas at Justin and then he starts writing a menu, and then the whole place starts to take form and we might not even have a name yet, honestly. 
We build around what the location is and where we're at in the town.
Justin: Just be authentic to this space.
Tim: We've had some restaurant ideas, don't get me wrong, but we don't force anything. We kind of just let it naturally happen, and that's probably different than what other people do.
Cale: Yeah. I mean, a lot of people will say, "Hey, I'm going to sell gyros, I'm going to do it right here, and you're going to come and buy them." That's a square peg in a round hole. Don't go in there thinking you know everything. Don't go in there thinking you've got the entire concept down from the floor to the ceiling. We've got smart, creative people in this company that work hard, and if an idea doesn't work right away, we'll pivot. We're not going to hold onto a loser. 
I think that's one thing I've learned from these guys. Don't hold onto something just because you like it. It's not about you. It's about what they like. You're selling something to them. Give them what they want.
What are some of the pitfalls or mistakes you've come across when opening a restaurant?
Justin: People not understanding your vision, but that's the risk and the fun part of it as well. That's why we've obviously had our confidence built up a little bit more with the amount of support we've gotten from Cedar Rapids. People that believe in what we do at one place generally help support the other places and get where we're about. They just trust in our judgment now instead of us having to always sell it. So that helps build the confidence of the consumers in Cedar Rapids.
Cale: The flip side of that is having the people that can carry out our vision, carry out what we're trying to do, get the message across, and stay with the program. We're in a really unique position in life and in our profession where if one person doesn't show up or do their job, everybody has to pivot. It doesn't matter if it's a dishwasher, a door guy, a chef, a bartender, or a server. If one person doesn't show up on the wrong day, it can spin out more than one store because we have to pull somebody from somewhere else. That's the bottom and the top of this business. You're as good as the people you put in their place, and you hope they succeed.
Tim: Staffing can be one of the biggest issues. One of the biggest differences, at least for a company as big as we are, is we're still working owners. We're there every day. We're in the trenches. We're fixing things and we're getting our hands dirty. We're also ready to jump behind the bar on the line if we have to or we'll go wash dishes. All due respect to everybody, because everybody's in different places, but that's one thing that we do. Our staff sees us every day. 
How do you define your company culture?
Tim: We have a really good core group right now, so that helps us immensely. Justin and I use culture a lot. When we were building LP, it was "culture, culture, culture." That's been a huge part of its success there. We brought on people that had worked for us already for years. They understood how we managed and how we operated. They've taken it and ran.
Justin: There is a bit of a family mentality amongst the restaurants and a lot of the managers and employees. They work between multiple places and they reach out to other managers or coworkers for advice. There's just that culture of caring for each other. That's why I think we retain some of the best people. They see that we're there and we're passionate for them. We're all trying to walk in the same direction. A lot of times you work at places and you never meet the owner. You don't see the owners. That's why some of the best people in this industry have come and worked with us.
Cale: It's a blessing and a curse, because hopefully they'll get so good that they can go and open their own places.
What trends or changes have you seen in customer demand? Where do you see the trends heading in the future?
Tim: Well, one of our goals is to change the way Cedar Rapids eats and drinks. So we're trying to push the narrative one way for sure. 
Cale: We love Busch Light and tenderloins, too.
Tim: I met somebody this morning getting coffee that had never been to LP, which is fine, but to me it's this bigger scope. There's so many people in this town that just don't even go out to eat, and that's fine. But it's one of the things we're pushing now. Justin's going to make a t-shirt: "Be a Tourist of your Own Town." That's a narrative we're really going to push coming up.
Justin: People are getting more adventurous in Cedar Rapids, for sure. But I think that Cedar Rapids is also getting a little better about understanding the responsibility of how they spend their dollar. So they are often going to these bars and getting bar food instead of maybe going to some of these chains. Was it a year ago or something that we finally made it over that hump of having more personally owned businesses instead of chains? This was a chain town growing up. It's like all the chains came here to pilot their new ideas. Now, Cedar Rapids is supporting better, which is really exciting to see.
Cale: We see that trust now with customers where people will come in, they see the FNF on the door, and they'll just walk in and order the special without even knowing what it is. Those are the things that we as owners really appreciate – that this particular brand is synonymous with going that extra mile and bringing in something that the place next door might not have served you by somebody who takes their jobs seriously. Those things really matter in the customer experience, in my opinion.
Share a bit about what the community means to your company.
Cale: Well, with success comes some responsibility to your community, and we feel that as very proud Cedar Rapidians. That's why an event like BlocktoberFest is something that comes so naturally to us. It's our love letter to Cedar Rapids. It's us being able to give something to the community that they would otherwise not have — something fun, something safe, something for families. That's just going to be a great time. We'll donate thousands of dollars to a couple of really good and deserving local charities. Then the next day we'll have it cleaned up for the Farmer's Market and it'll be like it never happened. We have a lot of fun doing that. It's important to us. 
And what is BlocktoberFest?
Cale: Our good friends, The Pork Tornadoes, play a show for us every year for the Kiss Your Kids Foundation, which is my wife and I's organization that we started a few years ago, as well as for the Iowa Giving Crew. These are two local charities with separate missions that both serve the community very, very well, in my opinion. 
So we put together this incredible show in downtown Cedar Rapids [which takes place on Sept. 22nd]. It's only a $5 door admission, and all of those proceeds go to those two charities. Last year, we donated just over $15,000, I think. We did it in, like, a month and a half last year, and we had just over 3,000 people show up. This year, we've had a lot more planning, a lot more advertising, and so we're hoping to see a bunch more people downtown. We shut the streets down. We're really putting our skills on display that night. We throw parties, we feed people, and we help them when they're thirsty. 
You're also launching a podcast. Can you tell us a bit about that?
Cale: Well, I think it just kind of started from these roundtable discussions that we have and the t-shirts that we make and all the fun stuff that we get to do on a daily basis. We're just going to try to have a little fun with it and give everybody a peek behind the curtain from the back of the house to the front of the house. to the, to the security, to the people you order from. 
We're calling it "Industry Dogs" and we're going to talk about everything, really. Nothing is off of the table. We'll probably have a lot of conversations about the process through Covid, some of the things we already talked about in your podcast, what's going on in the downtown areas, and how much money we lose betting on football.
What does real success look like for you all?
Justin: It probably looks a little different for all of us. Personally, and I think that they all agree, I don't think that we all want to be owners several years from now. We want the people that have been putting all this time in to be absorbing and taking this over with the same passion that we brought to it, so everyone else can kind of have their piece of the pie and continue to keep these restaurants going with strong legs and longevity. A lot of times, when people get older and they start having less time to put towards that kind of stuff, they can lose some of their energy if everyone else isn't bought in and invested and getting what they deserve. So I think it's the growth for everyone that's working for us to start taking this over.
Tim: The goal is for us to probably be smaller owners or not owners at all, and for the people that have been working for us to take that over. If you think about how restaurants go, they just close. It's rare that people come in and buy them, and typically the ones that are bought are the ones where the buyers think they can do better. But yeah, we talk about it, that's for sure. 
I'm humble. I'm thankful for everything that's happened, and we're super lucky. We're super lucky to have the people that are working for us. I'm lucky to be sitting with these guys at this table, as far as I'm concerned. 
Cale: I've been married for almost 15 years now. She's very, very successful in her own right. So what success looks like to me is, at some point, not having to think about leaving and not having to think about just more freedom. I think that's probably what we all look forward to the most — not being on call 24 hours a day which, as a small business owner, is a requirement. Success to me would be just having more time. I think, when you get to a certain age, you look at what you want the rest of your life to look like, and time with the people you love is probably what's most important.
Tim: So, the vacation house in Florida.
Cale: A vacation house in Florida's next. You got a guy down there? 
I know some guys down there. That's real success.
Justin: Let's talk!