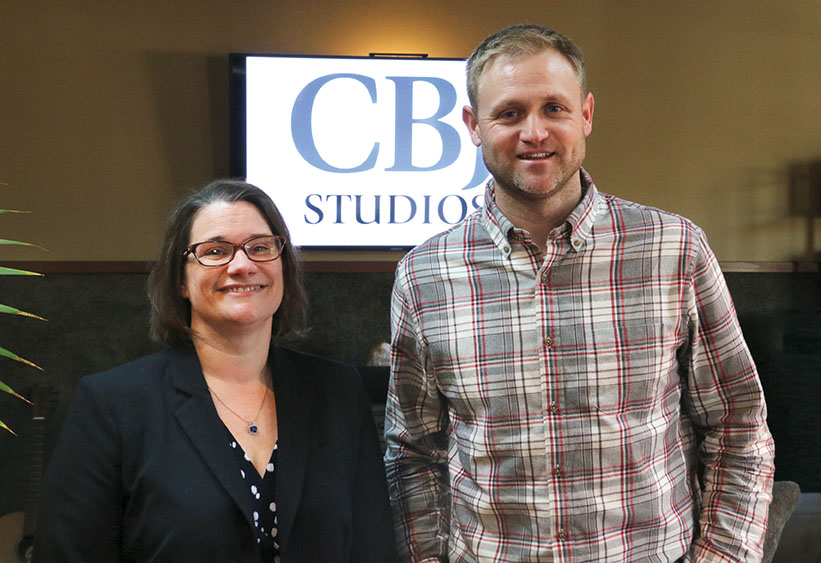 Dara and Nate pose for a photo after their recent recording session at CBJ Studios North in Cedar Rapids. PHOTO ADAM MOORE

Sponsored by MidWestOne Bank, this is the latest edition of the CBJ's new podcast feature with Nate Kaeding and notable Iowa business and cultural leaders, available first to CBJ members. Listen to this episode below, and subscribe on Spotify, iTunes, Google Play, Stitcher and SoundCloud.
By Nate Kaeding
news@corridorbusiness.com
For someone who originally set her sights on a career in law, and then screenwriting, Dara Schmidt has made her biggest impact in public libraries. A native of Manchester, Iowa, Dara followed her passion for books and movies to southern Califor­nia, where she earned two masters degrees – one in professional writing, one in library and information sciences – and briefly fought it out in LA's competitive writing scene.
When it was time for her next chapter, Dara worked her way east, taking the director job in Cedar Rapids in 2014, just after the completion of the library's new home following the floods of 2008. The institution has become a point of civic pride in Cedar Rapids, and earned numerous national accolades for its innovative work, including a National Medal for Museum and Library Service in 2017, the nation's highest honor for museums and libraries.
Dara also continues to serve her field on a larger scale, and just this week won election to a director-at-large seat on the Public Library Association board, the largest association supporting public library professionals around the world.
Dara and I sat down before the current COVID-19 crisis for what was meant as a salute to National Library Week, set for April 19-25, but the conversation, and her words about the library "be­ing the heart of the community" seem as relevant as ever. We're all looking for connection, and the library offers it – check them out at crlibrary.org.
Dara, the modern library plays so many different roles – not only community support and education, but also economic development, innovation and entrepreneurship. What's your view on the state of today's library?
The library is the heart of the community, and that's true in Cedar Rapids. We see all those things you just said happening at the library. One of the things industry-wide that we're talking about now is maybe it should be the opposite – that the community should be at the heart of the library. But what does that philosophical change mean? How do we think about library service when we're thinking about the true needs of the community?
Literacy is first and foremost. We need people to read to do almost anything in the world, so you're not going to get out of that on a day-to-day basis. That starts with youth literacy and connecting kids to information and connecting parents.
Then you think about what's beyond. The Opportunity Center at the Ladd Library opened in the last year. That's a collaboration and a partnership with other organiza­tions … who are doing great things in our community, like the United Way, Kirkwood [Community College], Iowa­WORKS and HACAP. All these community agencies have something to offer people who truly are these opportunity populations. There's a lot of jobs available, and there's a lot of people who can show up and come to work – what skill sets do they need to be able to make that happen?
It's amazing how libraries continue to develop and grow. As community needs change, information needs change. The library has to be like a startup – that kind of flexible, responsive organization.
That's a lot of ground to cover. Take us inside your role as director a bit – how do you structure your day, your week? I'm assuming it could be a very overwhelming job if you let it.
It can be. The first thing you have to understand is going in is that the work is never done – so as long as you ac­cept that, you sleep a little better at night. But I'm pretty goal-oriented – you have to do one thing and make some­thing happen. It's also having that big-picture view for five, 10, or even 15 years out – like, where are we going, so that we can focus on what's happening now, but always be planting the seeds for what can come next.
We have a strategic plan that we're working off of, like most people do, but it was a heavily community-involved strategic plan, and we're just finishing year one of three years. It's going to take us five. We're not going to get it done in three years, but that's OK. Because as we start, there's even more we can do.
The hardest thing for me as director was… I've been there for just over five years, and it took me a solid three years to understand that, "Oh right, I'm the person who's supposed to say no to things. I'm the person who's supposed to slow things down and think about realistically what we can do." Because I love my work so much, I'm always coming up with new ideas. And everybody else is like, "Yeah, we need to breathe."
Read the full interview with Dara Schmidt in the April 6 print or digital editions of the CBJ. Not a CBJ member? Join today.