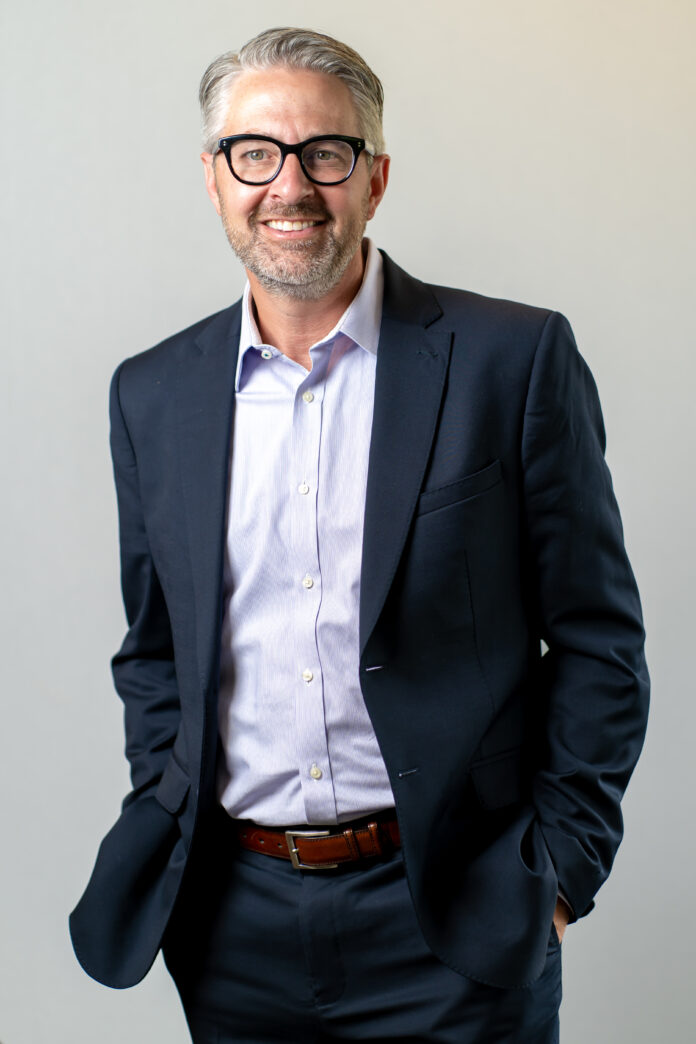 Sponsored by MidWestOne Bank, this is the latest edition of the CBJ's new podcast feature with Nate Kaeding and notable Iowa business and cultural leaders, available first to CBJ members. Listen to this episode below, and subscribe on Spotify, iTunes, Google Play, Stitcher and SoundCloud. 
Chris Klitgaard is the entrepreneur behind MediRevv, a company aimed at helping other health care institutions with their revenue cycle challenges. Chris founded MediRevv in 2007 and grew the company to over 1,400 employees over the last thirteen years before selling to Tegria earlier this year. 
I talked to Chris about why he chose to stay in Iowa, the struggles of growing a company from a basement to an organization with annual revenue north of $85 million, prioritizing a workplace culture that puts employees first and what's next for him following the sale of his company. 
I learned a lot and I think you will too. 
NK: What was your life like growing up? 
CK: So my dad and three of his brothers owned the local lumberyard in town. We grew up building houses and doing some commercial work. I think one of the most important things is you really understood hard work. I'm the oldest of five kids and my dad didn't get a chance to go to college, so he was always pushing us to get an education, and he really saw the value in that. 
My mom was a homemaker, but she always ran a day care out of our house. She also did craft shows. There was always this element of entrepreneurialism. I look back on those days very fondly, because you could see the progress of what you were doing every single day. You dug a foundation, you poured the foundation, you put up the walls, you got into the finishing work and we were doing cabinetry and all this stuff. You could just see it happen so quickly. If there was anything that was hard about going into a desk job role, it was that you can't see that progress every single day. 
How did you discover health care revenue cycle management as a career? 
I came to the University of Iowa from Harlan, Iowa, which is a small town of about 5,500 people, and found my way into a finance degree in undergrad. I really enjoyed it, but throughout undergrad, I was involved in a lot of different volunteering opportunities, different student organizations, and things like that. So while I enjoyed the numbers aspect of finance, I also had this pull towards human services and was introduced to the discipline of health care management. There was this degree, a master's in health care administration, that is kind of under the radar. But what we know now is that health care is a multi-trillion dollar industry each year, you know? So I think my timing coming into that kind of study was very interesting and was not expected. I thought I was going to go into banking, private equity or something like that. 
When I finished my MHA in 1999, I went and worked for the University of Iowa Hospitals and Clinics. They had this huge capital project that they were undertaking where they were ripping out a homegrown business application system and installing a third-party system, and a portion of that third-party system was this element of the revenue cycle. For the people who don't know what that is, it's basically anything related to your visit with a health care provider that's not clinical: Scheduling your appointment, registering all your demographic information, who's your insurance company, making sure that the insurance companies get billed appropriately and collections on that. 
What I found was that we had started using some firms through the system conversion that were national players and, oddly enough, none of their leaders had actually worked in a hospital or for a large physician group. I also saw some things that we could do differently. These were in some pretty metropolitan areas, and the turnover at these firms was roughly 50%. They weren't really taking care of the employees. They were just trying to churn the work through. 
Was there a light bulb moment where you decided you were going to take this plunge, go start your own company, and leave the big public academic health care system? 
No, I think what it came down to is that I was fortunate to have a lot of opportunity given to me pretty early on over there, but I was at a point where I needed to go to a different institution to get a more varied experience. I wanted to keep climbing that corporate ladder and, honestly, my oldest daughter had been born and my second was on his way, and when it came down to it, I didn't want to leave Iowa. I love Iowa City. I enjoyed growing up in Iowa, and I felt it was going to be a great place to raise my kids. If there was a light bulb moment, it was probably when I decided I want to stay put in the area. Then I really focused on "If I'm going to do this, what are my options?" I started looking to other kinds of entrepreneurial endeavors that I might be able to jump into. 
Was it a late night on a bar napkin where you mapped out the structure of the business model for MediRevv? Or did you lean on some mentors? Where did this really start to become a reality? 
So there were a couple of us playing some pool, having coffees, and just kind of knocking around different ideas. That's how the genesis of the business plan came up. Then we needed to find funding. We thought we were going to try to just take it all on ourselves, but realized that we probably needed some people. I was 32 at the time, so it needed some people with a little bit more gray hair. That was the best decision we made. 
What did it cost to get MediRevv going back in 2007? 
We did an initial capital raise of $900,000 and never took on another penny. We thought we would break even by the end of year two. Six months into our third year, we were cash flow positive, which was great. I was so naive. I had no idea how hard it was going to be. I would never have done it. But, at the end of the day, I think that we built the company foundation the right way and were able to run it by seeking outside investors. It was definitely a shoestring operation, but we had enough runway that we could weather the first eighteen months or so. 
That really allowed us to build the company in a way that flipped the industry on its head at the time: Primarily, we were going to treat our employees the right way, keep them around, treat them well, pay them well, but create a culture where they had a voice. That was something we held true to for fifteen years. 
When you think back to those first couple of years at MediRevv, was there a point where you thought you might need to go back to your old job or that it wasn't the greatest idea to start this? 
You know, what's funny is that was the very first lesson that I learned. So I left the University of Iowa Hospitals in May 2007, and I left because I had a handshake deal with a health system out in upstate New York that I had been doing some consulting with. Basically, the CFO there said, "Hey, you're the vendor of choice, but we're a state entity. We've got to run through an RFP process." They went through the RFP process, and they decided not to award the contract to anyone. So I had left my job, hired five additional people, and it didn't happen. That was kind of a moment where you realize a couple of things. You want to be able to trust people, but you also need to protect yourself and your employees, and your investment in your business. So we were pretty cautious thereafter to make sure that we had our contracts pretty locked down before we were making huge investments.
You were on the Corridor Business Journal's Fastest Growing Companies list pretty much perennially from 2010 to 2020. What lessons were learned about managing growth as you look back on it?
We started in 2007, but then with the recession of 2008, we were one of the very few companies that were still hiring during that time. So we were able to get really good employees right out of the gate. Our values were work hard, play hard, be growth-minded, and be kind. We never put them up on a wall or anything like that, but we talked about it constantly. It became what we were known for in the local market and even in the industry with the people that we were selling to. We really valued our people and, because of that, they would work harder on behalf of our clients and their patients.
How will health care change and how will health care change us in the way we live locally?
Fifteen, 25, maybe 50 years from now, health care is going to be so specific to a person's needs. "You've got this indicator for this genetic predisposition. What do we have to do?" What do we have to start doing now to help better prepare you to be able to handle what could be? That's going to be fascinating and frightening all at the same time. There is some of that going on right now with Alzheimer's and a few other things that you can get, but not everybody wants that. But in the future, I think, as long as the insurance payers continue to stay involved in this health care dynamic, there will come a point when to be insured, you're going to have to get those types of tests done.
MediRevv was officially acquired by Tegria, which ended your tenure. What was that experience like for you?
We actually started our partnership with Tegria back in 2017, so this was a progressive acquisition by them. There were four different time periods where they incrementally took on a little bit more ownership of the company. We saw it coming. I think that their strategy is to buy a bunch of different companies and bring them together, and ultimately create a much larger organization. What really gets me excited is the energy that's given to you by the people that you work with, and I was able to develop very, very strong relationships with the MediRevv team. As I looked into the future, the corporate offices were going to be moving to Seattle, and I'd also done it for 15 years. It was time to try something different. It felt like we built a company that could sustain beyond any single person. 
Leaving was bittersweet because I left a lot of very good friendships and the opportunity to probably grow something to be even bigger than it was, but I like the element of building from the ground up. The other thing that was interesting that I'll say probably made it a little bit easier is we went to a 100% remote workforce in April of 2020. That cut the tether a little just because you weren't seeing people and you weren't as connected. 
What does that next chapter look like for you professionally? What are you most excited about pursuing? 
The business world is different than it was. When I started MediRevv, it was very taxing from a travel standpoint. I traveled two or three weeks a month for a dozen years. My kids are at an age right now where I've got two in elementary, one in junior high and one in high school, and these will continue to be very formative years. What will guide me is probably continuing to do something that can keep me local. Not that I'm not going to travel, but I don't want to be on a plane two or three weeks a month anymore. CBJ