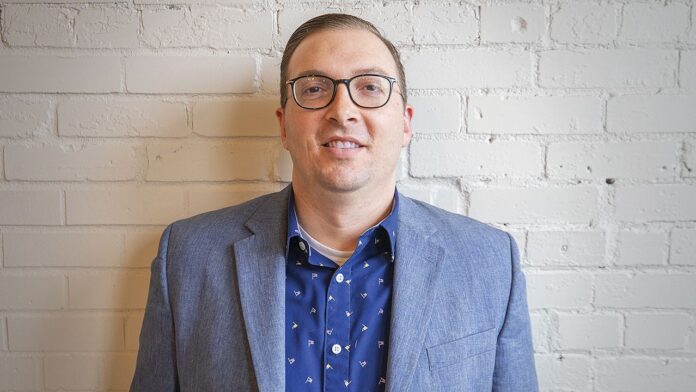 Sponsored by MidWestOne Bank, this is the latest edition of the CBJ's new podcast feature with Nate Kaeding and notable Iowa business and cultural leaders, available first to CBJ members. Listen to this episode below, and subscribe on Spotify, iTunes, Google Play, Stitcher and SoundCloud.  
Andrew Dasso is the owner and architect of Streamline Architects and Artisans, a full-service architecture firm founded in the Quad Cities in 2015.
I talked to Andrew about his relationship with the fear of growth, navigating his transition from architect to entrepreneur, and how a house fire motivated him to launch his own company. Andrew also shares his thoughts on keeping realistic and achievable goals, how mentorship impacted his career, and how balancing leadership with his passion for design keeps his flame burning.
I learned a lot, and I think you will too.
NK: How did you get hooked on design and architecture?
AD: Growing up, I loved Sim City and computer programs. I didn't know if I wanted to do engineering or architecture. I was kind of going back and forth. I was really strong in math. I didn't really have an artistic side, believe it or not, until college. The biggest thing that I like about architecture is the built environment. So what you do is what you see. So that kind of steered me that way.
Did you go to college knowing that was what you wanted to do?
It happened in my senior year of high school. I went to the University of Illinois for undergrad and graduate school. Their architecture program was top five in the nation at the time. So once I was able to get in there, I was excited and really interested in learning more about the architecture profession.
Do you have a particular style of architecture you enjoy most?
I enjoy clean lines. There's an architect, Ralph Johnson, for Perkins & Will. He practiced a style called contemporary modernism, and it uses a lot of projections and straight lines and a lot of intermediate lines that create these forms. I really enjoyed that style. When I was in college, I had a professor who pointed out that curves are for designers that aren't very good. That comment always stuck with me, so a lot of our work is squared and rectangle. We're using forms that are natural.
Was being an entrepreneur something that was in you at an early age?
It was, but it wasn't huge. I didn't come from a family of entrepreneurs. My dad was a blue-collar electrician. My mom was a nurse. I wasn't exposed to it. My grandpa owned a concrete business, but he had already retired before I knew him. So after school, I started with the traditional path of working for an architecture and engineering firm. Then I worked in Des Moines for a while for a smaller design firm that had about ten employees. We were doing projects like the University of Iowa Library Learning Commons Project.
Do you remember your very first project? Where was your first stamp?
The first stamp was actually the Johnny's Italian Steakhouse in Altoona for Heart of America. That's my first baby. That's the first one I ever stamped. It has a pier that actually extends over the water. A lot of architects go their whole career without stamping a project. I was actually licensed for three months before stamping my first project. So I jumped in with both feet.
Was there ever a moment early on where you weren't sure this was what you wanted to do?
Once I graduated, I was set on that path. I was ready to go. I never imagined owning an architecture firm. I didn't think I would ever get there. You have to support your family first.
When did you decide to start your own firm?
I had a house fire. We had a six-month-old. Our firstborn. It was three days after Christmas, and it was just life-altering. We went through so much adversity during that time. I mean, we were at rock bottom. So we ended up rebuilding the house, and we were fortunate to have a priest that really influenced us to get our minds back on track. After that, we finished the house, sat back, and thought, "we should be doing this for ourselves." I really believed in investing in myself, and so I made the jump, left Heart of America, and started our architecture firm.
Who did you consult with and go to for advice as you started your business?
I reached out to SCORE in the Quad Cities. I reached out to retired business owners. I reached out to the community college because I didn't have any business sense. I'm an architect first. Honestly, I was always looking for somebody to ask questions. It happened that one of my first clients was the owner of East Moline Glass, Larry Anderson, and he has become my mentor throughout my career. He has been a great mentor to bounce ideas off as my business has grown.
What's the greatest piece of advice Larry has given you?
Don't be afraid of growth. There are times when I'd sit down and ask, "am I going too fast? Do I need to slow down?" His advice was that growth is a sign of success. You have to grab it with both arms and work on it. It'll get easier. Growing pains are probably one of the hardest parts of owning your business. If you can get through those growing pains, there's a light at the end of the tunnel. It might be small at times, but there's a light.
Was there a moment or project where you knew you made the right decision in starting your firm?
There was never doubt in making the right decision, but I had three goals my first year. First was to get my first job. Second was to pay myself. Third was to hire someone. You have to allow for a runway because, especially in professional services, you're not paid right away. You may not be paid for six months. So you have to have a fair amount of runway that you're comfortable with in order to get to that point where you're getting checks in the mail.
What's the biggest surprise for you about owning your own business?
There's so much that goes into running the business. Being an architect, you probably think, "yeah, he draws buildings all day." I probably spend five hours per week drawing buildings, and the rest of it is working on business development, growing the business, building the business, finding the jobs. That has probably been one of the eye-openers. Growth may not always be what you want. When I had three employees, I was in the trenches doing the design work and documents. When I got to seven or eight employees, I was really on the street most of the time finding work. Now we're at 13 employees, and we have to figure out a tree of some sort where you have the senior-level architects that are able to check the drawings and figure out how to do all of the things that you were doing when you were three employees.
What's the perfect blend, as a business owner, of working on business development versus drawing and working on the actual architecture?
What I love most is design, but I also love building relationships with people. I work early in the mornings, and I'll work on a Saturday doing a little design work. That kind of brings you back to Earth a little bit. It makes the whole week worth it. So there isn't a right amount, but having a little bit of it keeps the flame burning, you know?
What, in your mind, is going to make Streamline a success story to you?
That is a very difficult question. If one of my daughters decides to become an architect, that's a success for me. Family's really important to me and my wife. I want to make sure they can see that women become architects. You look at all of the star architects, and they're all white males. Women can become architects, and it's fun. If you love what you're doing, it's not a job. That would be my success: Seeing my kids take over. From a company standpoint, I think if we could continue to design and have good quality, innovative design, I think that would continue to foster and make the Quad Cities and the region better. That's important for what we're striving to do here.
If someone came to you with an unlimited budget, what would your dream project be?
Put something out in the middle of the river. One complaint everyone has about the Quad Cities is that we don't utilize the river. Visitors come, and they love it. They want to see it, and they want to touch it. But people that live here don't always have a way to experience it. Just put something right in the middle of it. What if there was a place where that you could rent jet skis? There really isn't anywhere you can enjoy the river.