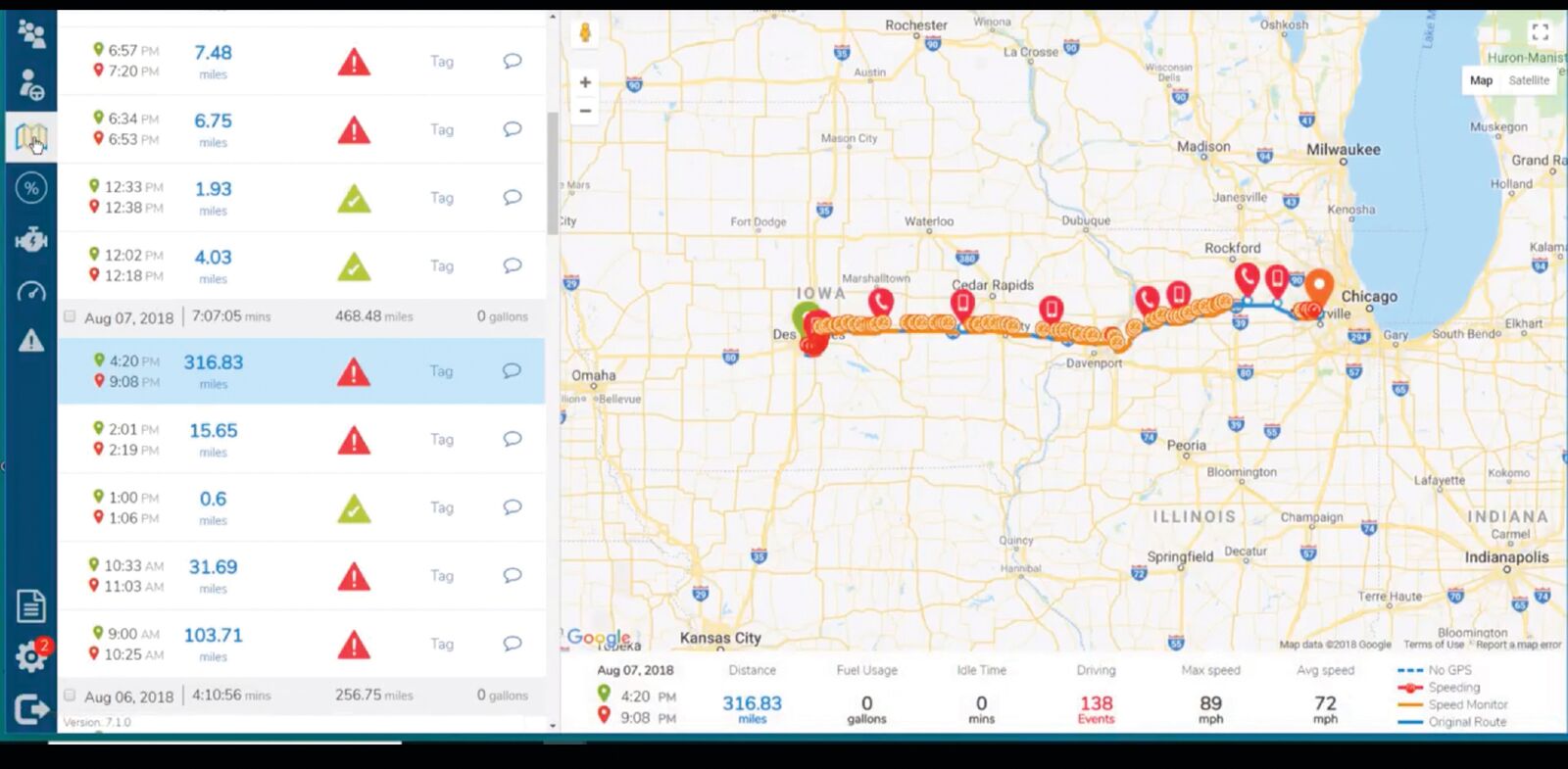 A Ready Fleet screen displays 138 incidents on a company driver's trip from Chicago to Des Moines, ranging from speeding to texting. CREDIT READY WIRELESS
By Dave DeWitte
dave@corridorbusiness.com
Ready Wireless in Hiawatha is moving deeper into the Internet of Things with a new suite of products that promises to improve driving safety, reliability and accident response for small fleet operators.
The four additions to the company's new Ready Fleet line – Safe Driver Compliance, Crash Detection, Route Management and Maintenance Alert Notifications – will help fleet operators know where their vehicles are at any time, how often drivers are breaking speed limits or pushing the limits of vehicle safety, when vehicles need service and whether drivers have been texting or making phone calls while they're on the move.
It's a significant investment and a potentially vast opportunity for Ready Wireless, an Inc. 5,000 company that has also made the CBJ's Fastest Growing Companies list seven times.
"Companies wanted to marry a safety program with safe driving compliance, and so what we've done is to set up a safe driving practice within the software so you can present it to the driver and say, 'Here's how we define safe driving and here's our safe driving policy,'" said Chief Marketing Officer Kim Lehrman.
The driver reads and signs off on the policy on their cellular phone, then receives communications through the device about their compliance and performance.
A telematic device installed in the company's vehicle, meanwhile, provides a constant stream of data to the cloud-based service about the vehicle's movements, whereabouts, odometer reading and other functions. Fleet managers or other designated company officials can view the driver and vehicle's performance using a dashboard on their computer.
The Ready Fleet system can inform a driver that he's been tracked driving over the speed limit 50 percent of the time, and needs to improve, or is texting 20 percent of the time he's moving, and needs to stop it.
"It probably sounds Big Brother-ish," Ms. Lehrman conceded, adding that the program is designed to keep positive reinforcement and conditioning to a maximum. The emphasis is on recognizing and rewarding drivers who improve their safety behavior.
"It's about 'we want you to be safe in our vehicles, we want you to be safe at work, and we'll put positive reinforcement around your being safe,'" she explained. "This is about managing expectations between you and the employee."
Ready Wireless has been known for more than a decade as a leading mobile virtual network enabler (MVNE). MVNEs provide services and infrastructure that let Mobile Virtual Network Operators sell wireless calling services under their own brands. Ready Wireless also has its own voice and data brands, such as enTouch Wireless.
About two years ago, the company made a strategic move to focus on data-centric business models using the same technology it used to manage its voice brands. The shift positioned Ready Wireless as a player in the exploding market for Internet of Things services, which leverage the data provided by objects in the real world.
Fleet managers were one of the earliest adopters of IoT technology, Ms. Lehrman said, prompting Ready Wireless to pursue the fleet management market first. Nine months ago, it introduced the first version of Ready Fleet, focusing on companies so small that many of them don't even consider themselves fleet operators.
Ms. Lehrman said small operators have many of the same needs as large truck fleet operators, but didn't pursue technology as quickly because they did not face the same regulatory requirements for logging hours of service. Some also didn't have the same comfort level with new technologies as the big fleet operators.
"In technology adoption, the easier we can make it, the better," Ms. Lehrman said. "We've really worked on making it seamless for non-technologists to integrate into their operation."
The Ready Fleet program has the potential to save small operators money and reduce injury through fewer wrecks, less downtime, lower insurance rates and improved efficiency.
Insurance companies are likely to be the primary drivers of adopting systems like Ready Fleet, Ms. Lehrman said, and some are already offering significantly lower rates for drivers who allow telematic devices that monitor their driving habits to be installed in their cars.
While the primary aim of Ready Fleet is training drivers to safer, Ms. Lehrman doesn't deny that some drivers could be disciplined because of it. The stakes, she noted, are simply too high.
"At the end of the day, it's your company and your liability. Many of these companies are self-insured or personally owned. They want to manage their risk, and these apps give the owner a tool to manage that risk."   CBJ