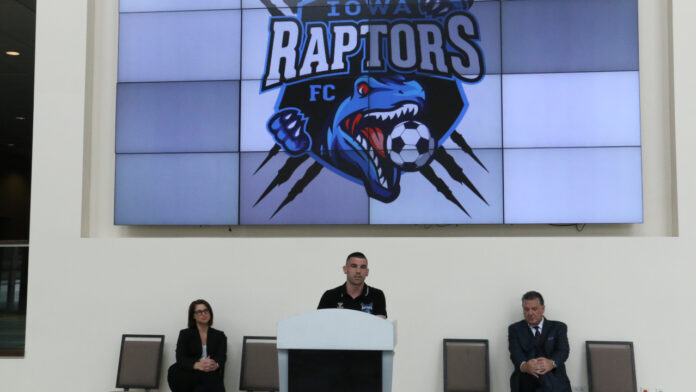 Professional indoor soccer is returning to Cedar Rapids.
Officials with the Iowa Raptors FC and the Major Arena Soccer League 2 announced at a news conference Tuesday that the Raptors will join the MASL2 as the league's 14th member, and will begin play in December, with home games at the Alliant Energy PowerHouse in downtown Cedar Rapids.
The Raptors already field mens' and womens' teams in the Premier Division of the outdoor United Premier Soccer League (UPSL), competing in the mens' division since 2019 and joining the womens' division for the current season.
The outdoor Raptors FC teams play their home games at Prairie High School, with a schedule that began May 1 and runs into July. With Tuesday's announcement, Raptors FC will have a year-round soccer presence in Cedar Rapids with both mens' and womens' teams.
The new indoor teams will play a 12-game schedule, including six home games at the PowerHouse. The league's regular season runs from mid-December to mid-March, with playoffs continuing into April.
The teams will be led by general manager Gordy Gurson, who has appeared in 127 regular season Major Arena Soccer League games, including 51 with the former Cedar Rapids Rampage, which played in the MASL from 2016 to 2019. He also serves as the UPSL teams' general manager.
Mr. Gurson said he's been working to bring indoor soccer to Cedar Rapids since 2020, in conjunction with the new teams' owners, Ron and Patricia Hurwitz.
"When I was here before (with the Rampage), this town was special to me, and it definitely (held) a place of my heart where I felt like I needed to come back," he said. "This arena was my home arena when I played here, and it was nothing but beautiful for everyone that came. We're excited to see what's coming in the future."
Mr. Gurson also announced that the Raptors will have a youth soccer program, with registration and tryouts coming soon.
At a news conference in Cedar Rapids Tuesday, MASL2 commissioner Chris Economides said the PowerHouse "will probably be in the top two or three of arenas in the league," and that the Raptors FC indoor teams will bring a new family-friendly entertainment option for the greater Cedar Rapids area.
"I live in Tampa, and just to go to a hockey game or a football game you have to mortgage your house," Mr. Economides said. "This will be affordable fun. It's two two and a half hours of massive excitement and entertainment. I strongly urge the community to come out and support this franchise."
The Raptors will be the only Iowa team in the MASL2. The professional soccer developmental league, founded in 2017, has 14 teams across the nation, including Midwestern cities such as Chicago, Omaha and Wichita.
More information about the Raptors, including schedules and ticket price information, can be found on the teams' website, iowaraptorsfc.com.