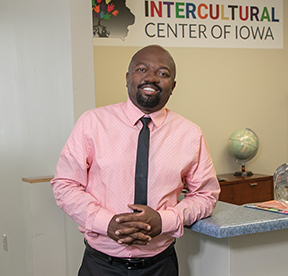 President & CEO
Intercultural Center of Iowa
AGE: 39
Best advice you ever received?
My Dad always told me, "You learn by listening and not talking." It never made a lot of sense when I was young, but later in life, I realized the power of listening.
What do you consider your biggest break so far?
Most people experience satisfaction or sense of accomplishment late in life/career. I have been fortunate enough to experience the impact of my work in real time and see how it has changed people's lives. I won't describe it as an accomplishment yet – rather a breakthrough for me because about five years ago, I was able to find my life purpose through my work. Honestly, it doesn't even feel like work because of the joy it brings.
What would most people be surprised to learn about you?
Surprisingly enough, despite my ability to strike a conversation with a stranger, I'm a very shy person.
What should people know about your generation in the workplace?
This is a very hard-working generation that takes pride in their work and trying to navigate the changes taking place, especially technologically, while preserving their own strong values system.
What do you want to accomplish by the time you are 50?
I would like to have created a strong, equitable platform that focuses on narrowing the opportunity gaps and offers meaningful services to disproportionally impacted individuals to improve their chances educationally and economically.