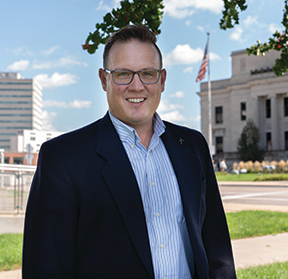 Senior Communications Partner  |  Alliant Energy
AGE: 39
What do you consider your biggest break so far?
I believe you need to bring your entire self to work and any organization you volunteer with. In my first interview with Alliant Energy, I wore fun socks – reflecting that I like to have fun and be a little bit different. As it turns out, those socks were noticed and, I am told, played a part in me getting picked in a tight candidate field. We all have a different perspective and a unique set of talents. Bring that with you in whatever you do.
What would most people be surprised to learn about you?
I love learning about history and my ancestors. I was born and raised in Minnesota. All of my ancestors came from Europe and settled in Iowa. I traveled Iowa to learn about them and find their graves. I even petitioned the state to correct a typo on the death record of my great-great grandmother.
What are your passions outside of the workplace?
I love to play hockey with the Corridor Hockey Association. I travel to car shows with the Cedar Valley Street Rods. I also volunteer with the Boy Scouts of America. If you follow me on Facebook, you'll notice I also like to show off the amazing restaurants we have here in the Corridor.
What should people know about your generation in the workplace?
Sometimes we like to pick out what one generation focuses on versus another. It can get quite polarizing. I would like to remind people that all generations share some common goals. When we focus on those, we build stronger teams and achieve greater results.