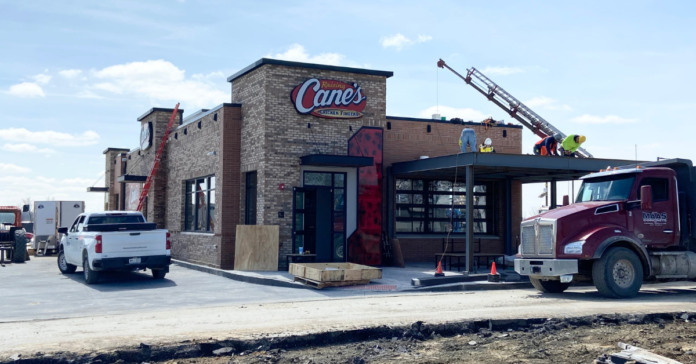 UPDATED APRIL 4
The popular fast-food chicken fingers chain Raising Cane's will be opening its Coralville location on April 12 at 2800 Commerce Drive between Casey's and Wendy's and across the street from Walmart.
The restaurant plans on hiring 120 local crewmembers at a starting wage of $12.50 and up to $14.50, plus a sign-on bonus of $75 for seven days post-opening and another $175 after 30 days employed and 60 hours worked, said an April 4 press release.
"We're excited to bring Raising Cane's and over 120 great new jobs to Coralville," said Joe Culver, an area leader of restaurants for Cane's, in a statement. "This is the first of many Cane's Restaurants that we plan on opening in the area."
A Cedar Rapids location was planned along Collins Road, but for now, the Coralville location will be the only Cane's restaurant in the Corridor after the Cedar Rapids plans were abandoned.
Among the 120 new openings, Cane's is currently hiring shift managers, restaurant crewmembers, cooks and cashiers for the new location, according to their online jobs portal.
It will be the 691st Cane's location nationally, their website states. When the new restaurant opens, it will be the fifth location in Iowa.
Interested candidates can apply by texting RCJOBS to 97211 or by visiting WorkAtCanes.com.
Founded in Baton Rouge, Louisiana by Todd Graves and Craig Silvey in 1996, the fast-food chain is known for their chicken fingers, fries, Texas toast and specialty Cane's sauce.
Raising Cane's was one of three restaurant brands named to Forbes' Best Employers For New Grads Top 100 list and also was named to Glassdoor's 100 Best Places to Work in the U.S. list in 2021.