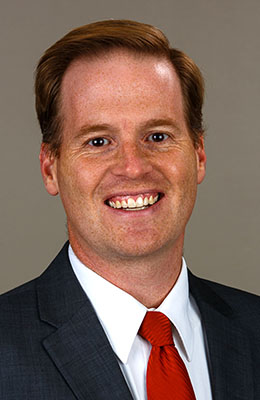 Nick Gerhart, Iowa Insurance Commissioner
By Dave DeWitte
dave@corridorbusiness.com
Nick Gerhart was appointed insurance commissioner of Iowa effective Feb. 1, 2013 by Gov. Terry Branstad, succeeding Susan Voss. An attorney with a master's degree in health administration, Mr. Gerhart gained recognition in the insurance industry for his role in industry efforts that led to the reversal of a SEC rule that reclassified fixed-index annuities from insurance products to securities while working at American Equity Investment Life Insurance Co. He later became vice president of compliance and regulatory affairs at Sammons Financial Group, an insurance holding company in West Des Moines. As insurance commissioner, he has been involved in the state's regulatory and enforcement efforts surrounding the implementation of the Affordable Care Act, reducing fraud in the insurance and securities industry, and the fair and balanced enforcement of the state's securities and insurance regulations.
What's the total budget and staff size of the Iowa Insurance Division?
We have a total budget right around $15 million, and we're authorized for 101 FTEs. We have about 97 now, and that includes insurance, securities and the Senior Health Insurance Information Program.
There's a fairly large insurance industry in Iowa. Does that give the Iowa Insurance Division an outsize budget or importance relative to insurance regulators in other states?
Our division is smaller than most other states, but the industry is larger. If you look at the insurance industry, it's either third, fifth or eighth in size, depending on how you look at it – third as a percentage of GDP, fifth in assets we would supervise and eighth in the number of companies we supervise. One of the reasons we can be efficient is by working with the  National Association of Insurance Commissioners. That's a team of over 1,400. We coordinate a lot with them on marketing and supervision issues.
What are some of your major areas of responsibility?
We are a securities administrator, and that includes investment advisors, representatives, broker-dealers and perpetual care cemeteries. On the insurance side, we supervise agents licensed in the state and nonresident [agents]… We oversee the solvency of about 214 companies. We make sure those carriers make the claims that are on their books. We examine each company at least every five years, but we have ongoing annual reviews. We also supervise the market, so if someone has an issue – my carrier didn't pay this claim in time, or they denied this claim – we have a team that would do those complaints. We also have a fraud bureau that investigates securities fraud, and also fraud against [insurance] carriers, like the arson-type cases.
Could you explain some of the areas of confusion you've been working to address in the Iowa health insurance marketplace under the Affordable Care Act?
Open enrollment started on Nov. 1. We have three carriers mostly statewide: Coventry, UnitedHealthcare and Medica. People are getting policies issued pretty well. I haven't heard of any technical issues, and the website is working pretty well. We're asking folks to look at the policies they're buying to make sure it aligns with the needs they have. The biggest complaints we get are around those kinds of issues. "I thought I had insurance, but when I went to use it, I found out I have a $7,000 deductible," or "the prescription drug I use wasn't on their formulary."
Also, some people don't think they have to re-enroll because they already have coverage –you're not going to be automatically enrolled. And we did have a lot of people say they thought they were entitled to a bigger tax credit. In that case, you obviously underreported or overreported your income. You self-report your income, and it's going to get trued up at the end of the year.
So there's still confusion and a big learning gap?
There always will be. Insurance is hard. The policies are long and they're complex. We tell people call the plan. They're supposed to have a clear and concise plan summary, and they're supposed to have their formularies out there, but you may have to go to the website of the carriers. If they don't have time to do that, we recommend they call up an insurance agent, tell them what their needs are and have them search for them.
The increase in individual health insurance premiums caused quite a reaction this year. Is there anything you can do about that?
We have them [premium changes] reviewed by a third-party, an outside firm. If they're justified, by state law we have to approve them. We had increases of 19 percent on one carrier, and Wellmark, 26 percent. There were some big increases.
We really have to balance that with the solvency of these carriers. If a carrier fails, you have complete disruption. In a recent case, 100,000 people had to go out and scavenge for coverage. It's not in anybody's best interests. If you don't approve the premium increases that are justified, the carriers will just leave the state. I don't take these decisions lightly, but you have to balance the consumer side of it with the carrier solvency side of it. In New Mexico, we've seen a lot of the carriers leave the state.
The implementation of the Affordable Care Act is pretty far along. What are some of the other big changes coming down the pike?
The big one that was coming was the change in the definition of small group employers going from 50 to 100 employees. Congress passed a law to correct that, and will allow small businesses to keep that small group definition at 50, so that's no longer a big change. Two of the three "R" programs – Risk Corridors and Risk Adjustment – are going to go away next year. Those are in place to help smooth out these big rate increases. Unfortunately, they have not worked as people thought. They were always three-year programs. The third, Reinsurance, has been successful and it's permanent.
We noticed a disciplinary action on your website involving a man from Kansas who had lost his insurance license in Minnesota for falsifying insurance applications, then managed to get a license in Iowa by lying on his application and falsifying Medicare supplement applications. Is the division doing anything to prevent this kind of thing from happening again? The order mentioned that the background check doesn't include physical fingerprinting in Iowa.
There was the physical fingerprinting issue, but there's also a entity licensing issue. You can have [insurance] licensing as an individual or an entity. Iowa is one of maybe four states that doesn't have entity licensing. I think he used a business entity to come into the state. We have to look at fingerprinting, but we also have to look at this kind of entity to make sure it doesn't fall through the cracks. It raised a lot of questions in my mind.
We are trying to figure out if there is a legislative fix we need to avoid that exact scenario. The first thing I asked the team was if it happens a lot, or if it's an extraordinary thing. We think it's an extraordinary thing.
Bio background
Age: 40
Hometown: Des Moines
Education: B.A., University of Northern Iowa; MHA, St. Louis University School of Public Health; J.D., St. Louis University School of Law.
Family: Wife, Jessica, and three children
Experience: Former vice president of compliance and regulatory affairs, Sammons Financial Group