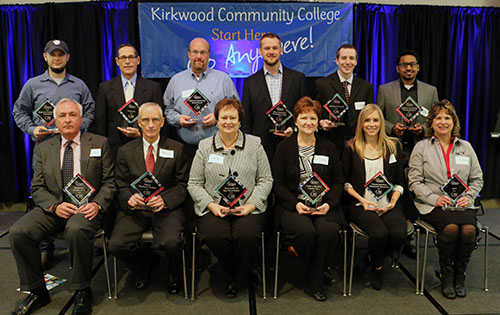 CBJ's inaugural Workforce Awards recognize 12 Corridor employers for efforts
By Dave DeWitte
dave@corridorbusiness.com
CEDAR RAPIDS—The inaugural CBJ Workforce Awards recognized 12 employers for excellence in different areas of attraction, retention and development, identifying best practices that the selection committee hopes other Corridor employers can use to shape their strategies.
Workforce is a never-ending challenge for area companies, and the reason Kirkwood Community College sponsored the first-time event, held Nov. 19 at The Hotel at Kirkwood Center.
"Workforce is an incredibly important factor in our economic success," said Kim Becicka, vice president of continuing education and training services at Kirkwood, which is working with other area institutions to create a collaborative ecosystem of services and resources to build a larger and better workforce.
MORE: Read more about the winners of the 2015 Workforce Awards in the CBJ's digital edition.
Ms. Becicka said area employers are overall able to attract and retain the workforce they need – even with an unemployment rate as low as 3.6 percent – but there are still pinch points in the labor pool. They include key positions in transportation, such as logisticians and drivers, information technology positions, such as software application designers and developers, and advanced manufacturing positions, such as robotics specialists and machine programmers.
Don Hummer Trucking, of Oxford, is one such company facing the challenge of recruiting truck drivers. It came away with the Best Opportunities for Veterans Award for its year-old Heroes to Hummer program. The company has increased veteran hires by 75 percent since 2013, and created the Heroes program with a goal of hiring 25 more veterans over the next three years.
The program matches veterans with experienced trainers who support and guide them, and allows eligible veterans to utilize their GI Bill or post-9/11 benefits to receive up to $15,900 in tax-free education benefits, in addition to paid on-the-job training. Veterans now make up 12 percent of the Hummer workforce of 256.
The inspiration for the program came from looking at what sort of recruits had done well with the company over a long period. Veterans had clearly distinguished themselves.
"We can provide the training, but the character and caring that makes a good driver has to be there," said President Chris Hummer in an interview. "With veterans, the character is already there."
ACT in Iowa City is one of the Corridor's larger employers, with a local workforce close of about 1,300, but its work in assessments requires bright and well-educated minds, and the field isn't always top-of-mind for students considering careers.
ACT was presented with the Best Internship Program for College Students Award, for its program that has helped create a pipeline of qualified employees who match up with ACT's needs and culture.
Over the past 23 years, ACT has recruited 203 interns from 36 states and 79 colleges for nine-week summer internships in which they are paired with a mentor and given projects to work on specific to their field.
The projects assigned to interns are challenging, and give them a chance to make a difference at ACT, according to Lew Montgomery, director of strategic programs and community engagement. Thirty-three of the 203 interns have gone on to full-time careers at with the organization.
While the ACT internship program has been a long-term endeavor, some awards recognized employers that made great strides in a matter of months.
Cole's Quality Foods announced in June 2015 that it would be adding a full-time weekend shift at its North Liberty location, which makes fresh-frozen breadsticks.
Boosting production by 50 percent meant filling a lot of positions quickly.
Rather than going it alone, Cole's took a collaborative approach, reaching out to the city of North Liberty, the Economic Development Council, Iowa Works and Kirkwood for feedback. Their input led to a multifaceted recruitment strategy that included employee referral bonuses of $500 per hire, flyers, Craiglist postings, newspaper print ads, on-site job fairs and curbside signs. Within 14 weeks, the company had received 256 applications, which led to the hiring of 42 production and operator personnel, in addition to three maintenance techs and two supervisors.
The effort was a primary reason the company won the Best Recruitment Campaign Award.
The recognition event wasn't just about employers with large or hard-to-fill workforce needs, however.
Goodwill of the Heartland received the Best Employment Opportunities for Targeted Populations Award for its goal of hiring 10 percent of its full-time equivalent positions from its pool of clients with disabilities, and its programs for expanding employment opportunities for veterans and individuals leaving the criminal justice system.
Pearson received the honor of Best Diversity Workplace Strategy for a variety of professional forums and engagement initiatives, particularly its employee resource groups (ERGs). ERGs are networking and support groups for employees with similar backgrounds and interests. Pearson's Iowa City operations launched Women in Learning and Leadership, which provided women employees with opportunities for skill-building and networking. It has since spread from Iowa City to Pearson operations in 13 states, Canada and the United Kingdom.
The company also has a diversity and inclusion team that manages a team of advocates that "operationalize" diversity and inclusion efforts across the company. In June, it launched the U.S. Gender Transitions Handbook, a resource with robust information on the gender transition process.
An extra award category, the Publisher's Award, was created to recognize Summer of the Arts, which was originally nominated in the internship program category. The nonprofit, with only three full-time staffers, has used 10-16 interns and a cast of volunteers to put on The Iowa City Jazz Festival, Iowa Arts Festival and numerous other cultural events that attracted over 100,000 attendees in 2015. Mark Zaiger, president of the nonprofit's board, discussed the high impact the group has achieved with a low budget, and its role as a cultural resource that helps the Corridor attract and retain employees.
The award nominations were evaluated by workforce specialists from area economic development organizations and Kirkwood, and one retired senior executive. Creative workforce approaches were judged highly, along with approaches that leveraged limited resources effectively, in part because they serve as best practices that can benefit many Corridor companies.
The breakfast event, held at the Hotel at Kirkwood Center, was sponsored by the college and DuPont Industrial Biosciences. It attracted more than 175 attendees.