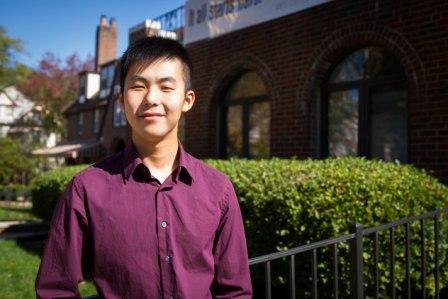 By Pat Shaver
IOWA CITY—RuiHao Min came to Iowa City from Chengdu, a large city in southwest China.
He is among the about 2,000-3,000 Chinese students studying at the University of Iowa. Mr. Min is in his senior year and will graduate with degrees in marketing and economics.
"I love ideas, innovation and creativity. Having a global perspective is the best thing to stimulate creativity. No matter what your background is, you always need to think creatively," Mr. Min said, who plans to go to graduate school for engineering after he graduates in December.
Mr. Min is the founding president of AiCheng Magazine, a UI student organization that publishes a magazine each semester promoting cultural diversity. Some of the articles in the magazine are in English, others are in Chinese. The organization started last summer.
As the staff was creating the magazine and conducting initial research for AiCheng, Mr. Min said he noticed there wasn't a hub to view magazines and publications from other colleges and universities.
That eventually led to a business idea.
"College is the most beautiful and interesting time in your life. It's the best time of your life; that's why we want to share stories from other student run publications," Mr. Min said.
Mr. Min is developing a website that would allow users to access college publications from across the country. Articles from the magazines would be featured on the site. An online social forum will allow students and others to discuss various topics. The website has yet to be named, and Mr. Min said he hopes to have it operating next spring.
It would make money through advertising and subscriptions, he said.
"I've always positioned myself as an idea person. It's not just about having an idea, but also the ability to make it happen," he said.
Mr. Min notes that the magazine and the startup business are two separate entities. The organization recently moved into an office at the University of Iowa Bedell Entrepreneurial Learning Laboratory (BELL), 322 N. Clinton St., Iowa City. The BELL is an applied learning environment for advanced entrepreneurship students pursuing the creation of a new business.
The goal is to continue growing the publication, eventually distributing across Iowa and the Midwest, Mr. Min said.
The magazine initially was created by the UI Chinese Students and Scholars Association, and transitioned into a separate student organization last year, AiCheng.
Mr. Min noted that to be a successful student organization and manage a startup requires sacrifices.
"I was a karate black belt and had the chance to be the president at the dojo of Japanese Karate-Do organization at the University of Iowa. But, I rejected that opportunity because I believe I will be able to accomplish more by doing less and having more focus. In addition, I was on my track of earning a music minor, because I am a violinist as well," he said.
In order to be part of the BELL program, Mr. Min had to enroll in an advanced business planning course, which led him to drop the remaining credits he needed to earn his music minor.
"As an economics student, I always pay attention to the efficiency and opportunity cost. I believe it was totally worth it to make those sacrifices and to have the ability to focus on something bigger, something I am most passionate about and something I have the responsibility to accomplish," Mr. Min said.
In the beginning, it was a struggle to start the magazine from scratch, with very little money and few staff members. The UI gives the organization $500 a semester.
"How do you solve those problems? The process of starting the magazine was really difficult," he said. "We had to constantly work with other groups. By the third issue, we proved that collaboration and outreach works."
It was important to keep the organization going, he said.
"It's the only student-run multicultural magazine in Iowa," he said.
AiCheng built partnerships with more than 17 local and overseas organizations. As the result, the team successfully produced and published two more issues after officially founding and initiated and co-hosted four cultural communication events. They also expanded the team from five students to an organization of six departments and 30 staff members.
To view an online version of the most recent AiCheng, visit www.uiowa.edu/~acmag/.